Entertainment
Mark Gatiss And His Prolific Married Life With Husband; Reveals Gay Life Never Affected His Career
One must not fear to open up about their sexuality. While there are so many television personalities who thinks that coming out as gay might hamper their career, Mark Gatiss is the one who reveals that his career is not affected by his sexuality.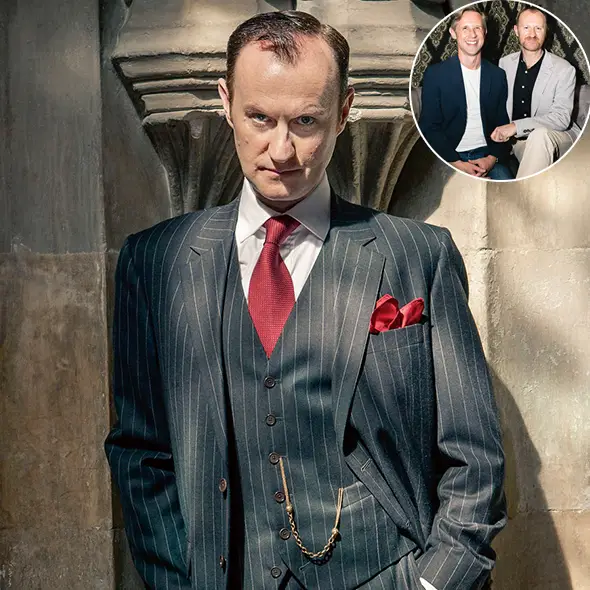 While there are so many television personalities who thinks that coming out as gay might hamper their career, Mark Gatiss is the one stands on the opposite pole and has proved that career is not affected by sexuality - and that comes from personal experience.
He not only has a successful professional career but also has a blissful married life with his husband.
Openly gay Gatiss's prolific married life!
Along with the incredible career where Mark Gatiss has already marked his place, he also enjoys a blissful married life. Prior to having a boyfriend, he even had a girlfriend. Though he loved his girlfriend dearly, he accepted that he was predominantly gay.
Mark then met actor Ian Hallard, a fellow British actor who had a knack for immaculate spellings and grammar. In the year 1999, they had their first date coincidently. In an interview, Mark revealed how he met Ian. He said-
"I met Ian online. He spelled everything so well – I said to myself: "This is the man for me." We spent most of our first chat talking grammar. I knew I wanted to see him again. He said coolly: "I like to keep my cards close to my chest." But he rang me the next day.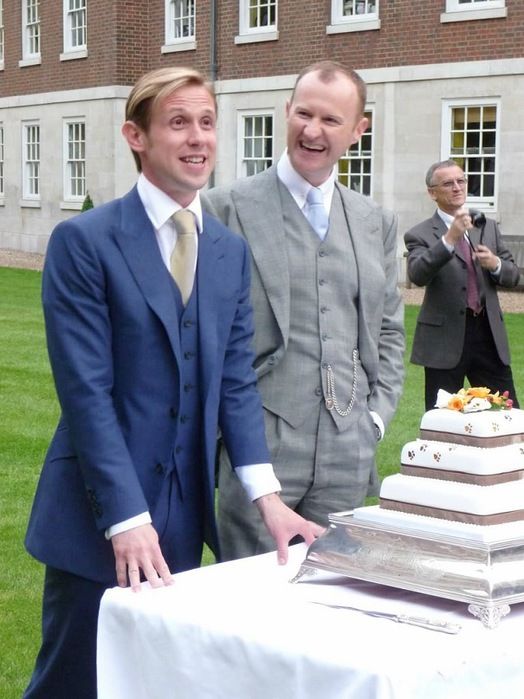 Caption: Ian Hallard & Mark Gatiss at their civil partnership ceremony in 2008.
Photo Credit: pinterest.com
Mark, who was always ready for a serious relationship then fell for him and tied the knot in the year 2008. Talking about the marriage, Mark said-
"We got married in Middle Temple, in the City of London, underneath a portrait of Edward Carson QC, the man who prosecuted Oscar Wilde. The whole day was replete with irony."
In the same interview, when Mark was asked about Ian, he said-
"I admire Ian's patience. I get very cross. I've learned to talk things through with Ian before I do anything I'll regret. We row very rarely. We've weathered several storms but it's not about huge drama any more. I think we all have an imaginary world where we envisage ourselves like Burton and Taylor, Verlaine and Rimbaud – extraordinary highs, devastating lows."
Gay life never affected my career- Mark Gatiss!
Initially coming out as gay to his mom though he intended to open up with his dad. In an interview with The Guardian in 2010, Mark who also has memories of living in Durham, said-
"I dreaded coming out to my dad, but it was taken out of my hands by my mum. I told her I was gay and was ready to tell my dad, but she said: "Don't, you'll kill him." So, I put it off for a bit, then about two weeks later she called me up and said mysteriously: "We've had snow! Oh, look, it's only dad just come in the room," which I took to mean she had told him. A year later, I realised that they had dealt with it by not dealing with it at all. I had to go through it all again and confront them about my sexuality. There's a lesson there, in terms of not putting things off."
Later, in an interview with Radiotimes in 2012, he said that his sexuality never affected his career. He also said that many people assume him to be straight and are surprised when they know that he is a gay. Regarding the sexuality, he said-
"A lot of people don't know I'm gay, No matter how many interviews I do in which I mention that I'm gay, and that I have a partner, I'm confounded by people's surprise when they find out. Maybe they're not bothered."
"The sort of parts I play, my sexuality doesn't make a difference and I've never been in a position where anyone has tried to mentor me not to be out. But maybe that's because I was out before I was well-known or because if ever such a thing had happened, I would have laughed in the person's face."
"If you're a young actor with an eye on Hollywood, it's something you have to think about. But then, you're moving into an American sphere and what American agents might advise you to do. I'd be very interested to see what happens to [Star Trek star] Zachary Quinto's career now that he's made that step of coming out."
The pair who is now happily married together appeared in a play called "The Boys in the Band."
Caption: Sherlock actor Mark Gatiss and his partner Ian Hallard on Boys in the Band on September 30, 2016.
Mark is popular for writing and appearing in the TV series Doctor Who and Sherlock. Whereas Ian is known for appearing in Doctor Who (2014), An Adventure in Space and Time (2013), Doctors (2000 TV series) (2015), Sherlock (2012), and Hustle (2011). Mark earns a net worth of $10 million.
As of now, Mark is narrating the story of an artist from the mid 19th century named John Minton, a painter born in the early 19th century who is still remembered, though not quite massively, for arts he created from the swishing and swashing of a paintbrush on a canvas. Naturally, people assume that mark took this job because as actors that is what they do. However, there is a personal touch of emotion here.
The "Holmes" brother from famous TV series who also is an art lover in real life and visits events and theatres with her husband Ian Hallard has a profound admiration for this often forgotten artist. In a recent interview with Independent, Mark expresses a slight melancholy when talking about John Minton, all the while celebrating the chance of expressing his love towards this "unjustly neglected artist."
Apart from narrating the life of a renowned painter, Mark is currently involved in two projects; Brexit (2019) and Good Omens (2019).