Entertainment
Mark Labbett Has Children With 'First Cousin' Wife? The Chase Star's Married Life Insight
Television personality, Mark Labbett became an instant hit after first appearing on the game show The Chase in 2009. Known as "The Beast" for his huge height of 6' 6½" (1.99 m) and massive weight, his loyal fan base was left confused when the rumors about his married life circulated in the media.
Despite the rumors proving to be true, Mark has not been worried about the bystanders' opinion as he continues to lead a lovable family along with his cousin/wife and son.
Accused Of Marrying First Cousin, Turned Out False
Mark married Katie Labbet, 27 years his junior on 11 October 2014 at the Arundel Cathedral Church located in West Sussex, England in an intimate wedding ceremony in front of friends and family. 
Mark revealed that although Katie was a relative, she wasn't his first cousin. It turned out that Katie was Mark's second cousin as their dads were first cousins.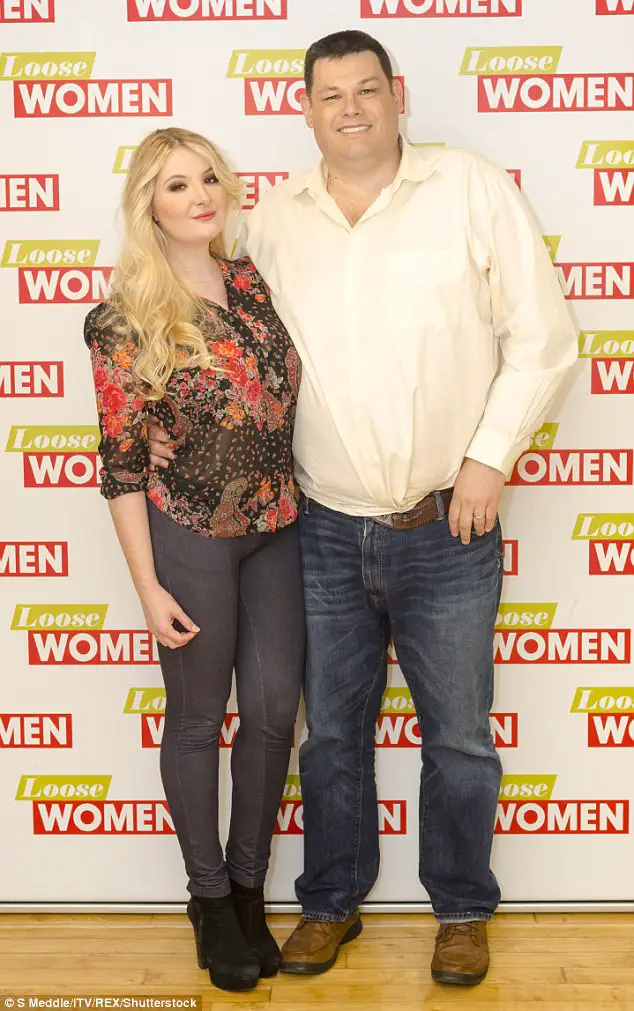 Mark and wife Katie Labbett attend the ITV's Loose Women in 2017 (Photo: DailyMail.co.uk)
Further, the actor also mentioned that the two were unaware of their blood-relationship while they first met.
In an interview, Katie told that their romance had started with a misunderstanding, one year before their wedding. Explaining about how they first started dating, she said in the interview,
'It came from a mistake, Mark misunderstood something I said. Then it came from that.'
Moreover, appearing on ITV's Loose Women, Mark disclosed that he was struggling to settle down as a married man after an extended period of singlehood.
However, Katie has left no stones unturned in her quest to be the perfect wife for Mark. 
Katie, who works as an artist and illustrator, is a loyal wife and has even helped her husband lose weight by reducing sugar from Mark's diets after he was diagnosed with Type 2 diabetes. She has also become an inspiration for Mark to eat healthy foods and live a healthy life.
The care and support of his wife in his effort to maintain fitness bore its result as the television personality even lost four inches from his chest and six inches off his belly in six months time. Mark tweeted on 20 February 2018, to celebrate the achievement of hitting his "first target." He wrote on his Twitter;
#thechase lost four inches off my chest and six inches off my belly in last six months. So they have bought me a new suit for the show. First target achieved :).
As of their children, Mark and Katie are parents to a son whose name and date of birth hasn't been disclosed by the couple. The 53-year-old game show host currently resides in Moorgate, Rotherham, South Yorkshire with his wife and kid. 
Journey From A School Teacher To A Popular TV Host
Born in Tiverton, England as the son of Jon and Carolyn Labbett; Mark grew up in  Cardiff, United Kingdom. He started his career as a secondary school teacher at the Cove School in Farnborough where he worked as a physical education and maths supply teacher. 
He started appearing as a contestant in quiz shows commencing with the program Mastermind in 1999. Before his breakthrough from The Chase, Mark appeared in several other shows including Countdown, Grand Slam, BrainTeaser, Who Wants To Be A Millionaire and more.
Mark gained his nickname "The Beast" after performing as one of the Chasers in the ITV show The Chase in 2009. He received substantial fame and a significant salary from the show. Mark has also earned a considerable net worth of $2 million from his television career thanks to the whopping salary he commands from his shows and TV appearances.