Entertainment
Mark Stacey, Bargain Hunt Partner Now! Close To Death But Very Alive
Antique's auctioneer and TV personality, Mark Stacey has always been one of the admirable and funny TV hosts, mostly recognized for devaluing the worth of several historical items. The host of some famous TV shows such as Flog It!, Bargain Hunt, and Antiques Road Trip, Mark has made a profound impact in the show business. 
However, when it came to his personal life, Mark has been open about his sexuality. He is attached to his lover and even defended him on occasion.
The antique expert has been provoked to death hoaxes although he came out later as alive and healthy.
Long-Lasting Commitment, No Plans For Wedding
A vocal supporter of gay rights, Mark is an openly gay man, who has been committed to a romantic relationship for a long time. He has been committed to his Spanish partner Santiago. The relationship first came to light on 25 October 2012 when Mark posted a picture on his Twitter alongside his boyfriend calling him "My Santiago."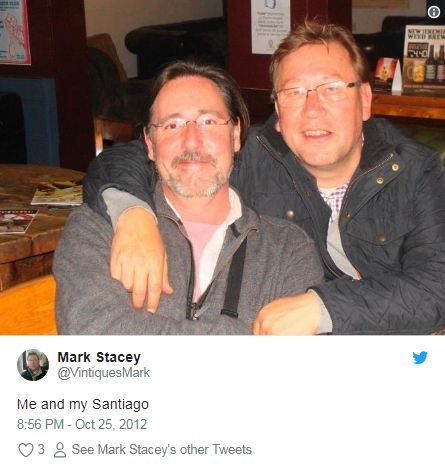 Mark Stacey and partner Santiago pose for a portrait on 25 October 2012 (Photo: Mark Stacey's Instagram)
Mark and Santiago are not just lovers but equal partners in their relationship. Mark, who lovingly called his boyfriend "Santi" mentioned on 22 December 2014 that Santiago was about to host his first Christmas dinner as a couple. He further expressed his love by saying that he took a 12-hour ride to attend the dinner.
Santiago was with Mark through his prosperous and sad times. Back in December 2015 when Mark broke his right ankle, Santi took care of his lover and even rolled him around on a wheelchair. Mark even joked about calling him as his new driver in one of his tweets.
And Mark is also defensive of his partner. When the UK Government imposed a charge of £65 for immigrant residents, Mark defended Santiago saying that he had been in the country for twenty years, paid his share of taxes and even invested in the UK economy. The antique expert also called the Government disgraceful towards its residents via a tweet posted on 11 July 2018.
Although the pair is much in love, they haven't shared any plans to get married. While the official wedding is yet to be withheld, the two are going strong in their relationship. 
"Mark Stacey Dies"; Not The Auctioneer 
Back in October 2017, news surfaced in the media that Mark had gone missing and could be possibly dead. Concerned fans and police officers made a search party to find him, only to discover that the TV personality was alive and well. It was later disclosed that the man who had gone missing was a Plymouth resident with the same name, which had caused the confusion in the first place.
But, Mark has witnessed deaths, that too in thousands.
In one of the episodes of Antiques Road Trip, Mark along with his co-worker Will Axon visited the St Leonard's Church, where the skulls of nearly 2000 dead people were kept in the crypt. Although Mark held one of the skulls in his hands wearing a pair of latex gloves, he was terrified to do so. He told Mike Pearson, 
"It's very macabre really! It's so strange Mike. It's very uncomfortable holding a skull from a dead person. It really is. It was a person at some stage. They lived a life. It's fascinating. It tells us so much about the past."
Mark and the other two were finally rescued from the elevator after which Mark was heard saying, "I'm a hero really."
Further, the antique expert was also left embarrassed in one occasion after being spanked in his wrists for offering £20 for a large glass bowl which was marked £50.