Entertainment
Married in 2007, Pablo Schreiber, Divorced With Yoga Instructor Wife: Investing Love to Children
Although things have been going up the hill for Pablo Schreiber more commonly as 'Pornstache' regarding his professional life the same does not seem to happen with his personal A.K.A love life. What might have gone so wrong that it got everybody's attention?  Let's find out.
Married Life, Wife, and Divorce Reason:
Pablo Schreiber was married in 2007, with Jessica Monty who is a yoga instructor and a cook at the same time. The couple has two sons but they do not stay as a couple now.
Though they were married and had two sons to themselves, it did not bind them to stay together. In 2013, Pablo's yoga instructor wife filed a legal separation citing irreconcilable differences. She took this step just before Christmas. However, Jessica demanded full physical custody of their two sons along with spousal support. Jessica also agreed to share the legal custody of her children with her husband Pablo.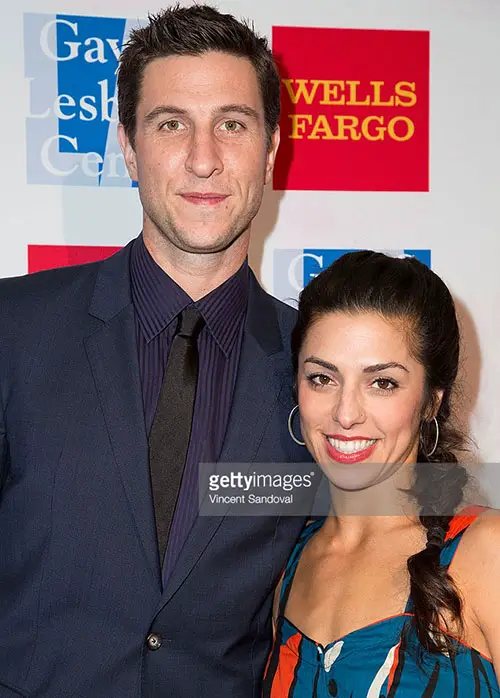 Caption: Pablo Schreiber with wife Jessica Monty at L.A. Gay & Lesbian Center's 42nd Anniversary Vanguard Awards Gala in 2013 in Los Angeles.
Source: gettyimages.com
According to Tmz, the divorce finalized in 2015 where the divorce settlement included Pablo's residual. The marriage as well as divorce, was solely in favor of Jessica because Pablo's career took its leap after they got married and Jessica enjoyed his then and after the divorce; Jessica gets half of the income from his hit shows like Weeds, Law & Order: SUV.
The spousal support consists of $8,500 dollars per month and a sum of $93,000 dollars and both have agreed to joint custody of their children. However, his wife Jessica won't be getting any amount of money from his many episodes of the Wire and movies like Lord of Dogtown and The Manchurian Candidate in which he appeared beside his half brother Liev Schreiber.
Pablo Schreiber With Children:
Even after the divorce, Pablo is pretty close to his children. While the divorce was filed one of his sons was 5 years old and the another was just 22 months old. Now they are a little more grown up and wonderful kids. When spending time with his children, he says he is investing in the future with the most valuable currency one has i.e. time, presence, and love.
Caption: Pablo Schreiber with sons in Ontario, Canada in August of 2016.
Pablo Schreiber's Short Bio:
Pablo Schreiber was born on April 26, 1978, in British Columbia, Canada, and currently, ages 38 years old. Pablo at first joined the University of San Francisco but later was transferred to the Carnegie Mellon University in Pennsylvania and graduated from there with a degree in Theatre in 2000. His first appearance was in a movie called Bubble Boy in 2001 as Todd.
He later in 2003 appeared in the famous television series 'The Wire' as Nickolas Sobotka for which he is still famous for.
Later, in October 2012, he appeared in a recurring role of George Mendez or 'Pornstache' on Netflix original drama series called Orange is the New Black. He has also appeared in "13 Hours", "Traces" and "Big Bear" this year. He is said to be a cast in the upcoming series called American Gods as Mad Sweeney.