Entertainment
Married in 2012, Fox News' Molly Line is Happy with her Accountant Husband. Any plans on having Children?
Unlike many other journalism personalities, the lady we are here to discuss today does not keep secrets about her love life. Now, let's find out how open she is regarding her personal life but first who the person is okay?
So today, we are here to talk about the beautiful Molly Line who is as you might know a news correspondent for Fox News Channel. So, we will be going thorough about her professional career around the end because we are actually here to know about her personal life.
Can anyone guess if Molly line is single or dating someone or is married already? Yay!! We knew everybody would get this one right but again, does anybody know who her husband is? No? Then we are here for you. As we know, Molly Line is a married woman and she is a wife to Matt Petrus who is an account manager at Athenahealth. The couples were engaged on June 9, 2011. Later on, she married Petrus on July 21, 2012, at Jackson Community Church, Jackson, New Hampshire.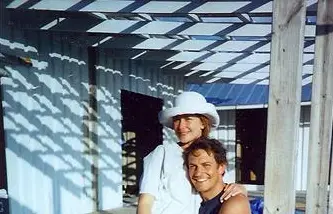 Caption: Molly Line and husband Matt Petrus.
Source: universalwebsites.theknot.com
Now, you might be wondering that how and where the couple first met. Well, we are pleased to inform you that we got that for you too. Molly and Matt first met at Virginia Tech. Matt's roommate and Molly's classmate, Paul, introduced them one night at Bogen's.
"While we didn't start dating until years after graduation, we met at Virginia Tech, where we both matriculated (love that word!). A mutual friend (Matt's roommate and Molly's classmate), Paul, introduced us one night at "Bogen's" a little out of the way bar & restaurant.

We started dating when our jobs (her career, my "cubicle of the moment") landed us both in New England and a long and happy courtship began! May the adventure continue!!"

- Molly Line
Molly is living a happy life with her husband, Matt Petrus. There is less chance of divorce between Matt and Molly. Surprisingly, the pair still does not have any children, maybe they need some more time to be ready to be parents and because of their respective busy professional lives.
The intellectual beauty, Molly, was hired by Fox News Channel because of her dedication towards work. It is assumed that she might be getting a handsome amount of salary. she has gathered a good amount of total net worth (2 to 5 million Us dollars) during her journalism career. Molly has many fans and followers. She is also active on social networking sites.
Hope we will hear that Molly has a kid very soon !!
Isn't Molly looks stunning?
Before joining FNC, she worked as an anchor/reporter for WFXT (Channel 25), a Boston affiliate (Dec 2002-Dec 2005). Before her work at WFXT, Molly served as an anchor/reporter at WXXA (Channel 23) in Albany, NY (2000-2002). She got her start in journalism as a photographer and reporter at WDTV in Bridgeport, WV (1999-2000).