Entertainment
Married Life of Josh Winterhalt: Enjoying Life With His Wife And Kid, No Divorce Plan
Martial Arts are known to be the scariest profession to be a part of. There is loads of hard work to be done to be fully accomplished in Martial arts. Likewise, Sarah Wayne Callies's husband is a Josh Winterhalt is a martial arts teacher. Josh Winterhalt is married to famous and talented American actress Sarah Wayne Callies. There isn't much information about Josh Winterhalt's life, but he is only known for his marriage to his actress wife, Sarah Wayne Callies.
Martial Arts are known to be the scariest profession to be a part of.
One of the famous American actresses, Sarah Wayne Callies' husband, Josh Winterhalt is the hard working martial arts teacher. 
Though Josh is married to famous and talented American actress, Sarah Wayne Callies, there is less information about him out there. 
Let us learn more about Josh Winterhalt through our article.
Josh Winterhalt's Married Life:
Josh Winterhalt met his current wife Sarah Wayne Callies while studying at Dartmouth College. The couple fell in love and after dating for some time, they decided to get married on 21st July 2002.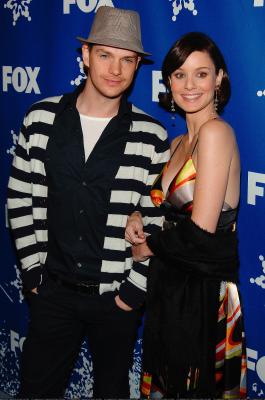 Josh Winterhalt with wife Sarah Wayne Callies enjoying their ride (Photo: famousfix.com)
After enjoying 5 years of married life, the couple added a bundle of joy in their family. Sarah's publicist, Jodi Gottlieb first announced that Sarah was pregnant and the couple was expecting their first child on 23 January 2007. 
In an interview with FemaleFirst in May 2007, Josh's wife explained her pregnancy experience. She was asked how was she finding pregnancy at the time to which she stated, 
"I'm enjoying it now but at the beginning it was very hard, especially while I was working and before I told anyone and I was really sick. There were a few days where I'd sort of think one foot in front of the other and just get through it. Passing that initial trimester has been an adventure and change but it's been an awful lot of fun too."
Further, she was also asked whether she was looking forward to motherhood or not. She replied, 
"Yes I am, but I think I'm appropriately terrified of it as well. I'm fully prepared to fall flat on my face but I think it's going to be a continuing adventure and change and one that I'm certainly excited about."
In the same interview, Keale Winterhalt's mother, Sarah also addressed the rumors of the producers of the show, 'Prison Break' planning to incorporate her pregnancy into the show by saying, 
"No, it would not be possible. The show moves too slowly. The first two series have only been eight weeks in terms of the real time of the story line so if Sarah is pregnant it's not Michael's baby and that's a wrench that I don't think they need to throw into things."
Later on 20 July 2007, Sarah gave birth to a baby girl Keala Winterhalt. Similarly, the family of three grew to four as the couple adopted a boy named Oakes Wayne, who was born in 2013.
Josh is enjoying his married life with a beautiful and talented wife, Sarah Wayne with two adorable kids. Josh is currently running on 15 years of married life and has given no clues to their divorce. 
Josh Winterhalt's Wife's Short Bio:
Sarah Wayne Callies is a famous actress best known for her role in Prison Break as Dr. Sara Tancredi. Sarah is an American actress who was born on 1st June 1977 in La Grange, Illinois. She was born to Valerie Wayne and David E. Callies professors of English and Law respectively.
Sarah parents taught at the University of Hawaii, Manoa. When she was just 1-year-old, Sarah moved to Honolulu, Hawaii with her parents and was raised there. She studied at the Punahou School till high school and after graduation, she went to Dartmouth College in New Hampshire.
Sarah is best known for her role in AMC's Walking Dead as Lori Grimes and in American science-fiction drama series Colony as Katie Bowman.