Entertainment
Astonishing Married Life Of Katie Couric With Her Banker Husband And Daughter!
Katie Couric, with her charming personality and news delivering skills, talks about lives of other people, and updates about what is happening in a particular sector. Fortunately, unlike other fellow journalists, Katie talks about her personal life also, which gave the glimpse of her married life and children.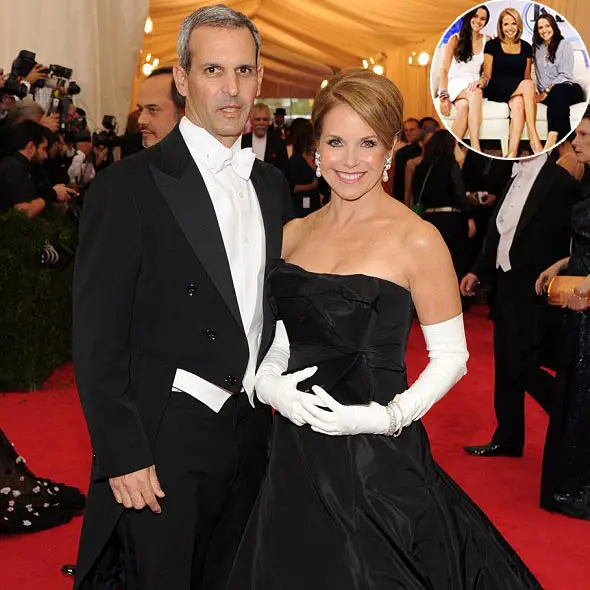 Katie Couric is the name recognized as one of the most celebrated journalists in the news industry. 
Katie Couric, with her charming personality and news delivering skills, talks about lives of other people, and updates about what is happening in a particular sector. Fortunately, unlike other fellow journalists, Katie talks about her personal life also, which gave the glimpse of her married life and children. 
Couric is helming NBC's Olympics coverage from PyeongChang.
Katie Couric's Blissful Married Life: Banker Husband and Gracious Children:
Katie and John had dated for about two years before John popped up the big question with a ring. The couple got engaged in the September of 2013, while they were on a beach in East Hampton, New York.
But the duo came into limelight as a couple only in April of 2012. Katie expressed her emotions post engagement to PEOPLE, by saying,
"He's great. He's from Chicago. I love Midwesterners!"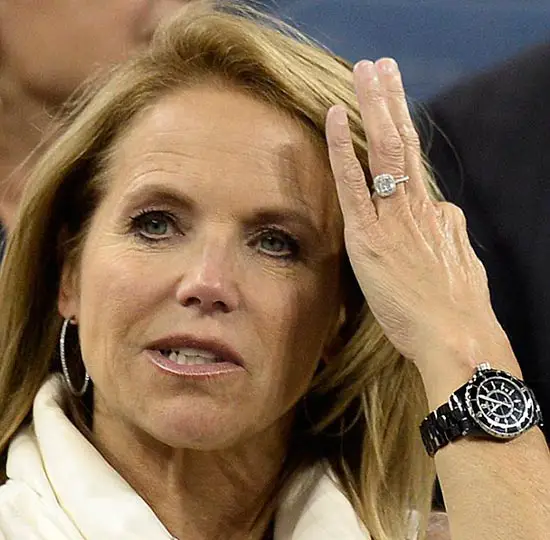 Katie Couric was flashing her big diamond engagement ring at the U.S open in 2013 (wordpress.com)
The next year, i.e. on June 21, 2014, the couple got married in a small private ceremony in front of a little of 50 friends and family. The wedding was held at Couric's backyard of her home with her youngest daughter singing, her nieces being flower girls and having two ring bearer at each side.
Couric's daughters, Ellie, 25 and Carrie, 20 from the previous marriage with Jay Monahan, did the readings, which was accompanied by John Molner's children from his previous marriage; Allie and Henry.
Sharing the excitement, Katie shared an image on Twitter with her husband on 22 June 2014.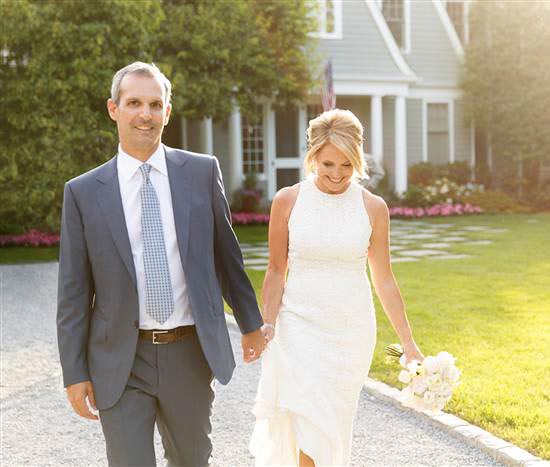 Katie Couric with her husband John Molner after their wedding on June 21, 2014 (nbcnews.com)
In an interview with the Savannah Guthrie, a co-host of the Today show, Couric shared her excitement of getting married, where she said;
"I just wasn't nervous at all. For someone who is generally hyper, I was incredibly relaxed."
Katie Couric's Loved One's Death and Daughters!
Katie Couric was not always a happy soul as she faced the unfortunate incident of being a widow as her previous husband, Jay Monahan died of colon cancer at the age of 42 years old in 1998. 
Katie's was married to her late husband, Jay Monahan, who was  Long Island native in 1989 when Couric was a reporter in Washington. Katie was married to NBC News' lawyer and legal analyst for 9 years before his death. 
According to Georgetown Law School graduate, Jay's obituary, his cancer was discovered in April 1997 which ended his high-profile career. Jay, who previously worked as a clerk for Judge Thomas Hogan and was a lawyer for a law firm in Washington D.C., held a successful career of legal analysis on NBC programs for high-profile criminal cases such as O.J. Simpson trial, and the trials of Timothy McVeigh and the Unabomber. 
The duo shared two daughters, Elinor and Caroline, where Elinor was six years old and Caroline was two years old when Jay Monahan died.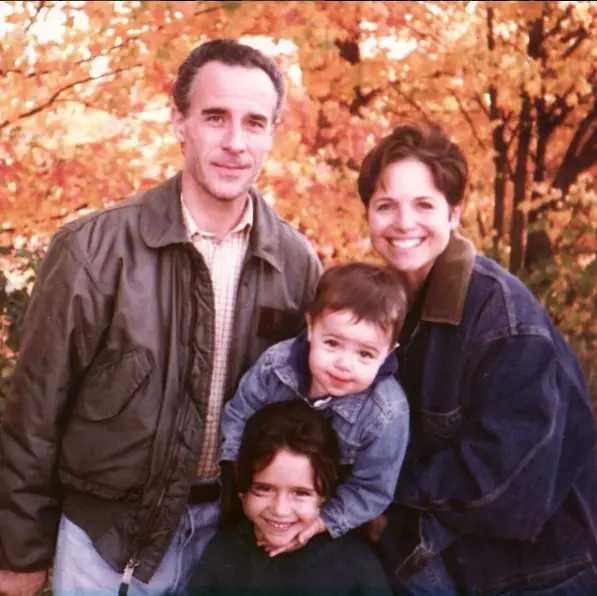 Katie Couric with her later husband, Jay Monahan and her daughters Ellie and Caroline (longestshortesttime.com)
Katie's late husband was sick for nine months before he died. In an interview with FoxNews on August 2017, Katie revealed that she overprotected Jay about his sickness by saying, 
"I think I overprotected him. I encouraged the doctors not to tell him how incredibly bleak the prognosis was. I didn't want to ruin the time he had left with just hopelessness."
Also, Katie disclosed her regret allowing her optimism and fear stand in the way of saying goodbye to her husband by saying, 
"I wish that I had the courage to really talk to my husband about the fact that he was probably going to die. It was too terrifying," she said. "I think that prevented me... from ever really saying goodbye."
Jay Monahan's sister, Sally Zogry wrote a tribute to Jay saying, 
"Jay was so vital and energetic, extremely disciplined, an early riser, careful eater, fastidious dresser, physically fit and regular exerciser. He never smoked and rarely drank but was the life of any party who had a wonderful Irish tenor voice, was the best dancer, and talented pianist. I know he sounds too good to be true but he had all of these qualities and more: he was an excellent student; college athlete; naval aviator; brilliant lawyer; television legal commentator; avid horseman; a Civil War re-enactor and amateur historian."
Also, Jay's sister revealed that Jay had learned about his cancer and describing the moment she said, 
"Jay was diagnosed because he ended up in the ER with excruciating abdominal pain and his physicians discovered a mass the size of a softball in his upper colon – a bad place to have a tumor. Through further investigation and emergency procedures, they determined that his cancer was quite advanced and had started to metastasize, most notably to his liver – that was even worse."
Katie Couric also wrote a eulogy, which was read by her oldest sister, Emily Couric at Jay's funeral. Not long after Jay's death, Katie also lost her sister, who was suffering from and later died from pancreatic cancer. Suffering from twin death blows deaths of her loved ones, she opened her grief on social media by sharing an Instagram image on 29 December 2017. 
After twin death blows, Katie has devoted her career to cancer research and education to encourage people to get tested for colon cancer. She even held a live colonoscopy on the set of the Today Show. Talking about her efforts, she explained to PEOPLE in 2015 about her hope that Jay would be proud of her work saying, 
"I hope he would think that the work that I'm doing – whether it's in colon cancers or in other cancers, to save future Jay Monahans from experiencing the same fate that he did – is worthwhile and important," 
Not only that, Katie also contributed to cancer research by working in different positions. She is the co-founder of Stand Up 2 Cancer, the National Colorectal Cancer Research Alliance and the Jay Monahan Center for Gastrointestinal Health, Katie shared an Instagram image on 24 January 2018 that marked the 20th Anniversary of Jay Monahan's death with the caption "We Miss You."
Katie Couric courageously raised her two daughters as a single mother while juggling with her between family and work. Katie's both daughters are now following in mother footsteps. 
Ellie has followed her mother into the entertainment industry to some degree. 
Ellie, who was an intern for HBO, was a Crime Strategies Intern for the New York County DA's office. Also, Ellie, who graduated from Yale University in 2013, was also the camp counselor, and an editorial intern for Glamour Magazine. Ellie has also written an article about losing her father for the Huffington Post, writing,
"Though we suffered that devastating loss at a young age (I was six, my sister only two), we have also been very fortunate to have been brought up by a strong, supportive, and loving mother whose friends and coworkers, both male and female, have and continue to serve as positive role models. Likewise our grandparents and extended family, especially our mother's father, always took an active interest in our lives."
Katie's second daughter, Carrie is also walking a profound career path and focusing on writing career. Carrie is a graduate of Stanford University (2018) and held multiple internships in the media working on social justice oriented causes. While at Stanford, she was the chief recruitment officer for Kappa Alpha Theta and contributed essays to West Magazine. 
In 2016, Carrie worked as an intern in Paris, where she taught young children English. Also, she interned for Ark Media in Brooklyn in summer 2016, doing research for a PBS American Experience episode and a miniseries called The Gene.
Besides, she was a communications intern for the Southern Poverty Law Center in fall 2017 and worked for one media-related company doing post-production for Oklahoma City, a PBS American Experience documentary.
Apart from her personal life, Katie Couric is the renowned journalist, who has been gaining popularity for a long time.
Katie's popularity and love from her fans have upgraded her economy too!
As previously, Katie was offered an annual salary of $10 million dollars with the title of the Yahoo Global News anchor, which she agreed. Katie debuted as the Global Anchor for Yahoo! News in January 2014.
She has been enjoying her current salary of $10 million per year at CBS and net worth of $75 million dollars.
As most of us have heard, practically, a person can never be fully satisfied. Couric even after having a net worth most only dream of, she has other worries. She mourns over the days when she could bear a child as she does not think, only two is not enough and it leaves her craving for more when she sees other kids. Even at the age of 59, the lady looks young but her days of perceiving a baby have ended for over a decade now.
In an interview on August 2012, she revealed her desire for more children by saying, 
'' I love being around my kids. I'm not a particularly solitary person. "I like a big, chaotic household — noise, commotion, laughter! Sometimes I think I should have had six kids. Or I wish I'd had one [more] at 37, but I was busy. My career.
Days of being pregnant are surely over for now but there is always another way of it as she could consider adopting, but we might just leave her to her thoughts.