Entertainment
Martin Sensmeier Is Not Gay! Has A Married-Like Dating Affair With Girlfriend
Hold on to your hats because we are about to spill some beans about the handsome American actor Martin Sensmeier's dating affair with his beautiful girlfriend and that rules out all the rumors about him being gay.
Martin Sensmeimer's Blissful Dating Affair With His Girlfriend:
It is very common for celebrities to be mistaken and labeled as gay. The actor Martin Sensmeimer has fallen victim to the similar scenario as people often tend to question his sexuality. However, there is no truth to the speculation here.
In fact, he has a beautiful girlfriend, American vocalist Kahara Hodges, and the couple is in a happy dating relationship.
Take a look at the adorable duo smiling for the camera.
Here is another one where the pair can be seen sharing a peck on the cheek and the forehead. How cute is that?
Likewise, the model shared an adorable picture of the two kissing each other in the middle of a mystic jungle on the occasion of her boyfriend's birthday.
More importantly, it seems like Martin's family has given their relationship a green signal. Kahara was caught in Martins' family picture during the opening of his movie 'The Magnificent Seven' at the Regal Cinemas Stadium 16.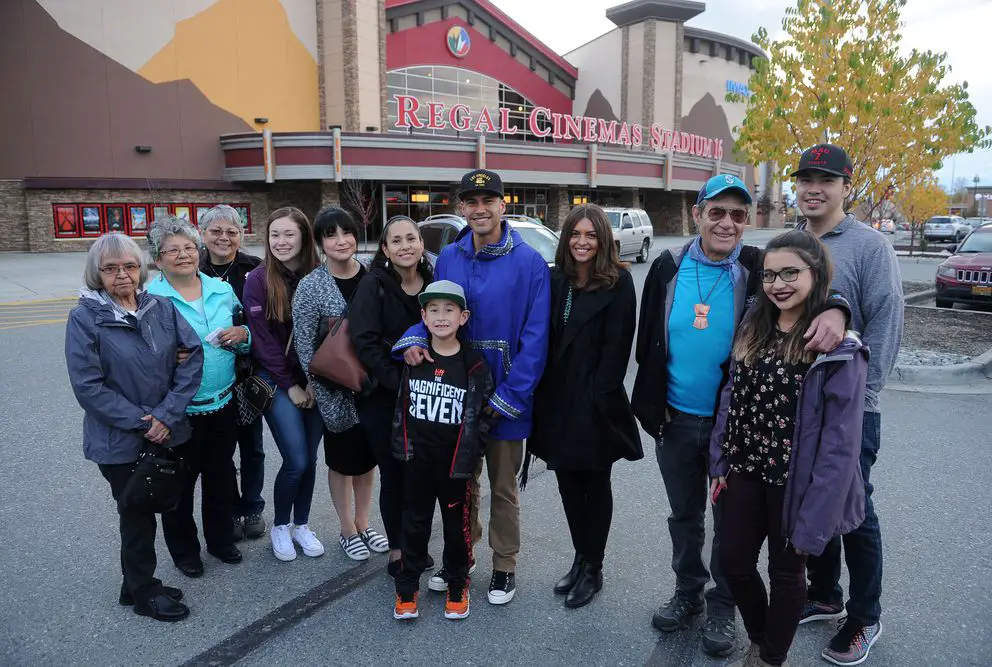 Martin with his family and girlfriend during the opening of his movie 'The Magnificant Seven' at Regal Cinemas Stadium 16 (adn.com).
The couple is not even married, yet they are setting some serious relationship goals to the public. They look ravishing together, and their fans can't help but admire them. Their pictures and captions just keep getting better and better, like this one!
They are one of those celebrities who does not hesitate to flaunt their loved ones on social media. Here is another one where Martin is holding his wife-to-be girlfriend and kissing her on her forehead while Kahara is all smiles wrapped in his arms.
The duo is smitten and head over heels in love with each other. Their fans are patiently waiting for the couple to get married soon.
More About Martin Sensmeier:
The 6 feet 1 inch tall Martin was born in Alaska in 1984. The actor first caught the bug for acting when he was in school.
"It happened in fourth grade. My teacher, Celia Eklund, everything she taught I fell in love with. She taught history and I fell in love with Egypt and the pyramids. I fell in love with Mexico and the Mayans. She directed a school play and I fell in love with acting. I daydreamed about it all day long."
But instead of acting, he studied welding at the University of Alaska Anchorage for two years. By the age of 21, Martin started working in Doyon Drilling and lasted there for five years.
The job got him enough money to fly to Los Angeles and study acting. Once in LA, he took modeling job and acting classes while working really hard.
But to his despair, he was not able to bag anything significant. He even thought of going back to his hometown, Alaska. But fate had something else planned for Martin.
"I decided, I'm going to give this two more solid years. Then I'll cut my losses. And in the meantime, I'm going to work harder than I've ever worked before."
And not long after that, he was able to bag the role of his lifetime on the big screen. 
Martin's big screen debut in movie 'The Magnificant Seven' (Jul 18, 2016).
The movie was well received by the viewers, and Martin was able to grab a lot of attention given his excellent acting skills.