Entertainment
ESPN's Marty Smith: Glance At his Funky Married Life
ESPN's Marty Smith: Glance At his Funky Married Life. The ESPN journalist, Marty Smith, has balanced both family life and work like a pro. Let's dig more into Marty's personal life to get acquainted with how he brings about the balance.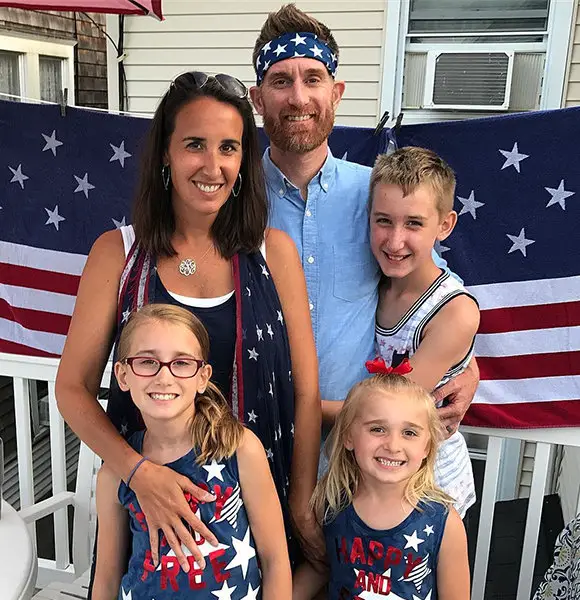 Marty Smith, a journalist for ESPN TV channel, has balanced both family life and work like a pro. Let's dig more into Marty's personal life to get acquainted with how he brings about the balance.
Marty Smith's Married life
The American sportscaster, Marty Smith, 41, knows how to keep his fans entertained with his commentary and analysis of in-game events. The journalist has been mesmerizing his fans, not only through his hosting ability but also by sharing his personal life details. 
Marty is blissfully married to the beautiful Lainie Smith and is very affectionate towards her. The couple shares three children: Cambron, Mia, and Vivian, and they often use their social media to show the love they have for their family. 
Back in 2014, Marty uploaded a family photo in his Instagram account and declared that his family is his life in the caption. 
Marty also takes the liberty to wish his lovely wife a happy anniversary every year. He announced the news of their 16 years of togetherness through his Instagram account and also hinted that he has a cheerful family in the caption that read,
16 years. Hard to harness where they've all gone. Dreams. Three beautiful children and days full of laughter are more than I deserve. ❤️
Moreover, the loving husband, Marty even wished his wife a happy 40th birthday on 7 February 2017 by posting a beautiful vintage photo of the couple and wrote a beautiful message to his wife. Saying that the moments they have spent together have been worth memorizing, Marty scripted the caption as, 
Twenty years ago I met this beauty. Half our lives. Together. We've experienced euphoria and great sorrow, love and hurt, crushing losses and humbling wins. We have three beautiful kids who even like us every now and then. Our lives' experience has unearthed riches beyond treasures and our mutual respect is esteemed and cultivated by the steely plow of time. No one I've ever met is more selfless. I love this photo. It is joy. And the heart-shaped, mirrored Wal-Mart frame I put it in in 1999 is timeless. Happy 40th, beautiful.
The time that usually wears out relationships seems to be fortifying the bond this couple shares. Even after years of being together, Marty and Lainie carry a great deal of love and affection for each other.
Earlier, on 7 December 2017, Marty uploaded a delectable picture where he can be seen kissing Lainie on her cheeks while Lainie is all in smiles. The cute picture was accompanied by a heart-melting caption that simply read,
Love this girl so much.
The pictures Marty shares on his social media accounts hint that he has a beautiful family, and given his successful career, it is easy to establish that Marty is undoubtedly a pro at balancing work and family. And the beautiful bond Marty and his wife share is a source of inspiration to many couples around the world.
Besides the jolly time he spends with his family, Marty is involved in reporting sports news for the ESPN's "SportsCenter" and "College GameDay." He even hosts the ESPN2 interview show "Marty Smith's America" and co-hosts Saturday morning ESPN Radio show "Marty and McGee." Interestingly, he even signed a new multiyear contract with the ESPN.
With his flourishing career, it is evident that Martin must be enjoying a handsome salary, but the exact figure has not been revealed yet.