Entertainment
Mary Jo Catlett Still Entertaining with Movies and TV Shows At 79!
As long as talent prevails, entertainment is a platform where age is irrelevant. The entertainment business is filled with young to old, and middle-aged talents who have been doing exceptionally well on their respective fields, regardless of their age.
We are here to shed light on the 79-year-old American actress Mary Jo Cattlet who has found success in all three significant outlets of entertainment business: stage, movies, and TV.
If you are wondering who she is, well she is the voice of Mrs. Poppy Puff on the very famous and acclaimed animated series SpongeBob SquarePants. Her recurring role in the animated series is just a small portion of her more than five decades of professional career.
If you want to know about the colorful life of Mary Jo, we have it covered all in a single scoop.
Mary Jo Catlett: Still Entertaining at 79!
Mary Jo Catlett was born in Denver, Colorado. She attended Loretto Heights College in Denver and is the daughter of Robert and Cornelia Catlett. She is a few months away from turning 80 and celebrates her birthday on 2nd of September every year.
She was drawn to acting from quite a young age and started her journey with a theater role in 1963 production of Along Came a Spider. Her famous stage shows include Hello, Dolly!, Canterbury Tales, Different Times, The Pajama Game, and Beauty and the Beast.
Besides her theater performances, she has been able to bag some admirable TV shows like Glee, Desperate Housewives, and That's so Raven. Becuase of her sweet innocent voice she has been the voice of some applaudable characters in Spongebob Squarepants, Smurfs, Rugrats, Quack Pack, and Extreme Ghostbusters.
Mary Jo is barely spotted by paparazzi as she seems pretty much occupied with her work given her established professional life at this age.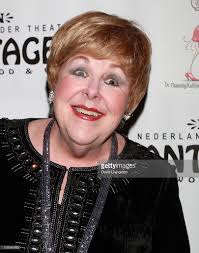 Caption: Mary Jo attended her friend's birthday
Photo Credit: Gettyimages.ca.com
The actress has already been a part of a handful of movies and portrayed some admirable roles on screen, but when asked about a particular character she wants to play in the future in an interview, she shared,
Every actor has one or two of these; some passed me by. I would love to have played Winnifred in Once Upon a Mattress; or mine would be Lady M in the Scottish play in an all Senior production...fun, hum? How old would Polonius have to be?? We'd wheel him behind the curtain
The 79-year-old Mary's personal life may not have been highlighted in the media, but her professional life sure is one commendable journey.
And she does not have any reason to stop or retire from her career, and we have reasons to believe that she is still striving for work as she has not made any announcement on that matter till date.