Entertainment
Maureen Maher Has Been Hiding Her Married Life and Husband! The CBS Reporter Has A Family
When you are a public figure, then it's normal for the people to have curiosity regarding your personal life and show interest in your married life, kids and perhaps every possible detail about your personal space.
Well, fulfilling the wish of ardent fans of CBS reporter Maureen Maher, we bring you all possible details of this aspiring correspondent!
Maureen Maher's Married Life:
CBS reporter Maureen Maher has successfully maintained a tight guard over her personal life and least information has surfaced in the media. However, through her tweets, her fans got to know that she is a married woman with two kids.
The couple's first meeting and the tenure of their relationship were unknown until she revealed that through a tweet on March 3, 2016.
Moreover, when a follower asked Maureen about her stylish jackets, then she shared about her ongoing closet space battle with her husband.
The reporter Maureen left her trademark jacket behind and dressed in a beautiful white gown for a ball, and shared a tweet mentioning her husband in her tweet recently on July 18, 2017
Maureen has time and again mentioned her husband in her tweet without mentioning his name or giving away his picture. Thus, the identity of Maureen's husband remains a mystery till this date.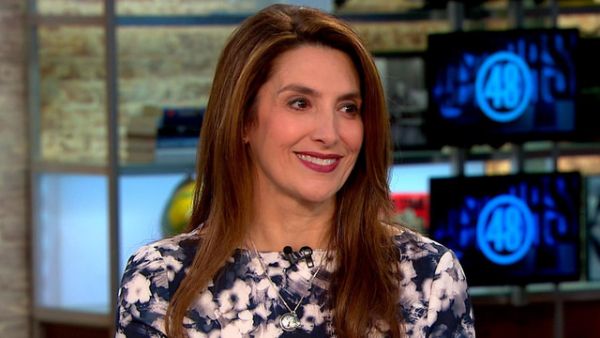 Caption: Maureen Meher while hosting 48 Hours Mystery.
Photo Credit: CBS.com
Moreover, when a twitter follower complimented her on her reporter look, she thanked for the compliment, and along with that, gave way another fact about her to her fans.
When a follower asked Maureen of her availability on Twitter that night, Maureen replied mentioning her unavailability backed up by a beautiful reason.
Although there is less information about her family, Maureen's tweets suggest that she has a beautiful family and lives in her paradise with her husband and two kids in Chicago, Illinois.
Maureen Maher Was Adopted!
Maureen Maher was adopted at birth, and she revealed this fact of her life in an episode of 48Hours that aired on December 11, 2009.
While living an adopted life, when Maureen reached the age of sixteen, she started collecting details about her biological parents.
Maureen's biological parents were high school seniors. When Maureen's mother got pregnant, she gave Maureen for adoption at birth, as she was sure that the Catholic Charities would find a better home for her. Maureen shared the same as,
"It was a stigma then. It would have been really hard for her to keep me. She loved me enough to give me up."
Maureen found out about her biological mother, but her mother was uncomfortable with Maureen's presence back in her life. Maureen confessed it as,
"Every time she sees me, it's a reminder of that pain, I understand that. It's sad she can't get past it. But it's okay. I feel very grateful for the choices she made. ... It doesn't mean I don't get kicked in the stomach every time she pushes me away, though."
It's tough to give away your child for adoption but as Maureen said; her mother loved her enough to give her away!
Maureen Maher's Wiki Like Bio:
Maureen Maher was born in Michigan, and her biological parents, who happen to be high school seniors, gave her for adoption. Maureen studied Bachelors of Arts and graduated with a degree in communication from the Loyola University.
She started her career as a news anchor in 1991 with WLUW(FM). She worked with WJBK-TV and WWJ-TV until 1995 and worked for CBS Newspath from 1997 to 2002.
Further, Maureen shifted to Dallas and started working as CBS news correspondent in 1999 until 2002. In the year 2003, Maureen began to host CBS crime documentary and news program, 48 Hours Mystery.
This talented and hard working reporter has attained appreciable height in her career, Maureen probably receives a handsome salary from her profession. However, her earnings, along with her current net worth, remains confined to Maureen herself.
Stay with us for the emerging updates on Maureen Maher!