Entertainment
Mayer Hawthorne Talks On Girlfriend, Dating Became Easy Once Fame Hit - His Status Now
With fame comes power and influence; also the people who didn't value you previously might try to contact you and be in your good books for one reason or the other.
Grammy-nominated American singer, Mayer Hawthorne also went through a similar phase, as his dating life became comparatively easy once he rose to fame. Mayer is the heartthrob of many but has he stumbled upon a special one, who rules his heart? Keep reading to find out the answer!
Mayer Hawthorne's Romantic Life:
Mayer's fan might be taken aback by the fact that there were girls who rejected his romantic proposals before his claim to fame. Yes, you heard it right!
While in the high school, he was not the coolest kid and was rejected by his female peers. However, he wasn't disheartened enough not to try again, so he kept trying, and eventually, he did get an opportunity to date.
"I got rejected. There was plenty of that. Luckily that didn't stop me from trying. I still had my share of girlfriends."
With his rise in popularity, tables turned, and the one who used to get rejected started to receive several proposals. He revealed that even his babysitter, whom he had remotely any contacts, approached him for dating.
"There's been a couple of those. People come out of the woodwork. I had a babysitter from back in the day try to contact me to see if I was available. I hadn't had contact with her since I was a kid."
So it's hard to believe that the cool and suave Mayer is not dating. However, since he hasn't presented a woman as his girlfriend yet, he is deemed as single in the eye of the public.
Meanwhile, he mentioned about the biggest obstacle in the romantic life; he is a touring musician which refrains from having a long-term relationship. He quoted:
"Being a touring musician definitely makes having a long-term relationship extremely difficult. Distance is a killer."
Additionally, Mayer's admission of his song being inspired by his long-term relationship makes it clear that he is skilled at keeping his dating affairs secret. But there still is a chance for those who fantasize Mayer, as he is yet to exchange wedding vows to get married and have a family of his own with wife and children. Also, Mayer is hoping to find the special one soon!
"I've had long-term relationships and that's a big part of where I draw my songwriting material from. A lot of times, the ones that don't work out, I get the best songs from. I'm hoping that eventually I do find 'the one' and, hopefully, when I do, my songs don't totally suck all of the sudden."
Love is love irrespective of gender and Mayer's tweet in support of gay supports the same!

Mayer Hawthorne tweets in support of gay community (Mayer Hawthorne's Twitter)
The credit for Mayer's musical talent also goes to his parents as he hails from a musical family. Mayer got introduced to music from a young age. His father owned an auto parts shop, Great Lakes Harbor, and Auto, and Mayer used to accompany his father to work. Together, the father-son used to listen to Motown and oldies on the radio, and his father used to serve his curiosity related to music.
Moreover, Mayer learned to play guitar from his father from the age of six as he played bass guitar. Plus, his mother was a tap and ballet dancer and even played the piano.
Mayer celebrated the 42nd wedding anniversary of his parents with a collage of cute pictures, giving an insight into their relationship.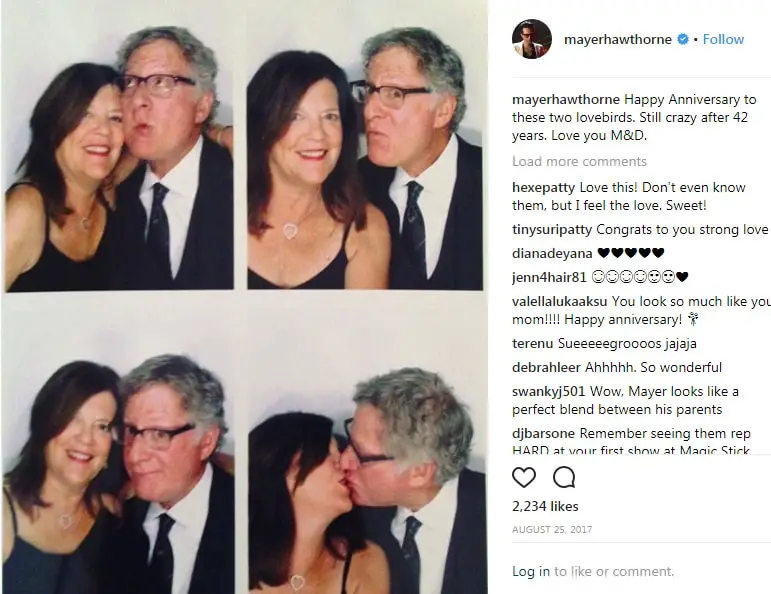 (Mayer Hawthorne's Instagram)
Mayer's being in search of 'the one' seems to arise after being acquaintanced with the long married life of his parents!
Think we're missing something? Do let us know in the comment section below!