Entertainment
Meet Greta Van Susteren's Strategist and Scientologist Husband: Married in 1988. Children?
We often tend to learn about people surface and do not try to search what is there within. For instance, Greta Van Susteren was celebrated as the co-host of CNN's daily legal show 'Burden of Proof' (alongside Roger Cossack)  and the host of  'The Point w/Greta Van Susteren' for years.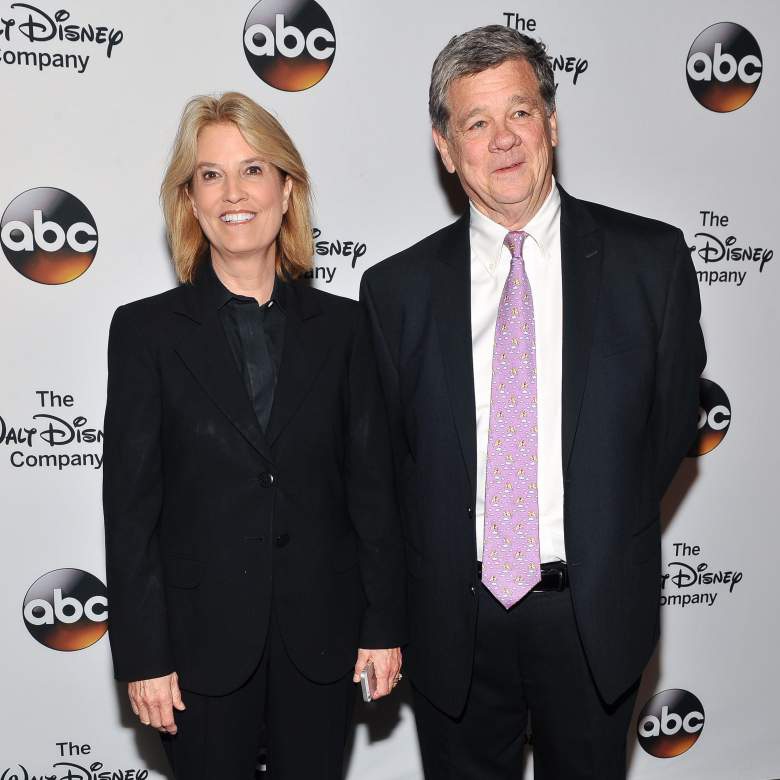 Quick Information
Divorce/Split

Not Yet

Lesbian

No

Eye Color

Blue

Hair Color

Blonde

Hair

Long

Weight

53 kg (117 lbs)

Height/ How Tall? 5'3" (1.60 m)
College

Georgetown University

High School

Xavier High School (Appleton, Wisconsin)

Career

1979–present

Net Worth

$35 Million

Dating/Affair

No

Wedding Date

1988

Date of Birth Jun 11, 1954
Husband/Spouse

John P. Coale (m. 1988)

Relationship Status

Married

Children/Kids

Not Yet

Sister/s

Lise Van Susteren

Brother/s

Dirk Van Susteren

Mother

Margery Van Susteren

Father

Urban Van Susteren

Ethnicity/Race

Mixed

Zodiac Sign

Gemini

Birth Name

Greta Conway Van Susteren

Profession

Commentator, Lawyer

Nationality

American
We often tend to learn about people surface and do not try to search what is there within. For instance, Greta Van Susteren was celebrated as the co-host of CNN's daily legal show 'Burden of Proof' (alongside Roger Cossack)  and the host of  'The Point w/Greta Van Susteren' for years. Some may even recognize her for her relief efforts in Haiti, especially being the founder of the organization, 'Greta Home' but how much do you know about her personal life?
Take an inside look into their married life. Are they having any difficulties recently? Find out what it is. Also, Do, they have any children together. Get the answer to all these queries here.
Greta's Married Life:
She is married to John Coale, a Republican political advisor, an acclaimed Scientologist, and a well-known tort lawyer. He has been highly respected in the legal sector for his courage to clash with corporate giants for justice. He was also the advisor of Hilary Clinton and Sarah Palin, the Governor of Alaska. Coale and Sustren are also the members of the Church of Scientology, the fastest growing controversial religion of 20th century that focuses on "Knowledge of the life to achieve truth and freedom."
Struggle With Her Husband's Health:
Susteren and Coale have a very healthy relationship that was seen in the past months, as Coale had to fight with multiple surgeries related to his throat cancer earlier this year. Again in April, he had to go through an Open-Heart Surgery. Fortunately, socialnetwrkingSusteren was by his side supporting him and praying for him.
Susteren later expressed how humbled and thankful she felt during the terrible period after people expressed their prayers to her and social networking sites through a video she uploaded on YouTube.
Caption: Greta provides info on her husband and his open heart surgery
Her Children?
It's difficult to believe how such happy and understanding couple haven't had the liberty to have kids of their own yet; biological or adopted, even after 28 long years of marriage. They would certainly be good parents, after all, they have been inspiring the suffering children of Haiti after the earthquake. 
It also looks like they will be great parents one day because presently they have been filling that empty void of parenthood with their cuties: their dogs and cats.
Having been committed to making their life successful together, they have nothing else but mutual love and respect for each other and are not involved in any other affairs. As a result, their long and happy married life are likely to continue for long, and they aren't going to have a divorce anytime soon.
Couple's Relief Work:
A prolific news reporter, a wonder person and a famous Journalist, Greta has enjoyed success in every part of her life. Be it her successful marriage life or her professional life, she has always been a worker more than a talker and thus has won many fans and fame around the world. Her husband is also a friend of many political figures and successful talents.
They have passed a sad but still a very inspirational moment (the surgery) in their life that has brought them even closer. They will soon embark on social relief together as a couple again as they have in the past.
Last but not the least, her husband John is not the only one in the house who has experienced a surgery. In fact, Greta has also undergone surgery once, but not for health reasons like John. 
Plastic Surgery Rumors:
Yeah, it's true. On the Record with Greta Van Susteren host, Greta, had a face surgery before moving to Fox from CNN in 2002. Plus, she is surrounded by other plastic surgeries rumors as well.
Caption: Greta, before and after her Plastic surgery amongst other images of her in varying angles
Nevertheless, she has established a strong image in American journalism receiving the award of 'Excellence in Journalism' from American News Women Club and the title of the 94th strongest woman in the world from Forbes. But what many of us fail to see is her sensitive and compassionate side as nothing more than a wife.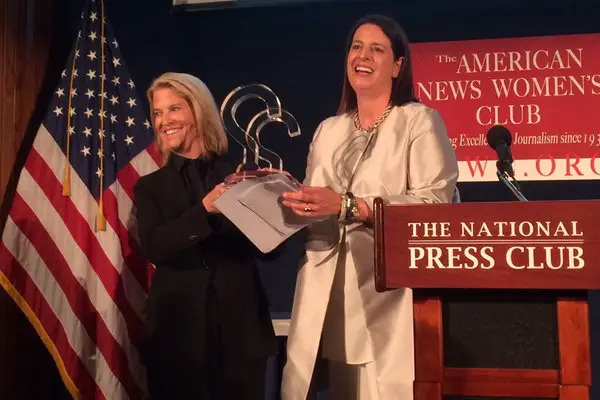 Caption: Greta Van Susteren, receiving the award from the American News Women's Club.
Photo: twimg.com
She also received a lot of good wishes for her great achievement her fans congratulated her on Twitter. 
Susteren Gets Laid off On-air After Fallout With Fox-News:
Greta Van Susteren was fired in September 2016 after talks about her leave with Fox News progressed. After using her contract clauses to leave the Network, she was laid off without even giving an opportunity on the air. Viewers were confused seeing that Sustren was missing without no previous information. After confusion amongst viewers and fans had arisen, Susteren clarified the situation through her Facebook. The statement read as follows:
Yes, I have left the Fox News Channel.

Last Thursday night, I made my decision and informed Fox News of my decision at that time that I was leaving Fox News Channel per my contract.

Fox has not felt like home to me for a few years and I took advantage of the clause in my contract which allows me to leave now. The clause had a time limitation, meaning I could not wait.

I love my staff, I love my colleagues, and I love the crews. That is the hardest part of this decision as they are wonderful people.

And most of all? I love the viewers -- even the ones who have gotten mad at me over the years and taken swipes. :)

I hope to continue my career in broadcasting.
Insider sources suggest that Sustren was having issues working at Fox News ever since Roger Ailes took over in the past few years. After his leave as well as the numerous sexual harassment cases and lawsuits, her temperament did not improve, and she sought to change her current status at Fox News or the very least, increase her pay using her contract clauses. 
Sources suggest that there were 'financial disagreements' between Susteren and the executives and after that failed she sought to leave the network using her contract clauses that state that she had a 60-day period to leave after Roger Ailes resigned. 
Her husband John Coale clarified that her plan was to have a 'graceful exit' but this was denied by Fox News who yanked her off the air before she could make an announcement about her leave. 
Greta has spent 14 years as one of the prime reporters of Fox News, and it is evident that her loss will be profoundly felt by the crew. 
It is planned that Brit Hume will be taking over Van Susteren's 7 p.m. time slot for now.
Greta Van's Short Bio:
Greta Van Sustreren was born on June 11, 1954, in Appleton, Wisconsin, US. After attending Xavier High School in 1972, she went on to graduate from the University of Wisconsin-Madison in Geography and Economics in 1976. She received her JD in 1979 from Georgetown University Law Centre, and Stetson Law School awarded her an honorary doctor degree in law.
Speaking of 2016, she has appeared in multiple Television shows. She has been part of 'On the Record with Brit Hume' since 2002 till present. She has also appeared in 'Media Buzz' since 2014 to 2016 and in 'This Week' since 2012 till 2016.