Entertainment
Melissa Etheridge Details On How She Turned Girlfriend Into Wife; Considers Kids As Friends
How does love blossom? First, two strangers become friends. The friendship then takes a new turn and eventually turns into a relationship, and if the couple is lucky, that relationship turns into a life long journey of marital relationship.
Sharing a similar story is American singer-songwriter Melissa Etheridge, whose love story is quite an interesting one. So, let's get some details about their relationship about how she turned out to love her best friend and finally got married.
Longtime Best Friend Became The Love Of Life And Wife!
The 56 years old rocker Melissa Etheridge is now a married woman. She got married to her best friend, actress Linda Wallem. The pair got married on their 53rd birthday on May 2014. The lesbian couple tied the knot at the San Ysidro Ranch in Montecito, Calif.
They are life partners now, but before that, they were best friends, and the journey from friendship to getting married is kind of interesting.
In an interview on October 2014, the Bring Me Some Water hitmaker talked about how the love sparked and found its way to the aisle. She said,
"We were best friends. This is the first time I've ever done it that way,"
The Kansas native mentioned that she had been friends with her now wife for almost a decade. She continued,
"But to be friends with someone, to know them for almost 10 years, intimately -- they know your life, best friend, She was the one I called when I was single and I said, 'I'm a single mom now, I got four kids at home, will you please come help me on your hiatus from 'Nurse Jackie'?'ââ?¬Â¦ You have to be careful because you don't want to lose your best friend and if you're like me you don't have a very good track record."
Then talking about their first romantic moment which triggered the love, The Come To My Window singer told,
"Slowly one morning, literally over a sippy cups, I'm running [around] making lunches, I said, 'Where are the sippy cups?' She said, 'Well, dear,'" Melissa explained of the moment when she first realized something romantic was developing with Linda. "We were like a married couple without the benefits, so why not have the benefits!?"
Interesting how their life took a sharp turn, right?
Melissa Etheridge: The Mother Of Four Children:
The Academy Award winner Melissa Etheridge was in a couple of relationships which came out publically. The lesbian singer, who came out openly during a gay celebration of President Bill Clinton's first inauguration in January 1993 at the Triangle Ball had been in a relationship with Julie Cypher.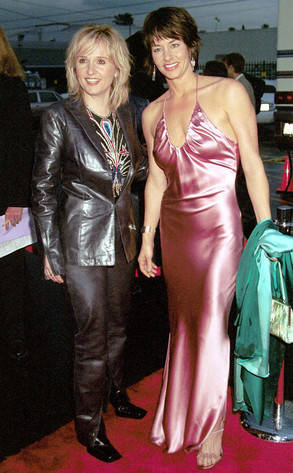 Caption: Melissa attended the American Music Awards 2000 with her then girlfriend, Julie Cypher.
Photo Credit: eonline.com
Melissa and Julie had been in a relationship for more than a decade and shared two children together, Bailey Jean Cypher and Beckett Cypher, whom Julie gave birth with a sperm donor. Later in 2001, they separated going through a legal battle for the kids.
Caption: In happier times; Melissa made an appearance with then-wife Tammy Lynn in Oscars 2007.
Photo Credit: people.com
Moving on, the Grammy winner got married to Tammy Lynn Michaels on 2003. The pair shares twin daughter and son Miller Steven Etheridge and Johnnie Rose Etheridge, whom Tammy gave birth with a sperm donor. Melissa and Tammy got divorced later in 2013
The mother of four children repeatedly talks about her kids, which shows the ultimate bonding between the mother and children. In an interview, she also mentioned that she is very open with her kids and also doesn't mind smoking pot with them. She said,
"I'd much rather have a smoke with my grown kids than a drink,"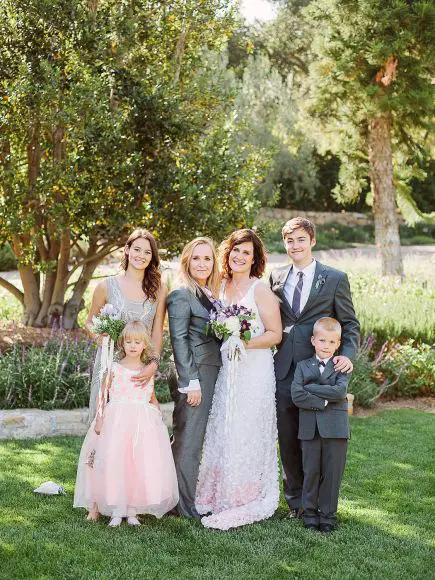 Caption: Melissa Etheridge with her four children and her now wife, Linda Wallem (2014)
Photo Credit: time.com
Kind of cool huh!
The musician became the advocate for marijuana after she was diagnosed with cancer in 2014, claiming that it became the medicine for her pain, She said,
"I smoked to be normal. I smoked to be out of pain. I smoked to lighten myself because you're poisoning yourself with chemo, It wasn't about being high; it wasn't at all anything like that. It was just being to a place where I could communicate with my children, to where I could get up, to where I could eat, where I didn't have to go to the hospital. It was great medicine."
Moreover, Melissa Etheridge also wrote weed songs for the 1986 movie "Weeds."
As of now, the singer is sharing a healthy married life with her wife, and we would like to wish them happy days ahead.