Entertainment
Melissa George Has Trouble When It Comes To Husband! Is A Fighter Because Of Kids
Nothing lasts forever, not even your feelings! People fall in love, and they split with the ones they once claimed to adore immensely. People get married, but again the chances of divorce remain inevitable. We don't know if it's about being lucky or not, but some people remain unfortunate whenever it comes to relationships.
Melissa George, the famous Australian-American actress who departed from her then-husband after the divorce, has also lived by a horrid experience with the one she once loved, her ex-boyfriend. But, despite the trauma she faced in her life; she still is fighting back for her kids.
Today, let's take a peek at the past and present of Melissa's life to know what exactly happened!
Melissa George's Past Relationships That Ended Leaving Her Shattered!
Melissa, who has numerous acting credits and multiple awards to her name, is hands down very successful in her profession, but her personal life is a complete opposite.
Talking about her marital relationship, Melissa was once married to a film director and Chilean furniture designer, Claudio Dabed from the year 2000 till 2011. Melissa first met Claudio in the year 1998 in Bali and eventually ended up getting married two years later.
However, their relationship ended after being together for 12 years.
Melissa seemed glad that her marriage ended, as some long-standing issues were going on in their relationship. Talking to Sunday Herald Sun in 2012, Melissa expressed,
"It was something that happened pretty much overnight. I kind of gave him five years' notice on a couple of issues, and when it came up again for him, the lights just went out for me."
Moreover, Melissa hinted that her desire for children was the reason for their divorce,
"I did have the best marriage. It was so full of love, and he's an extraordinary man. I think I made a great choice. But, at some point, when it stops serving your needs as a woman and the things that you want for your life, it's either get out now or wait until it's too late. It was very hard for me, but I'm glad I did it."
Melissa's happiness seemed clear as she moved on immediately in her life. Melissa went on to date Russell Simmon in 2011, the same year she got divorced, for a few months before finding love in French entrepreneur, Jean David Blanc.
In an Interview with Torry Max, Melissa described how she fell in love with David,
"I was shooting Hunted in London and I went out to the BAFTAs and it was love at first sight, just across the room.I mean one of the most beautiful men I have ever come across in my life. We fell in love instantly, we didn't really talk much, it was just an instant connection."
When the interviewer asked what was it about David that made her fall for him, Melissa replied,
"He's French, I mean what women doesn't like a French man, intelligent and back then he was very very kind!"
Just within months of their meet up, Melissa moved into David's penthouse apartment in Paris. But, as Melissa stated, things weren't smooth between the two from the beginning.
Melissa wanted a family with David, but, he was hesitant and applied pressure on her. Melissa expressed,
"I wanted a beautiful family and he was hesitant but ultimately he said okay, but not without a lot of rules and pressure until I got pregnant. I got given a contract by a lawyer in Paris that said; that in case of a separation, we must fight in France, if we have boys they must be circumcised, they would be raised in the Jewish religion, we would support the kids according to our revenues, and that we would reside in France or a city of our choice."
However, Melissa didn't sign the contract, and she had to face multiple consequences. Despite the bumpy ride she had in her relationship, Melissa welcomed her first baby, Raphaël in 2014 followed by her second son, Solal in 2015.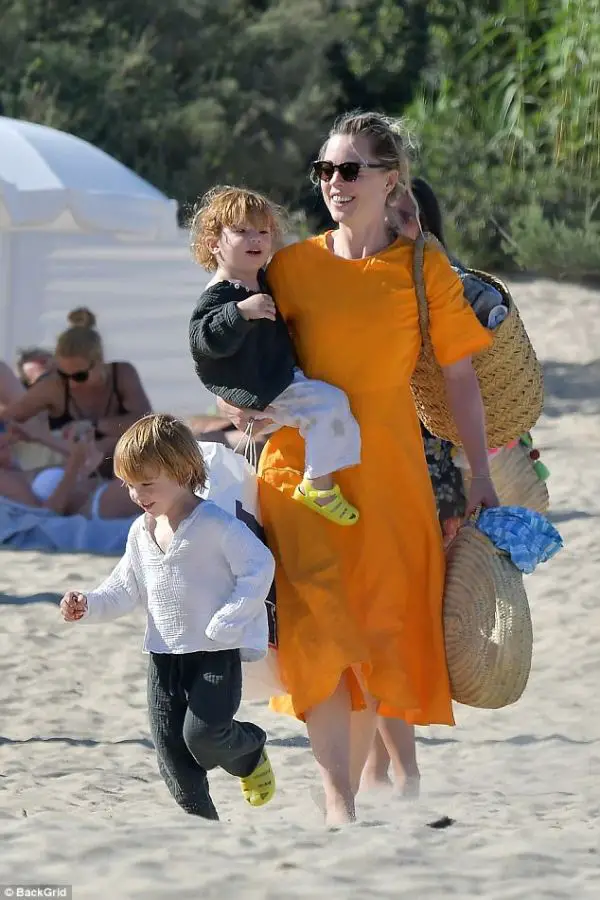 Caption: Melissa's strength; her two sons, Raphaël and Solal.
Photo Credit: Dailymail
Despite holding on to her strenuous dating relationship with her then partner, Mr. Blanc for years, Melissa finally split with him following the incident where she brutally got abused in their penthouse back on September 7, 2016.
Melissa talked about the horrid incident breaking down in tears during an interview with Troy Max,
"He pushed me into the door and then struck my face and then I hit the wall, fell on the floor and I was out, just out. And then he stood over me and said; now you're real actress"
Caption: Melissa sheds tears as she recalls the tough time that David gave her.
Published on Mar 19, 2017
Melissa was all bruised up after the incident!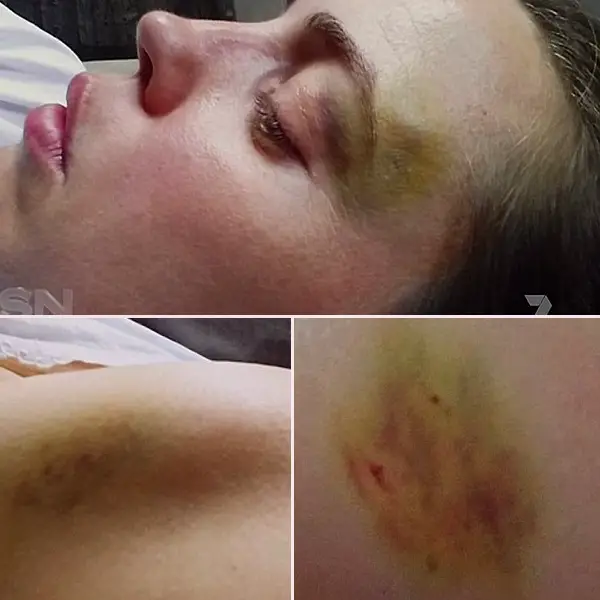 Caption: The aftermath of Davis's abuse; Melissa's visible bruises!
The uber driver Mr. Atique, who picked Melissa after the alleged attack, also told Sunday Night about her condition. He stated,
"She was crying, just crying, and saying, "I am scared, I am scared, please go… he will find me, I'm scared. She was in a lot of pain. It's horrible, I was crying too.'
However, on the other hand, Mr. Blanc firmly denies the allegation!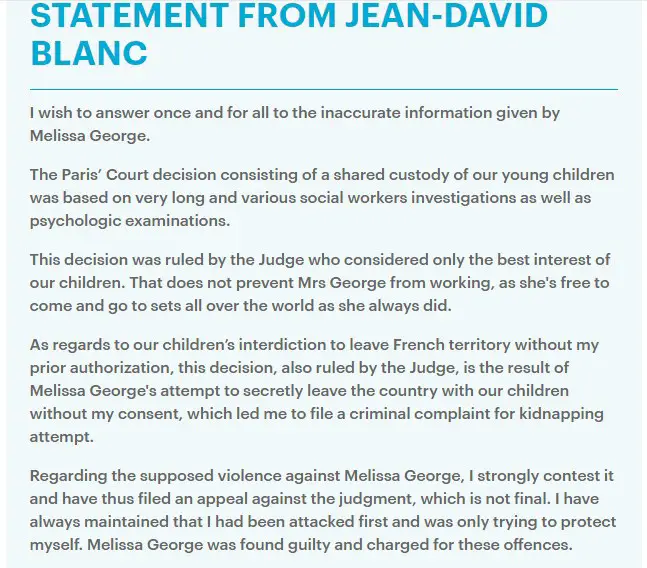 Caption: Mr. Blanc's statement on the allegation made by Melissa George.
Picture Credit: Dailymail
Both the involved party got charged with assault, after the case was ruled by the judge, stating it was difficult to determine; who started the fight.
Stay with us for the emerging updates on Melissa George!