Entertainment
What Melissa Villasenor's Personal Life Looks Like: Parents, Family & Flings
American standup comedian Melissa Villasenor claim to fame was her debut on the sixth season of the reality show, America's Got Talent. Her impressions and comedy are reflected all over her TV screen, but that's not the only place her humor resides.
The standup comedian has written humor in her dating life too after she humorously explained she would be a bad girlfriend if she starts dating in 2013.
Wishes Parents New Year; Sibling Brother As Idol
The beautiful Melissa has a beautiful family of five - two parents, a brother and a sister. She shares an affectionate bond with her family and spends quality time with all her family. Interestingly, her social media also features her family's moments.
One of such instances was on the birthday of Mellisa's mother. She took another special occasion, the occasion of New Year to Instagram, where she shared an image of her parents. Wishing her parents' a happy new year, she uploaded the image on 2 January 2014.
Well, Mellisa is close to her siblings too!
She attended her brother's graduation party and later shared her brother's graduation moment on Instagram on13 June 2016. Congratulating her brother, she expressed that she is proud of him and her brother is an idol for her. The caption read,
Congrats to my bro @andvillasenor !!!!! So proud. Whenever i think of who to be like it's always Andy.
Mellisa's Instagram talked more about her family as she Instagrammed a family picture on 23 July 2017 on their Chicago outing.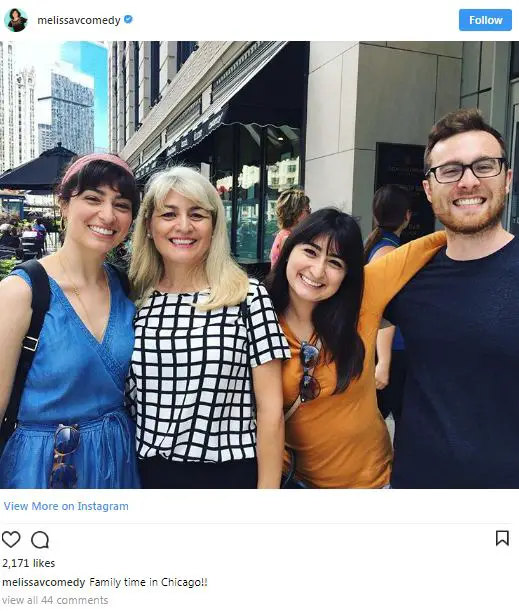 Mellisa Villasenor with mother, brother, and sister in Chicago back in July 2017 (Mellisa Villasenor's Instagram)
Mellisa, who calls her sister a best friend, indeed has a loving and beautiful family.
"Invisible Boyfriend"; Stand-Up Comedy Talks About Dating
By the looks of it, Mellisa shares a prosperous family life, but when it comes to her love and dating, Mellisa seems a little different.She seems to be free of any dating rumors and has not spotted tangling with anyone.
But, her social media help reveal Mellisa was single in 2011 after she took to Twitter to gush about her singlehood. Back in February 2011, Mellisa revealed she was single via a tweet quoting herself as a "lonely single girl."
Next, she another tweet on 4 May 2011, where she funnily talked about her imaginary boyfriend. She wrote,
Morning baby, you look so cute in the morning Melissa. I love your smelly retainers too. -invisible boyfriend
Later, in March 2012, she shared another content; a funny YouTube video, where Brady Matthews acts like her boyfriend. In the video, her boyfriend dislikes her voice and runs away whenever Mellisa speaks.
Mellisa made dating her stand up comedy's content in 2013 after she shared a funny video titled, Don't Date Me I'm Creepy. Explaining she hates being in a relationship, she expressed how bad she is as a girlfriend as she turns creepy after being in a relationship.
Despite sharing boyfriend contents time and again, Mellisa remained single, evident by her tweet on 4 December 2017. In the tweet, she humorously revealed that she spends sitting at the kids' table for holiday dinners while talking about boogers and stuff due to her singlehood.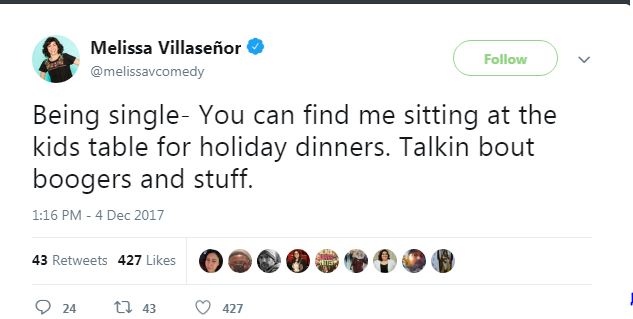 Mellisa Villasenor states to be single via Twitter on 4 December 2017 (Photo: Mellisa Villasenor's Twitter)
Perhaps Mellisa is waiting for a perfect match in her life; as for the time being, she seems to be busy focusing on her career.