Entertainment
Merab Ninidze: Married Man With Wife - Inside Actor's Life
The Georgian actor, Merab Ninidze who has starred alongside with the Hollywood legend, Tom Hank in the movie, Bridge of Spies has attended an impeccable height career-wise. 
Moreover, his professional front is like an open book; however, Merab has his private life away from the limelight and controversies. Well, the actor indeed is married, but you rarely get to hear about his marital bond from the man himself. Thus we have brought this article to help you know more about your favorite actor. 
Merab Ninidze's Low-Key Married Life
Like many celebrities in the acting industry, Merab Ninidze has also followed the same trend of keeping secrecy over his personal life. Neither is Merab active on social networking sites to flaunt his life happenings nor has he gushed about his life off-the-cameras in any of the interviews.
However, as per reports, we came to know that Merab who portrayed the role of a husband to the school teacher, Manana in the 2017's Georgian drama film, My Happy Family, shares a marital bond with his wife in real life too. But again the identity of his wife along with their relationship timeline has been kept under the wraps.
Also, his wife is not much spotted making the public appearance along with her famous actor-husband. But once, Merab did step out in the premiere of Paper Soldier with his wife at the Sala Grande during the 65th Venice Film Festival back in 2008.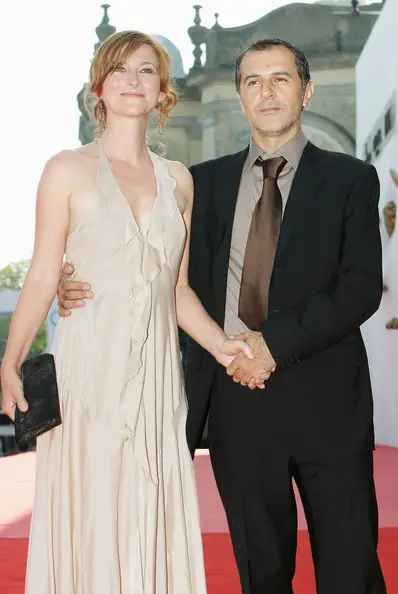 Merab Ninidze with wife at Paper Soldier's premiere (Photo: Zimbio.com)
Other than that the married couple hasn't made any further public appearances. Also, there are no details on his family life that he shares with his wife.
Meanwhile, even though there aren't any budding update on his conjugal life, the available information is enough to eradicate the gay rumors that swirled for Merab.
Merab Ninidez's Career Glance:
Merab who stands at the height of 1.78m (5 feet 10 inches), moved to Austria in the 90s and worked mostly in Vienna and Berlin with a wide range of film roles under his belt. 
He has appeared in movies and TV series like McMafia, Nowhere in Africa, Jupiter's Moon, Under Electric Clouds, Paper Soldier, Nowhere in Africa, Luna Papa, Repentance among many others.
Similarly, his movie, Nowhere in Africa, won the Oscar for the nomination of the best foreign film and five German Film Prizes back in 2001.