Entertainment
Meredith Vieira, Married in 1986, Grateful to Husband: Invaluable Lessons to Children
It is never too late to find a love of your life. Not every one of us is lucky enough to find our soul mate in our first love. Likewise, Meredith Vieira, host of The Meredith Vieira Show has found a soul mate husband after being in an abusive relationship in the past.
A talk show host, Meredith Vieira's real life is very different from what we see in TV world of beauty makeovers and celebrity interviews. Her married life is something that every working woman wish to have. Vieira is grateful to her husband who provides invaluable lessons to their children.
Aren't you interested to know why she is grateful to her husband? If yes, you can follow us.
Meredith's Abusive Relationship in the Past
It's horrible when we know that someone is in an abusive relationship, isn't it? A talk show host, Meredith Vieira, had opened up about her abusive relationship via her show The Meredith Vieira Show in September 2014. She describes an abusive relationship as a complicated relationship and asks the victim of an abusive relationship to let somebody know what's going on.
Here is a video where she speaks horrifying details of past abusive relationship. However, she did not mention the name of her abusive partner.
Meredith talks about her abusive relationship (Published: Sep 18, 2014)
People appreciated her for being vocal about such a sensitive issue.
But that was not the end for the brave Meredith, in fact, was smart and courageous enough to follow her career leaving behind her abusive past. She had no idea that her prince charming was waiting for her. Vieira met the journalist Richard M. Cohen in early 80's. Vieira, in her second date, came to know that Cohen had MS. She expressed her feelings after meeting Cohen with abcnews.go.com by saying-
"I fell in love with this guy with MS … This man's an incredible guy. So anybody that I produce with him, I think would be pretty cool. That was my feeling."
The former co-host of The View got married to Cohen back in 1986.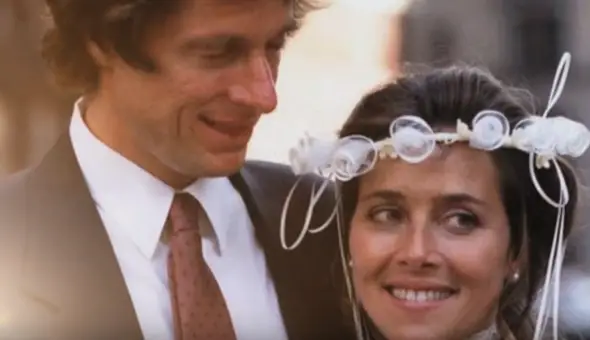 Meredith as a bride and Richard as a groom (Video: notjustrich.com)
The American Tv personality Meredith Vieira and Richard M. Cohen are blessed with three children, daughter Lily and son Ben and Gabe.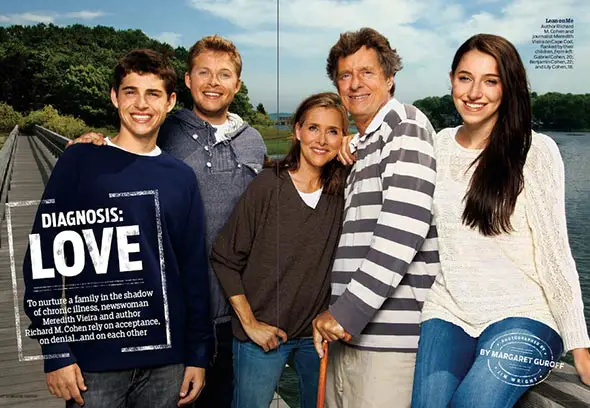 Meredith Vieira with her husband Richard M. Cohen and kids Ben(Left), Gabriel(Left) and Lily(Right) (Photo:celebritybabyscoop.com)
Richard is not a rough-and-tumble dad but is a great teacher to Lily, Ben, and Gabe. His children came to know about his disease when Ben was 7, Gabriel was 5 and Lily was 3 and are very supportive of that matter like their mother.Vieira has explained Richard as a dad with everydayhealth.com.
"MS has certainly affected our family in many ways, but, in our home, we focus on the positive. I think the way Richard handles his MS which has taught our kid's invaluable lessons about empathy and strength — and even the power of humor."
In an interview with the Closer Meredith admitted:
"One of the hardest things for me to learn was to let people help — to let them in. when you have an illness in your family "you can feel isolated"It's wonderful when someone reaches out and says, 'We're here for you. We all need each other."
She further added:
"I see life very much not in a pessimistic or fatalistic way but more of a live-in-the-moment way. It's really about just appreciating where you are and valuing it. And in that way, every day is great! Richard "is doing great. We knock wood every day that we're doing well and then we fight the good fight!"
Apart from sclerosis, Richard is also a two-time cancer survivor. He was diagnosed with colon cancer back in 1999 and again in 2000. He is also legally blind, and his right hand is too weak to carry a book. Things like this do not stop him from writing blogs though.
Both Richard and Meredith are in a very healthy and committed marriage. They are very supportive and has full faith in each other. The incident goes back in 2006 when Meredith was reporting alongside reporter Matt Lauer when he told her:
"Keep bending over like that. It's a nice view"
While he said this, the cameras were still rolling.That scandal was put to rest for a while but got spark again in 2017. Many people were expecting to get a reaction from Meredith's husband Richard on that matter, but things were quite the opposite of what was expected.
In fact, Richard revealed that it was not at all inappropriate and also added that he thinks Matt is nothing but a great guy. Meredith and Matt are very good friends, and Meredith even talked about the time she found a huge bag of sex toys in Matt's office.
Don't you think Meredith as an open book who has allowed every one of us to read her life? She is indeed grateful to her husband who has filled her life with happiness and positivity. We don't think this lovely couple will separate with a divorce.
The 64-year-old Meredith with splendid body measurement was seen hosting the series The View in February 2018. The former co-host of The View is all set to a health conference in Vatican city in order to honor their loved ones and their fight against the disease. Unlike most celebrities, she is not active on Instagram and has a verified Instagram account.
Born on December 30, 1953, Vieira is a graduate of Tufts University. She graduated in the year 1975 with a degree in English. Vieira, 62, is a contributor to Today, Dateline NBC and the NBC Nightly News. She is also known for co-hosting the long-running NBC News morning news program.