Entertainment
Mia Kirshner Plays A Gay/Lesbian Role; But Does Need To Be A Rumor?
Playing a gay character on screen doesn't necessarily mean one's gay but do it more often, then you definitely raise few eyebrows and questions arise about your sexual preferences. This same question is asked of the Canadian actress Mia Kirshner who has time and again portrayed unconventional roles as a lesbian or sexually confused woman onscreen.
So, does she swing one way or both ways? Let's read on to explore her personal life and promiscuous movie roles to uncover the truth to quell the rumors of her being lesbian or bisexual or straight!
Blurred Lines between Reel and Real Life
The Black Dahlia actress Mia Kirshner prefers unorthodox roles and even convinced her father to sign a "nudity waiver" to play a dominatrix in her debut film 'Denys Arcand's Love and Human Remains' back in 1993.
This role even earned her a Genie nomination for Best Performance by an Actress in a Supporting Role and drew the attention of Atom Egoyan, who cast her as the female lead for his 1996 movie 'Exotica.'
Mia's performance as a sexy stripper in Exotica brought her to the limelight after the critical acclaim and was also featured in several episodes of the popular show '24' as a bisexual assassin.
From being ranked #43 on the Maxim Hot 100 Women of 2002 to a nomination for Best Kiss at the 2002 MTV Movie Awards for 'Not Another Teen Movie,' Mia's promiscuous onscreen portrayal has culminated in her relationships as well.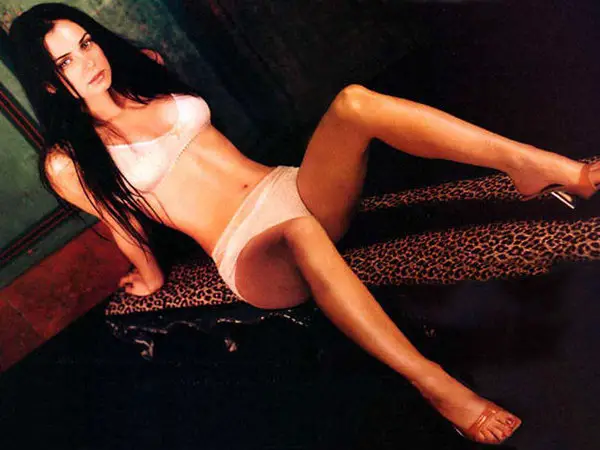 Caption: Mia Kirshner on Maxim Hot 100 Women of 2002
Photo Credit: Complex
Mia's reel life runs parallel to her real life; the Canadian actress has been in relationships with both sexes and is listed in the IMDB's lesbian/bisexual celebrities list at number 75.
The writer and actress caused a media frenzy when she was rumored to be in a relationship with her female costar Jennifer Beals. Allegedly, in 2004, Mia and Jennifer's relationship started out with one-night stands while working on season 2 of the show 'The L Word,' where Mia plays the token straight girl confused about her sexuality.
The two lived close to each other while filming the show, and the affair rumors started making rounds in the press with such proximity that it's safe to bet they shared much more than just coffee.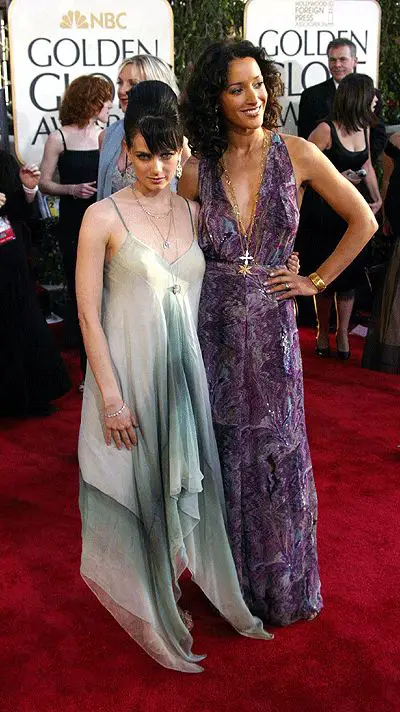 Caption: Mia Kirshner and Jennifer Beals attending Golden Globe Awards
Photo Credit: Famous Fix
In an interview with New York Times in 2004 while they were filming "The L Word," she explained the research the cast had to do to pull off steamy sex scenes. Mia explained watching dozens of clips producers handed to them from movies like ''Bound,'' where Gina Gershon and Jennifer Tilly had a notoriously explicit affair. She explained:
'We all wanted to make sure the sex scenes didn't come out looking like lady-touching.''
As per the rumors, the costars dated for two years; during that time, the two would even go out of their way to make time for each other on weekend trips to New York City while filming the show.
Switching over to another half of the sexes, Mia reportedly dated The Lemonheads frontman Evan Dando from 2006 to 2008; with only evidence of them dating sourced from the pair attending Academy Awards together in 1995.
More recently, this 'Not Another Teen Movie' star was also rumored to be seeing late actor Sam Shephard, who was 30 years older than her. Again like her past relationships, everything was kept under wraps about the alleged couple; however, the reports suggest that they dated from 2014-2015.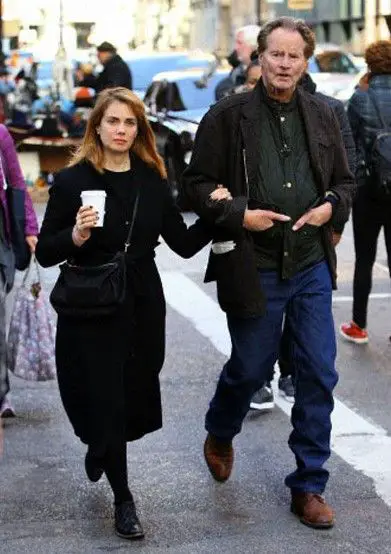 Caption: Mia Kirshner and Sam Shepard rumored to have dated from 2014-2015.
Photo Credit: Whos Date Who
The other honorable mentions of celebrities rumored to have dated Mia includes: Stephen Hopkins(Jamaican-born film and television director and producer), Grant Bowler(New Zealand-born actor), Scott Brainstow(Canadian actor) and Mike Bender.
So far, the actress is yet to go public with her relationship status, but the slight inkling of love came through her Instagram post after her up close pictures with actress Jamie Murray.
The Vampire Diaries actress seems quite intimate in the Instagram pictures with Murray, but is something brewing between the two?
Well, the captions in both the images reveal nothing much to address the rumors of her being gay.
So, what does this mean? Is she in a relationship?
The significance of these pictures is open to everyone's interpretation as stars these days tend to play out their private life behind closed doors without any interference from the media and public opinion. It's a shot at trying to a get some normality back in their lives and not drawing unwanted attention.
Although the most decorated Canadian actor, writer, and philanthropist Mia hasn't commented or gone public with her sexual preference, from the laundry list of movie roles to celebrities, she's supposedly dated points towards her inclination as being bisexual.
In present context with LGBT rights and lobbies, its a mystery as to why she is holding out or just wants to keep things private. Most probably, her Jewish background is restraining her to come out as gay or bisexual, as being gay is unequivocally condemnable in the Judaism verses!
But she might just be misleading the media with all those rumors, who knows?