Entertainment
Mia Mastroianni's Close-Knit Family Savours One Of Them Getting Married - 'Delicious' Bio
American actress Mia Mastroianni is well known for her roles in the movie Bar Rescue, Sh*t People Say To Bartenders. But, her profession box widens more as she is a mixologist too.
Talented in bartending and mixology expert, Mia, however, has yet to mix the love in her clannish family. She had got the green signal from the whole family as one of her brother's also got married too, making the only daughter remaining to be married.
Let's get along Mia's story following her bio!
Start Of Her Delicious Career
Mia hails from the small town of Milford, Massachusetts and now resides in Los Angeles, where she holds down the bar at one of the city's most expensive clubs, Soho House West Hollywood.
She began bartending after graduating from the University of Miami. She used to work in a restaurant as a server but later she worked as a bartender. Her manager noticed that she was skilled being friends with the customers and socializing than she was in serving them.
So considering her manager's suggestion, she became a bartender.
In an interview with tenminuteinterviews.com on January 2015, she shared that it is a fascinating place to work. It's a fun, comfortable and relaxed venue — and every night offers something different: movie screenings in our theatre, live music, DJs, member events, with top-notch food and cocktails. Plus it's always great for people-watching.
She even shared her experience which helped her to reach the height in her career. She exclaimed:
"I continued to work as a bartender there and elsewhere over the next few years, but it wasn't until I moved to Los Angeles that I really immersed myself in the craft cocktail movement and started learning new techniques, ingredients, and entering competitions."
In early 2013, she also became a part of Spike TV's Bar Rescue as one of host Jon Taffer's bartending and mixology experts.
Mia, who is known as Tall Mia in the L.A bar scene, has also appeared in 2012's S*&t People Say To Bartenders video, which has garnered nearly three million views on YouTube.
Aside from her acclaimed career, she also takes time to be with her family.
Flaunts Relationship With Parents
Besides her busy schedule, she has equally managed her time for her family as well. She actively shares the pictures of her family on her social media account and proves that her priorities have always been her family.
One such instance is when Mia took to her Instagram in September 2017 with the picture of her mother saying it was one of her better days.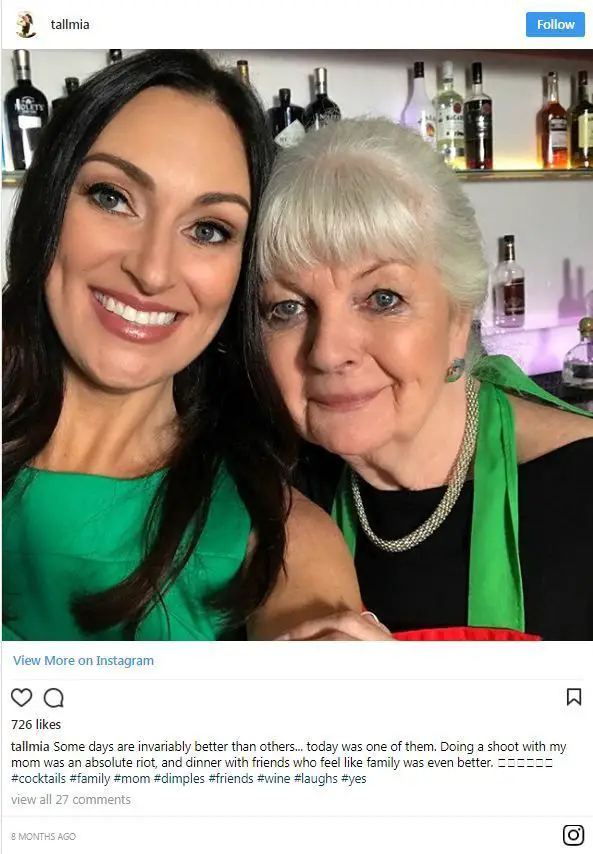 Mia Mastroianni with her mother in 2017 (Photo: Mia Mastroianni's Instagram)
Well, she is not only close to her mother, she rather seems to be her daddy's princess. She has shared many memories with her father on Instagram including the childhood picture of her dad, going for a walk with him and spending quality time with her father.
Similarly, the intimacy between the father and daughter also got reflected with her Instagrammed a snap from September 2017, where she wrote, whenever a girl is sick, she needs her father.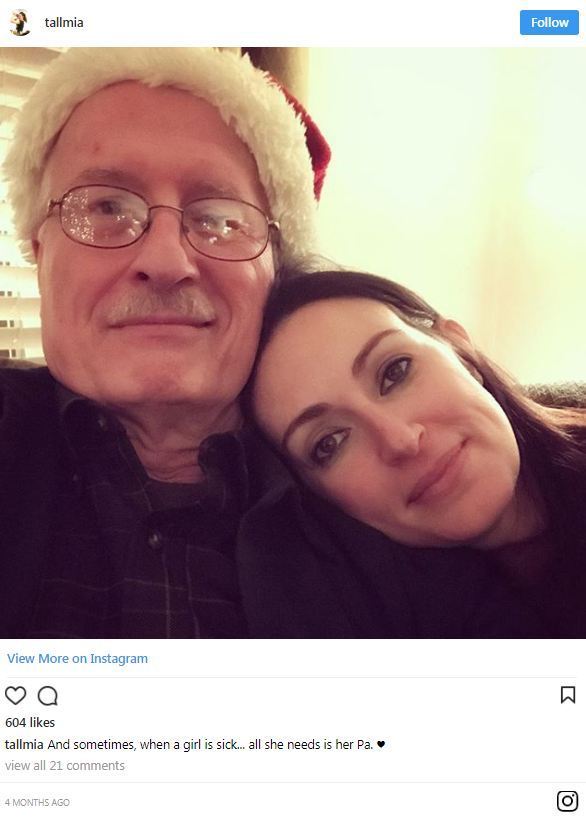 Mia Mastroianni with her father in 2017 (Photo: Mia Mastroianni's Instagram)
Besides her flaunting relationship with her family, there are no signs of her possible spouse in her social media. However, she got to taste one of her brother's wedding.
Brother's Wedding
Mia has two brothers named Samson Mastroianni, and Dr. Maxwell Roger Mastroianni.
Mia's brother Dr. Mastroianni got married to his beautiful spouse, Miss Conlon on 4 June 2016 at 7 o'clock in the evening at Holy Rosary Catholic Church in Houston, TX.
The wedding was a double ring ceremony, officiated by Father Philip Lloyd, pastor of St Theresa Catholic Church in Houston. Mia became the bridesmaid for the event.
Notably, after her brother's wedding, her parents might be looking forward to seeing their only daughter in the bridal gown with her husband. However, she has not talked anything about getting married in the media yet.