Entertainment
Micah Materre - Facts On The Reporter That Might Just Include Her Age, and Family With Husband And Children
Micah Materre - Facts On The Reporter That Might Just Include Her Age, and Family With Husband And Children Today let's take a peek at the personal life of one of such journalists, the Emmy award-winning journalist and anchor, Micah Materre, which includes a happy married life with a husband and wonderful children.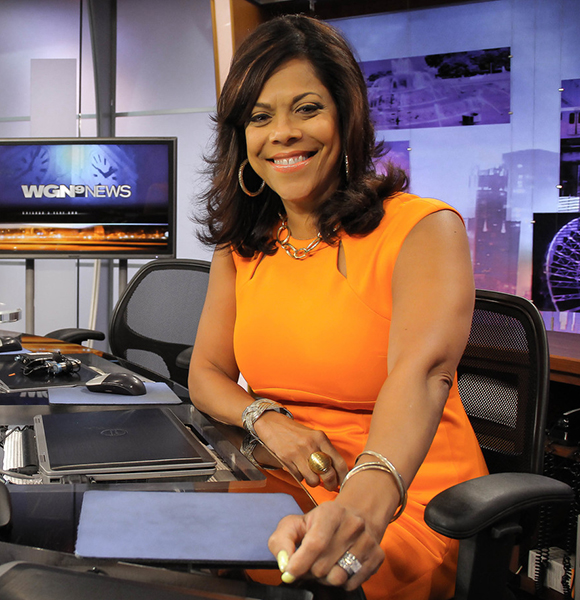 A journalist presents the news regarding different issues and people, but somewhere their own story gets hidden behind their job as a reporter.
Today let's take a peek at the personal life of one of such journalists, the Emmy award-winning journalist and anchor, Micah Materre, which includes a happy married life with a husband and wonderful children. 
Everything There Is To Know About Micah Materre:
Micah Materre has a successful career, but, behind the cameras, she is a married woman with a family as well. As per reports she got married to her husband, Kelvin Michael Jackson, who is also the photographer and editor of WJBK-TV, back in June 1995.
Although she hasn't shared the details of her wedding, she gushed about having an amazing night with her husband via Twitter in July 2013.
On the occasion of Father's Day 2017, she disclosed that her husband is a great partner and phenomenal father in one of her tweets.
Happy Father's Day to my wonderful husband. A great partner and Phenomenal father!!! — micah materre (@mmaterre) June 17, 2017
Micah is a mother to two children, a daughter, and a son. Micah opened up to 'Mater Mea' on October 5, 2014, and talked about how she manages her family while focusing on her career,
"Well, I didn't start my family until I got to Chicago.  [I didn't] get married until I knew I was at a place where I was going to be for a while [and] I was in a position I was happy with. I didn't want to cart around a family; I didn't think it would be fair to them. But there's never really a good time in this business to say [when] you can have kids. I think you have to just know it within your mind and in your heart. Because still, with my job and my hours, I've gotta have a support system. I have my family here. I tell my babysitter, "Keep in mind that I can call you at any time in the night." I ask them if they're fine with that and if they are then I hire them. You come to work at three [and] you may stay at work until one if there's a breaking story. It's just the nature of the business."
She further gave some words of advice to working moms, 
"You can't compare yourself to somebody else and feel badly that you're not doing what they're doing—you'll drive yourself crazy. So what you have to do is block all that out and just make your own normal: what works for you and what works for your family." 
Micah's tweet back in July 2015 along with the picture of her family clearly shows that her family is very precious to her.
Recently, Micah also shared a tweet mentioning that her husband and children are left-handers in August 2017.
Moreover, Micah is a woman who has been maintaining a balance between her personal and professional life. Rewinding to the beginning of her broadcasting career, she worked as a radio producer for four years at NPR affiliate station, WBEZ radio in Chicago from the year 1983.
Additionally, Materre also taught radio production at Columbia College. Later on, she worked at WJBK-TV in Detroit for a total of eight years as the main anchor and general assignment reporter.
Micah, who is 55 years of age, is the co-anchor of the American WGN Evening News at Five and Six and the WGN News at Nine and Ten. She joined WGN-TV back in January of 1998 as a Morning News co-anchor and medical reporter.
Her hard work was honored with Chicago/Midwest Emmy award in 2014 and also was awarded for being a diversity trailblazer by Barnes and Thornburg LLP. 
Moreover, Micah has also earned popularity by featuring in many local and national publications, such as The New York Times Magazine, Glamour, Ebony, Michigan Avenue Magazine, and much more. 
As of now, she serves as a commentator, mistress of ceremonies and honorary chairperson to the community and civic organizations. Materre is a member of the Board of Directors of the Chicago Children's Choir and Tutoring Chicago's Advisory Board. She also contributes her support to some of the civic organizations such as Links, Incorporated, National Association of Black Journalists and Alpha Kappa Alpha Sorority, Inc. 
Micah, who has more than 30 years of experience in her career, must have an impressive amount as a salary, but it remains confined to herself.