Entertainment
Does Michael Blackson Have Plans To Turn Girlfriend Into Wife? Or Is It The Cheating Issue?
Taking the next step in love towards marriage is often harder than finding true love. Distractions and hectic schedules complement the profession of entertaining, causing a barrier between two hearts that desperately want to live together until the end of time.
Fluctuation in love life can be seen commonly in Hollywood celebrities, and the comedian Michael Blackson seems to be going through a similar situation, for his love life with Georgia Reign came to an end. Was he not been able to keep up with the challenges of love? Or is he just not that into lovey-dovey things? Keep reading to find out!
Michael Blackson's Love Life With Georgia Reign
The Ghanaian actor and comedian, Michael Blackson, had an adorable relationship with his girlfriend, Grammy-nominated RnB singer-songwriter, Georgia Reign.
The connection felt just right to them since, after only a few weeks of dating, they moved in together, got engaged, and started acting like a married couple.
The duo even starred together on the TV documentary Living With Funny (2016), which featured the off-stage lives of various comedians.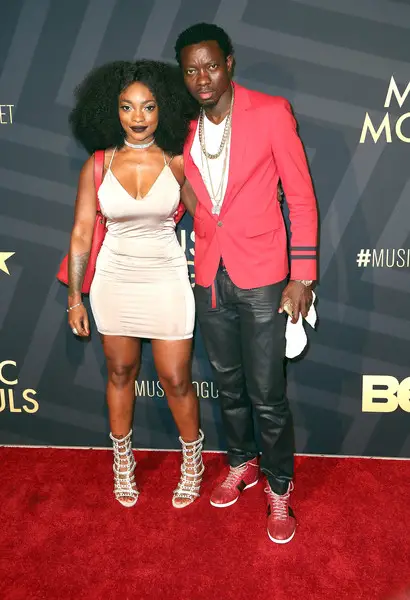 Caption: Comedian Michael Blackson and Georgia attending BET "Music Moguls" premiere event in West Hollywood.
 Photo credit: Zimbio
However, things weren't peaches and cream for too long as the viral video of Blackson going to a hotel room with a woman buzzed the media on the 29th of March, 2017. And—you guessed it—the woman in the video was not his fiancée.
The video overwhelmed Georgia: she left the comic hero as soon as she found out the news. Blackson tried everything in his power to get his girl back. He said that the video was four years old and was uploaded by his angry ex.
"First of all that's not a hotel, that's my house in Delaware I bought back in 2008.That pic looks about 4 yrs old because I was lighter back then, my ex is still mad about that bladder infection and the b*** misses the mutombo."
He shared a tweet sticking to his statement but later shared another one apologizing to Georgia, but despite his sincerest apologies, nothing could bring his wife-to-be back in his life. To Georgia, the cheating allegations flying towards the man she loved left her with no option but to end the relationship.
More To Know About Blackson
Michael Blackson was born on 28 November 1972, in Ghana. The self-proclaimed " African King Of Comedy" is mostly known for his movie  Next Friday, The Savages Washed Up and Tooken. The TV series Are We There Yet was one of his major hits. Altogether, he has 36 credits for acting, 7 for writing, and 3 for producing TV series.
Away from his professional limelight, Michael prefers privacy regarding his personal life. However, Blackson neither hesitates to capture his home in his videos nor does he shy away from boasting his net worth of $2 million.
He has not talked about his family anywhere, though. He has not disclosed much information about his twin kids either. Needless to say, his baby mama is unidentified.
I have 7yr old twin boys that act up very often but I will never spank them, spanking make kids afraid of u n I never want my kids 2 fear me

— Michael Blackson (@MichaelBlackson) September 13, 2014
Because of his successful attempt at keeping his family life a secret, and the cheating allegations on his girlfriend which he denies, it is safe to conclude that Michael is a mysterious person.
His secrets are not revealed yet! Let's see if time unveils them all. And we pray that Michael did not cheat on his sweetheart and that time brings them back together.