Entertainment
Michael Rosenbaum's Co-Star Reveals His Current Dating Status; Sparing Some Effort To Find A Girlfriend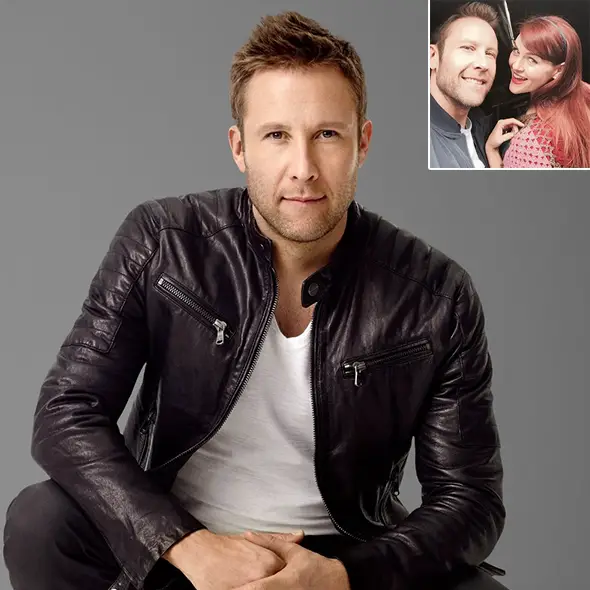 Being single is lonesome, so everyone longs to find love, in any ways possible. American TV and film actor Michael Rosenbaum, who is single at the moment seems to be feeling lonely, as he reportedly searching for a new girlfriend. But has he found his love? Let's dig in to find out.
Michael Rosenbaum Current Girlfriend and Dating Status
Michael Rosenbaum and his co-star Sara Rue share an adorable friendship with each other, both on and off the screen. During their joint interview with the "People," questions were raised about Michael Rosenbaum's love life, and Sara Rue volunteered to shed light on his current relationship status, and she revealed,
"Michael is single."
Caption: Michael Rosenbaum and Sara Rue's Interview with The People
Moreover, Sara Rue had a message for Michael's ladies fans and addressed all the women who want to go out on a date with him. She said,
"He is a very nice guy highly recommend him if anybody is looking for a boyfriend that I think that one day you could be a marriage material. Don't you think so?"
Listening to Sara's statement on becoming a married man with a wife in future, Michael expressed his desire to have children and become a father and this spontaneously came out of his mouth, and he said,
"I'll be a dad."
In the interview, Michael talked about him being a single, his desire of girlfriend and fatherhood too. But a question arises, how a handsome man like Michael Rosenbaum be single?
Michael Rosenbaum was reportedly in relationships in the past, but the one which made a lot of noise was the one with Laura Vandervoort around 2012, as they were frequently spotted hanging out together. But the fact about their relationship is still a mystery as both of them did not reveal any other details beyond friendship.
Similarly, in 2014, he tweeted a picture of his grand folks during the celebration of their 67th Anniversary, where he seemed gloomy because he was single.
He has a good reason for being single till this date. Michael stated that he is a busy man and does not go out to a lot of parties or clubs so he does not get to meet a lot of people so it's just is not working for him. Moreover, Michael revealed he opted for online dating app after one of his friends persuaded him.
 Michael expressed,
"I never believed in online dating but finally my friend, this guy said, dude you just need to get on an app."
  "I am on a dating app now and it doesn't work."
But Michael feels deceived using online dating app as he has picked people with deceiving online dating pictures and showed up to them. Michael said,
" You go on there and these girls, Oh! She looks fun, she is beautiful but they put best freaking pictures of them."
"I put pictures of me."
"These girls and some guys do it too. They don't look like them."
Moreover, he also elaborated an incident of lunch date where he went and was asking the very person about her whereabouts and he said,
."I have showed up to lunch and some of  'em are like 'hey have you seen this person' umm it's me."
Finally, Michael expressed his disappointment and suggested that there should be an option where one could report such deceiving people.
Although he is single and not married to anyone, we can erase the assumptions about him being a gay, as he has clearly revealed his search for a perfect soulmate. We hope he finds his perfect match in the near future.