You may have read some of the writings of author Michaela Angela Davis; but did you know that she is also a black rights activist and a well-known stylist? Many of her celebrity clients include famous personalities like Beyonce and Oprah Winfrey, which has helped her accumulate substantial net worth.
But, Michaela is more interested in writing and spreading awareness against race discrimination as she has been a victim of such prejudice.
Daughter With Former Partner; Married?
While Michaela's present dating life seems inactive, back in time, she was in a relationship with a man - who also happens to be her daughter's father.
Michaela was instantly attracted to Ezra Knight, the moment she saw him. As Ezra had a girlfriend back then, Michaela and her baby daddy only started dating once he broke up with his then-partner.
Author's Relationship Status:- Simon Sinek Bio: Inspiring Speech On Wife & Relationship, Is He Married?
Soon, the author became pregnant with a child. After Michaela decided to keep the baby, Ezra initially protested her decision only to come in terms with it later.
The couple maintained a happy family of three for a while before they split. The duo separated amicably and shared joint custody of their daughter, Elenni Davis-Knight, in agreement.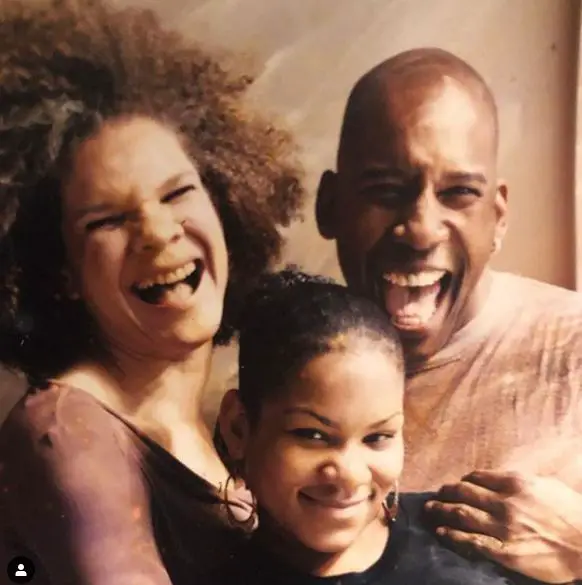 Michaela Angela Davis shares a throwback picture of herself with then-partner Ezra Knight and daughter Elenni on 24 March 2019 (Photo: Michaela Angela Davis' Instagram)
Elenni, now aged 28, is a loving daughter to her parents. While Michaela never got married, her former partner Ezra is now a husband. He also has a second daughter from his marriage but, hasn't diminished his love for the first daughter.
Meanwhile, Michaela is reportedly single and is solely focused on her career and daughter.
Michaela's Bio: Age, Ethnicity, Racism Victim
Born on 31 March 1964 in Germany, Michaela grew up with intellect parents. Her father, an Army officer, and mother along with Michaela moved to New Jersey, USA when she was a young child. That's why she is American by nationality.
Michaela possesses a mixed ethnicity from her parents; her mother was black while her father was white. Although her skin resembles a Caucasian ethnicity, her thick twisted hair is similar to that of an Afro-American person. 
Due to her mixed features, Michaela is considered a beauty. The author - who stands at a height above 5 feet 5 inches (1.65 m) - even has maintained a healthy weight.
Similar Mixed-Ethnicity Actress:- Camren Bicondova Of Mixed Ethnicity Boyfriend & Dating Status Revealed!
However, when her family first moved to New Jersey, she was subjected to racial discrimination even from a friend's mother at a young age.
However, she coped up with the incident and moved on with her life. She even received the best education from renowned institutions as she belonged to a prosperous family.
Net Worth & Salary
Michaela has many skills to her resume, and she excels at all of them.
As a writer, she has published a book named Beloved Baby: A Baby's Scrapbook. The 55-year-old has also worked for various fashion magazines, including Essence, Vibe, and Honey.
Her writing job earns her a salary of $49,005 per year. Michaela also makes way more as a stylist than the average salary of $14.69 per hour. However, she has managed to keep her net worth concealed, probably due to privacy issues.