Entertainment
Michelle Caruso-Cabrera Embraced Paulo Lima as Her Husband in 1999 and Divorced Him Later. Who is he?
Michelle Caruso Cabrera joined CNBC in 1998. She is now the Chief International Correspondent of CNBC. Michelle Caruso-Cabrera was married once in 1999 and divorced soon after.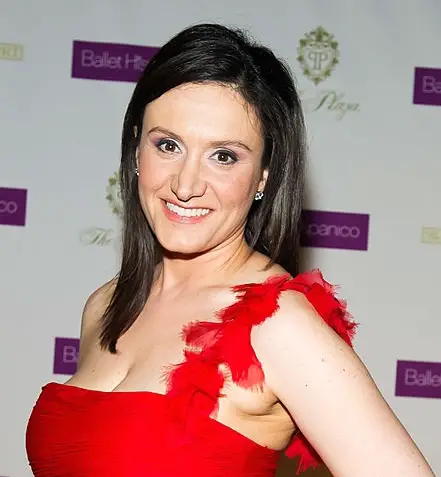 Michelle Caruso-Cabrera is, as we know, a pretty open person when it comes to sharing information about her professional life but we sense that when things point towards her personal life, it is totally the another way around but still we will try our best to find out as much as possible.
She takes five steps back when it comes to sharing some personal information to the public. All we know is that CNBC's chief international correspondent; Michelle Caruso-Cabrera married once in 1999 and divorced soon after.
Her ex-husband,  Paulo Lima has been like a riddle figure on Tabloids. There is very little to talk about him, 'he appears to be an anonymous human being' - is all we can say. Nevertheless, he hasn't yet commented on the divorce
Post her divorce; Michelle had not been linked to anyone officially until 2015. Wikipedia informs us that she got engaged in 2015.
However, in  2008, she was allegedly dating a Wall Street investment banker. She allegedly met him while reporting on stories that he was associated with. 
Here's what Tyler Gray from Radar magazine had to say about Michelle dating the Wall Street banker
"Rumor has it, she's torn a page out of fellow so-called anchor babe Maria Bartiromo's play book, covering the $30 billion Bear Stearns bailout while allegedly dating the man who orchestrated it, Gary Parr. He's the deputy chairman of Lazard Frères & Co., a 50-year-old divorced dad of two who devised the plan to funnel $30 million of Fed-backed money into the tanking bank, the fifth largest on Wall Street."
However, CNBC has declined to comment on the rumored story because of its policy against sharing personal information of its employees. Last but not the least, rumor has it that actor Alec Baldwin once romantically approached her.
Michelle's other activities:
Recently, she shared a picture from her official trip to Iran.
Thanks for sharing the lovely picture with us, Michelle, even though you were busy covering Iranian economy and business. 
We can comprehend why she loved the snow capped mountains in Iran. They are simply alluring.
Michelle Caruso-Cabrera's Short Bio:
Michelle Caruso-Cabrera born on February 9, 1967, and currently ages 49 years old. Michelle graduated from the Wellesley college where she received her degree in economics. in 1991. Michelle Caruso-Cabrera is the Chief International Correspondent of CNBC. She is a receiver of Broadcaster of the Year (2004) award from the National Association of Hispanic Journalists.
She is also the receiver of Emmy Award, which she won as a special projects producer at Univision for producing five-part series on children with AIDS, is among her long list of achievements that she enjoyed in her successful career. She is also a writer of the famous book "You Know I'm Right: More Prosperity, Less Government". Undoubtedly, she has one of the most successful careers. Her professional career has been an open book; there is so much we can talk about.