Entertainment
Michelle Trachtenberg Ready For Marriage? Array Of Dating, Who Is Boyfriend?
American actress Michelle Trachtenberg, who is known for her role in the Nickelodeon film Harriet, The Spy, has a long dating history.
But neither of her relationships appeared to work out properly until she got married to her co-star in the series.
Well, keep reading to find out!
Fluctuating Dating History
Michelle has been romantically linked with many boyfriends. For instance, she got tangled with a Canadian actor Shawn Ashmore in 2004. The then-couple dated for almost two years and ended their relationship in 2006.
She then moved onto date a nightclub manager Brandon Hirsch around 2007. According to PEOPLE, Michelle and Brandon first opened up about their relationship when they attended the Killers concert at Hard Rock Hotel in 2007.
The pair first met two years ago but got familiar six months ago and started dating silently, a source close to Michelle told PEOPLE. The source stated:
She's becoming bicoastal and spending a lot more time in New York to be with him. She wants to be low-key about the relationship since this is the first time she's dated someone who is not in the business.
However, Michelle quietly parted ways with her boyfriend without mentioning the reason and date of their split.
Moreover, there were also rumors of Michelle dating the Sex and the City hunk Jason Lewis. A source stated that they were spotted on a date at LA's famed Chateau Marmont and said that they just began hanging out.
But the couple soon ended their relationship as Michelle was involved in a romantic relationship with Fall Out Boy's Pete Wentz, who was the then-husband of Ashlee Simpson.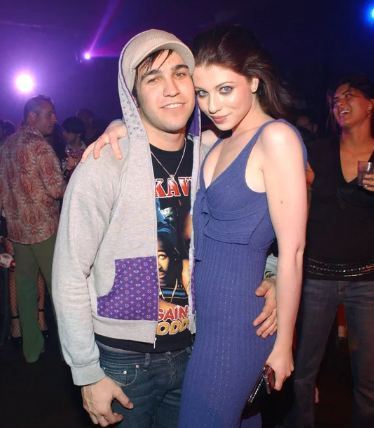 Michelle Trachtenberg with boyfriend Pete Wentz (Photo: popsugar.com)
Just like her previous affairs, the couple's relationship could not last long as they broke up without stating the reason behind the split.
Soon after the break-up, Pete got married to Ashlee in 2008 during a sunset wedding ceremony at the home of her parents whereas Michelle got engaged to boyfriend Scott Sanford in 2009. However, the engagement could never result in a wedding.
After 21/2 years of a wedding of Pete and Ashlee, the duo divorced in 2011 citing irreconcilable differences. The divorce aroused rumors that Michelle and Pete had rekindled their romance as they were spotted grabbing a cup of coffee in Los Angeles in 2011.
Still, the pair did not open up about their relationship in the eyes of the media. And according to Newsday, the never sparked their romance again.
Furthermore, etonline reported that Michelle dated American actor, Jason Segel in 2009. However, there are no further records of the couple's dating relationship. Not just this, etonline also acknowledged that she was involved in a dating relationship with American singer Josh Groban in 2012.
But their dating relationship remained a mystery as they did not flaunt much about their affair in the media.
Who Is Boyfriend Now?
Michelle is a married woman onscreen. She is married to Chuck bass in the series Gossip Girls. But in real life, Michelle is possibly single as she has not been spotted with any male counterpart, which can be regarded as her boyfriend.
Moreover, Michelle is busy posting her selfie on her Instagram and showcasing her photographic skills but has not posted any pictures related to her love life. Her social media accounts lack the presence of any boyfriend as of now.
So, it likely that Michelle is taking a gap after all the escalating dating affairs and looks to be miles away from getting married.
Though she is empty-handed in case of her love life, she has always had a busy career. Since 2012, she has landed roles in three movies including Killing Kennedy (2013), The Christmas Gift (2015), Sister Cities (2016). Michelle also has a hand full of TV episodes besides a regular part of Criminal Minds, NCIS: Los Angeles, SuperMansion, Sleepy Hollow.
Moreover, Michelle is busy posting her selfie on her Instagram and showcasing her photographic skills but has not posted any pictures with anyone who can be her boyfriend.