Entertainment
Mike Francesa: Veteran Radio Talk Show Host's Amazing Net Worth: Is He Thinking of Retirement?
Every individual wishes to have such old age where they have nothing to worry and feel proud when they look back to the works they did earlier. In this regard, today we are talking about a venerable radio host who have achieved success and economic fortune in a way that he does not have anything to lament about.
The veteran radio talk show host, Mike Francesa has spent more than three decades in the radio. The endeavor of all these years not only yielded him huge respect but also a dazzling net worth of $4 million. The revenue must have been collected through his salary and other sources.
His Career at CBS Sports
After spending six years at College and Pro Football Weekly, Mike was hired by CBS Sports as a researcher, focusing primarily on college sports in 1982. He worked behind the scenes as statistic-wielding editorial assistant, but the network executive became influenced by his work and promoted him as a studio analyst for college basketball and football.
While he was working in CBS, ESPN tried to tempt in 1991 as studio expert on college football, college basketball, and the NFL however, he denied the offer. After working nearly a decade, Mike left CBS on April 1, 1993, left before the 1993 Final Four started.
His career in WFAN
Mike entered WFAN since its establishment in 1987 as a producer. Then after making several attempts, WFAN offered him a job of weekend host talking about college football and basketball in the same year. He also served as guest host in other shows after receiving applauds. Then, he was heard in the popular show named Mike and the Mad Dog alongside Chris Russo. The show gained huge popularity and became the staple of New York sports scene from 1989 to 2008. Mike and Chris also received the 2000 Marconi Award for Major Market Personality of the Year.
After Chhad left show prior to two days of the 19th anniversary, there was a confusion regarding the 20th season of the show. However, on September 8, 2008, the program was announced to be aired as Mike'd Up. The program was later renamed as Mike's On on January 17, 2012. Mike stated on January 19,2016 that he intends to leave WFAN at the end of 2017, as his contract gets expired.
Mike also hosts the WFAN's weekly radio show named The NFL since 1987. He also worked for Fox Sports 1from March 24, 2014, but now the program is not aired.
Is he Thinking of Retirement??
Mike may take a break from his radio career but he has other plans to engage himself after that. He shared with nypost.com on 2016 that he is leaving the regular work from Monday to Friday but he might work otherwise. He said,
"I'm not saying I'm leaving the business, I'm leaving Monday to Friday, 5½ hours, FAN. I'm bringing the curtain down on that part of the show. I'm not saying I'm not going to work again. I'm not saying I'm not going to do anything ever again. What I'm saying is, that part of my life is ending at the end of 2017."
Caption: Mike talking about his departure from WFAN in 2017
His Married Life, Wife and Children!
Mike was married to Kate in 1983 but the relation couldn't go well and they divorced in 1994. Then, he married present wife Rose (known as Roe) on July 14, 2000. The couple is gifted with three children, two twins namely Emily Grace and Jack Patrick, 11, and Harrison James. He lives in the Manhasset home with the family.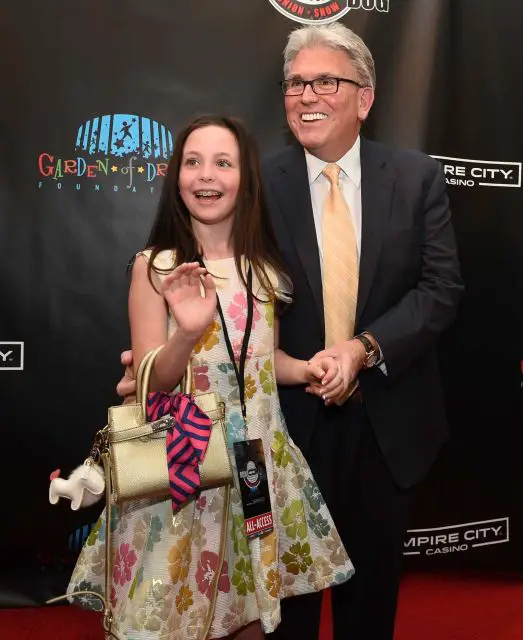 Caption: Mike Francesa with his daughter attending the reunion program of Mike and The Mad Dog at Radio City Music Hall on March 30, 2016.
Source: cdnnewsday.com
Mike Francesa's Short Bio:
Born on March 20, 1954, Mike Francesa was raised in Long Beach, New york. He completed his graduation in communication and athletic information from the University of South Florida. He was mentioned as No. 1 among the 100 most important sports talk radio hosts in America by Talkers Magazine, in 2012.
In 2013 and 2014, he was named as No. 1 among the 100 most important sports talk radio hosts by the same magazine. He received Marconi Award for Major Market Personality of the Year in 2012.