Entertainment
Did Mikey Murphy and Girlfriend Make It Into 2017? A Dating Affair Too Cute To End
Did Mikey Murphy and Girlfriend Make It Into 2017? A Dating Affair Too Cute To End. Mikey Murphy with his compelling content, he has been able to create a special relationship with his fans. But, talking about his personal life relationship, he is not as transparent. Murphy's relationship with his girlfriend seemed 'too cute' that fans did not want it to end. However, Mikey and Griffin appearing together after the announcement of their breakup is raising the question regarding their relationship status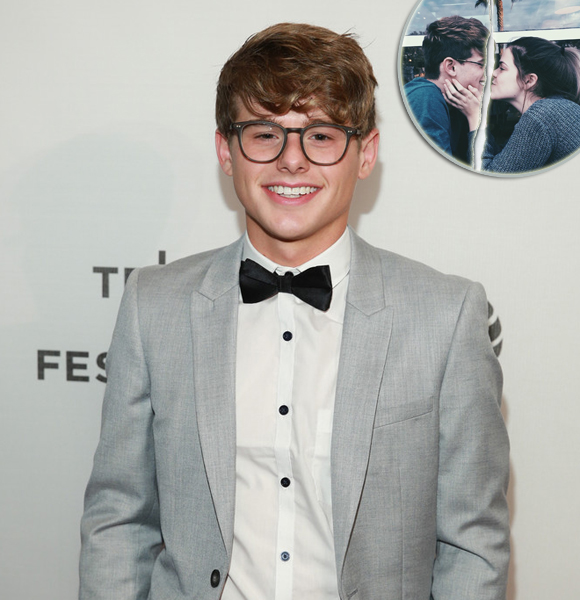 Mikey Murphy falls into the category of famous but young YouTubers. With his compelling content, he has been able to create a special relationship with his fans along the way.
But, Mikey is not so transparent when it comes to the personal front of his life, as his love life is somewhat unclear. 
Murphy's relationship with his girlfriend Griffin Arnlund seemed 'too cute' at first, but they split with one another, breaking the hearts of their fans. However, Mikey and Griffin appeared together again after the announcement of their breakup, which raised several questions regarding their relationship status.
Well, if you are on a hunt for the answers regarding the matter, then you've hit the right place!
Are Mikey Murphy and Griffin Arnlund Still Together? 
Mikey Murphy started dating famous Youtuber, Griffin Arnlund from September 2015 after meeting her in a restaurant and talking for endless hours. Mikey explained in one of his videos about how he met Griffin Arnlund.
They did a Q/A video together, where fans ask them questions on social media and they answer to them. One of the questions from the fan was 'Where was your first date? And was it awkward?'
Replying to that question, Griffin responded, 
" There were awkward parts like there were sometimes like I didn't know what to say like I have to go to the bathroom".
Mikey added on,
" Basically, she drove to one of our friend's houses, picked me up and we went to that restaurant. We went there and talked for hours and I think it was like 1:30 am in the morning"
Griffin further said,
" We didn't know it was our first date until afterwards"
They answered another question from their fan, which was 'How did you guys know you had feelings for each other?'
Addressing the query, Mikey said,
" I knew I liked you but I didn't know you liked me and it took Alex telling me that. So, Alex, thank you."  
Caption: Mikey Murphy and his then girlfriend Griffin Arnlund answer Q/As from fans. (Published on May 24, 2016) 
Unlike many celebrities, they flaunted their love out in the open.
On December 4, 2015, Mikey posted a photo on his Instagram kissing Griffin on her cheek, showing off their warm affection.
[image_deleted_from_Instagram]
Similarly, on May 26, 2016, Mikey shared a picture with Griffin in a swimming pool, enjoying an outdoor date on a sunny day.
[image_deleted_from_Instagram]
However, despite the love and bond they shared; the 'cute' relationship couldn't last long, and sadly, they decided to part ways.
Mikey later revealed through his Twitter post that they are still on good terms after the breakup and that everything is 'cool' between them.

Fans were heartbroken over the news of their breakup, and they kept the inquiries regarding their breakup on the rise, which led Murphy to explain it in his Youtube Video as well.
Caption: Mikey Murphy explains his relationship status in his Youtube Video. (Published on Nov 11, 2016) 
But recently, on July 18, 2017, Mikey and Griffin surprised fans with this Instagram picture of them together; hugging and laughing. [image_deleted_from_Instagram]
The post made quite a buzz on social media and the fans who adored the pair wondered if they were back together again. 
However, no official statement has come forth from the couple, so the truth to the current status of their relationship remains confined.
Short Wiki-Like Bio of Mikey Murphy.
The young Youtube Star, who is popularly known as 'Mikey,' embraces Michael J. Murphy as his real name. He was born on May 12, 1998, to parents Michael Murphy and Monica Murphy in New Jersey, USA. In the name of the family apart from his parents, Mikey has a younger sister, Sydney. 
Back on April 11, 2017, Mikey shared a photo on his Instagram, wishing his sister a 'Happy National Siblings day.'
Additionally, Mikey has begun an interest in the acting career as well. He has marked his appearance on the Royal Carribean Series on AwesomenessTV, followed by some upcoming TV and movie plans.
However, Mikey is a very loved and admired young Youtuber, best known for his YouTube channel 'MikeyMurphy' which has now crossed more than 1 million subscribers.
He also has endorsement deals with brands, which further enhances his income. Moreover, he has worked with multi-companies like BurgerKing, Marvel and M&Ms to name a few. 
We wish him more success in the coming years!
Stay with us for further updates on Michael Murphy!