Entertainment
Milan Christopher Had Girlfriend? The Truth Behind Alleged Dating Affair
The openly gay Amerian rapper, Milan Christopher doesn't always make it to the headlines for his raps and work but also for his fluctuating love affairs, that timely questions his sexuality. Back in 2016, he was even rumored to have a girlfriend. Well, it somewhat confusing to hear that a gay person has a girlfriend, right?
So, let's shed some lights on the personal life of Milan to get familiar with the reality behind the rumors of him dating a girlfriend and also his sexual orientation.
Milan Christopher On Dating
The American rapper, actor, and model Milan Christopher is known as the first star of the VH1's reality TV series, 'Love & Hip Hop Hollywood' to openly be a gay man and an LGBTQ advocate. However, his relationship with the beautiful Moniece Slaughter caused quite a stir in the entertainment world in the year 2016 regarding his sexuality.
Milan who had a rough breakup with his boyfriend Miles Brock, took to his Instagram account to bash Miles by revealing his new relationship with the show star Moniece Slaughter.
In the post, he called Miles out for using the gay dating/hookup app "Jack'd" and there, he hinted the cause of the break up with Miles by writing a caption as,
This is the very same place he found the 4 guys he cheated on me with. I can honestly say this n—-h and all his lies, cheating and w—–h ways has made me not to ever want to date another man again.
Further, speaking on his relationship with Moniece, he added,
All my eyes in on one prize and that's @moniece_slaughter .. I guess I been #delivert And that's I'm assuming I'm Bisexual now! I don't know if it's because of such a bad breakup I Don't know wtf is coming over me! Maybe I need counseling or all I need is to try to be with a real woman like momo .. Makes me wonder .. Or maybe it's me. I have never dated a women foreal.
But no sooner had the news taken off, Milan made all his fans clear about his relation with Moniece. In an Instagram post back in February 2016, he explained that their relationship was no more than just friendly. In the caption, he even added that being close with Moniece has made him reconsider his thoughts on dating a woman.
The reconsideration Milan had back in 2016, seemed to work out after a year when he was seen being intimate with the TV star J.Adrienne from the show Real Chance of Love and Charm School. The pairs attended the night party at Cleveland, Ohio for Milan's birthday on March 2017. Moreover, Milan took a glimpse of the party to his Instagram, captioned his and J.Adrianne's quite smitten picture as,
When both of y'all get DELIVEREDT simultaneously ???? | @jadrienne(there is hope) lmfaoooooo #MilanChristopher |
The post and the intimacy showed off in the photo aroused a lot of questions asking if Milan was a bisexual man. Anyway, all the queries got wiped away when Milan made a new headline in the media regarding his alleged affair
with
the reality star and fashionista EJ Johnson.
Both the duos attended the LGBT Center's 48th Anniversary Gala Vanguard Awards. And the two even went on the lunch date at the Toast in Hollywood, California in October 2017. However, neither of the couples have spoken nor revealed the actual status of their relationship.
​​​​​​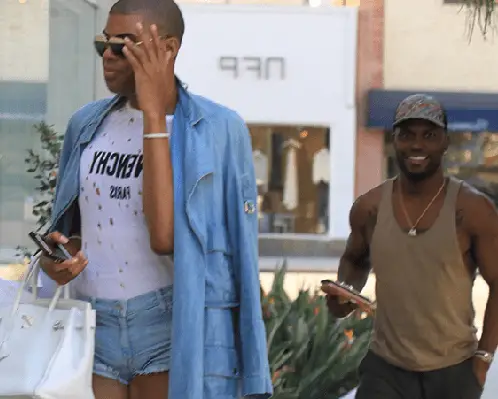 Milan Christopher and EJ Johnson as seen in California in October 2017 (Photo: Alexis.com)
As for now, it looks like Milan doesn't want to share his relationship status. Also, his sexual orientation has also not been appropriately disclosed with the possibility of him leaning towards bi-sexuality at times. However, looking at the rumors of his fluctuating affairs, he is assumably just a gay guy.