Entertainment
Mitchell Hope Is Dating! His Low-Key Girlfriend Revealed And It's Not Dove Cameron
Acting is not only a part of pretending; rather a real act needs good determination and hard work. Mitchell Hope is a 22-year-old Australian Actor who has been doing brilliant work in his acting career. And he is best known for playing a great role in movie 'Descendants' where people were pleased by his personality and working skills.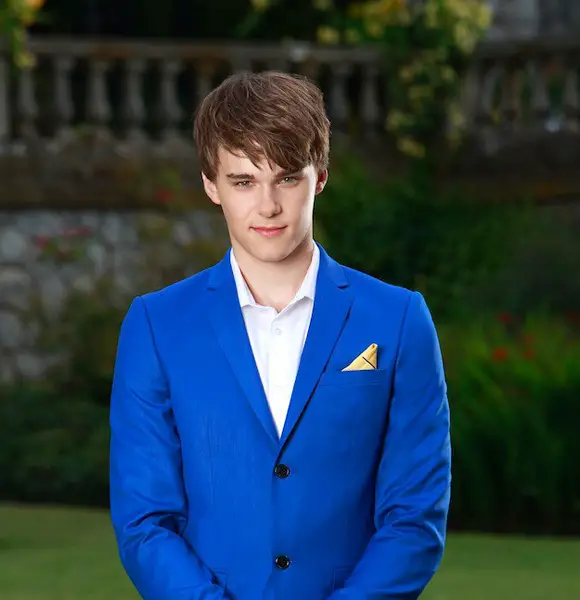 Quick Information
Relationship Status

Dating

Eye Color

Green

Hair Color

Brown

Hair

Short

Weight

67 Kg

Height/ How Tall? 5 feet 9 inches
Career

2006-present

Net Worth

N/A

Gay

No

Girlfriend

Tayla Audrey

Date of Birth Jun 27, 1994
Children/Kids

Not Yet

Brother/s

Jonah, Tobias

Mother

Lisa

Ethnicity/Race

White

Zodiac Sign

Cancer

Profession

Actor

Birth Place

Melbourne, Australia

Nationality

Australian
Acting is not only a part of pretending; rather, a real act needs good determination and hard work, which the 26-year-old Australian actor Mitchell Hope possesses.
He is best known for portraying Ben's role in the movie 'Descendants' where the audience was pleased by his personality and acting.
Many of his fans wonder if this fantastic actor is indulged in a relationship or is still available? So, let us find out.
Did Dove Cameron And Mitchell Hope Date?
Mitchell had an on-screen match-up in 'Descendants' with Dove Cameron, an American actress and singer. Looking at their sizzling chemistry on-screen, many viewers speculated them to be a couple in real life as well.
However, that is not the case; they are just good friends.
Mitchell Hope Girlfriend
Back in August 2015, Mitchell revealed that he was dating 'Chloe Lives' actress 'Tayla Audrey' through a tweet he shared on the premiere showing of 'Disney Descendants.'
@MitchellHope with Girlfriend @TaylaAudrey at the Premiere showing of #DisneyDescendants pic.twitter.com/IFAKHCqKQx

— Mitchell Hope Fans (@Mitch_Hope_Fans) August 4, 2015
Looking at his other tweets, it seemed like they enjoyed each other's company and were happy together.
Mitchell's girlfriend Tayla also used to tweet about them.
Pre much @MitchellHope in a nutshell. pic.twitter.com/7UmIgOAniD

— Tayla (@TaylaAudrey) March 17, 2017
After a year, the couple was spotted holding hands in Vancouver, Canada, on 29 May 2018. He was filming Descendants 3 at that time and was seen walking around Vancouver with his girlfriend. She even met his co-star Sarah Jeffery.
Since then, Mitchell has managed his love life in a confined way, so it has become difficult to know his relationship status, including the date they started dating or if they are still dating, or their relationship has already suffered a split.
Although he is active on social media, both Instagram and Twitter, his girlfriend is nowhere to be seen. 
Let's hope the actor reveals soon!
Mitchell's Breathtaking Acting Skills in Descendants!
'Descendants' a movie which not only took place but won thousands of people's hearts. Mitchell, who played Ben's character in Disney's original television movie Descendants, gave his best with his phenomenal performance. He worked with Dove Cameron as his on-screen match-up. 
He played as the son of Beast and Belle in this movie. His work was commendable as he gave his best and everybody praised him for what he did in this movie.
Judy Taylor, the Disney Channel's senior VP casting and talent, said:
We were intrigued by Mitchell's natural acting style, boyish charm and winning personality, and when we brought him to Los Angeles to read opposite Dove Cameron. It was apparent that he embodied the inherent good nature of 'Ben' and the sense of fairness that the character represents
On May 30, 2017, it was announced that the second part of the movie 'Descendants 2' is going to be released soon.
In an interview only a week before the release of Descendants 2, on July 13, 2017, Mitchell talked about the initiation of the relationship between Mal and Ben, the son of Beast and Queen Belle, and how do these characters evolve in the movie.
"So I think it is important to see where Mal has come from the first film. She really doesn't deal too well with all that is happening. So it is important to see where Mal's character really starts and what it comes into and I think with Ben as well. Ben is taken aside by the duties of running a kingdom because he basically has the whole known world under his command, so he really has some work to do.
"And he is only 17, so being young and still learning to being a king, and add Mal to that as well, it's a lot for Mal to get used to a whole new country and a whole new group of people. So Mal really has some strain on her at the start of the film, and I feel like Ben does as well and we will see that. But I feel that it is important to see that there is where their relationship starts and what comes of it in the end, but I don't want to give to much away!"
Moreover, Mitchell gushed about the love story of the characters of the film, 'Descendants 2' and said,
"Ben loves her bravery and courage. There is something about Ben, he loves seeing people for who they are and what he sees in Mal is courage and bravery! Something he couldn't do himself, something that given a change in circumstances, he is not sure if he would be able to end up where she is today. So that is constantly admiring Ben, and it admires me, you know, that's something that I would think Ben would think about all the time. When he looks at her he realizes how lucky and impressed he is."
On 21 July 2017, the American musical fantasy TV film,  Descendants 2 premiered as Disney Channel Original Movie on Disney channel. It is the second sequel of the film Descendants, where celebrities like Dove Cameron, Sofia Carson, BoooBoo Stewart, and many others have starred.
Then on 2 August 2019 came the third installment of the Descendants series, Descendants 3. The television film premiered worldwide on 12 October 2019.
Dove Cameron, who portrayed the role of Mal, daughter of Maleficent, won the 2020 Kids' Choice Awards for the Favorite Movie Actress. Likewise, the soundtrack of the movie was nominated at the Billboard Music Awards in 2020.
Wiki-Like Bio:
Mitchell is an outstanding actor who was born on 27th June 1994, in Melbourne, Australia. Basically, his ethnicity is White Caucasian, and he stands tall with a height of approximately 5'9. His mother is Lisa, and he has two brothers, Jonah and Tobias.
He has done some short movies such as 'Down the way' where he played Jonno and 'Yes Mum,' where he played Ryan. He had also done some minor roles in some movies and series. In 2014, he played 'Young Tim' mini-series Never Tear Us Apart: The Untold Story of INXS.
Then after that, he became upset about not getting any work. While he decided to quit acting and return to University, he was called for the audition of the Disney Channel movie, 'Descendants,' which indeed returned his determination to keep acting further.
So, it can be said that he works with dedication, which made him stand out in this acting profession.