Entertainment
Mix Ethnicity Comedian, Michael Yo, Honeymoon With Newly Married Wife in Italy
After a perfect and fairy tale like engagement and wedding, the couples are already rejoicing their moments together in Italy while on a honeymoon. We saw how Michael Yo proposed to his the then-girlfriend Claire Schreiner earlier but if you have not, we will be discussing it along with their wedding and honeymoon.
The lady of his life
The couples were in Italy just a couple of weeks ago for their honeymoon after their mesmerizing wedding.
At the heart of Italy with the woman who holds his own heart.
Now, let's learn something about their moments before the honeymoon, including how he proposed her and their marriage. Let's start with the adorable proposal.
Michael asks Claire to be his wife:
According to closer weekly, the couple first met in 2013 and began dating shortly after knowing each other. Michael said,
"We just get along. She's strong at everything I'm weak at. She calms me. When I see her I relax. All the pressure's taken away. We don't argue, we're always supportive of each other. No one can believe it when I tell them we've never had an argument. With Claire, nothing's been hard. I know relationships are supposed to be hard work, but being with her has been so easy!"
After about two years of dating, Michael decided to make the Miss Wyoming USA 2010 title holder more than a girlfriend. He proposed her on July 25, 2015, and even hired secret photographers to capture these most important moments of their life. However, the surprise proposal wasn't the only surprise for Claire that day. We will let you watch all of it by yourself.
Caption: Maichel and Claire's perfect Malibu proposal, July 25th, 2015
After Michael Yo, @MichaelYo proposed Claire Schreiner, @MissSchreiner, the first person to congratulate them was Kendal Jenner as she happened to be in a winery's safari with her friends.
Kendal Jenner congratulating the couple:
Michael Yo's married life and wife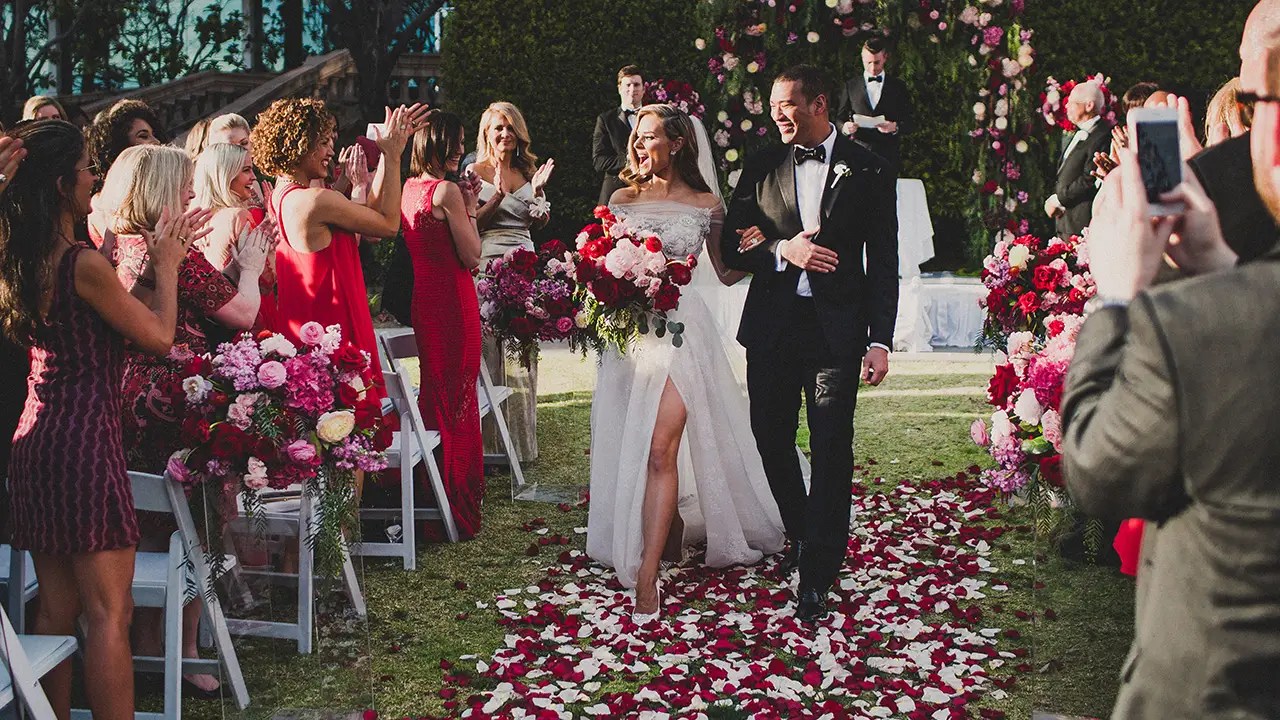 Caption: Michael and his wife Claire on their wedding walking as husband and wife
Source: etonline.com
The very romantic couples were set to get married just a couple of months before on February 14, 2016, and as scheduled, they got married on Valentine's Day in Langham Huntington in Pasadena, California. Michael and Claire exchanged their vows in front of 140 friends and family.
Both the husband and wife had a chat with ET Online where they showered praise on each other,
"I can't believe I married the woman of my dreams. She is the most selfless and loving person I know, I can't put into words how excited I am to spend the rest of my life with her!"- Michael Yo
"I couldn't have imagined a more perfect wedding day. Becoming Michael Yo's wife was a fairytale and a dream come true! I found the love of my life and I cannot wait to grow our family and have little yo yo's!" ­– Claire Schreiner
The couples are now enjoying their time as husband and wife and are living happily together. Claire addresses herself as "Claire Elise Simmons". Simmons is Michael Yo's last name which he does not use professionally. Both are of the gay nature which can also help them get along so well. By the word gay, we did not mean to target their sexuality. We said that to describe their cheerful and carefree nature.
Caption: Michael Yo talks about his family in a funny way at one of his shows.
Michael Yo was born on November 20, 1974, to an American father and a Korean mother which makes him a person with a mixed ethnicity. Michael Yo is known for many things. He is an actor, TV host, stand-up comedian and a Hollywood expert. Currently, Michael Yo serves as a co-host alongside Keltie Knight for the weekend edition of The Insider  as well as Yo Show on Yahoo! TV