Entertainment
Mixed Ethnicity Actress Rochelle Aytes, Blessed to Have Loving Boyfriend: Engaged in 2015, Married Plans?
Time for celebration for the Mistresses cast, crew and fans because April Malloy offscreen known as Rochell Aytes is currently engaged. Mistresses actress Rochell Aytes feels blessed to get engaged to a very loving boyfriend.
Engaged!, Boyfriend and Soon to be Husband?
Rochelle Aytes is currently engaged to her long-term boyfriend C.J. Lindsey. The dynamic duo got engaged on 15 July 2016. C.J. proposed Rochelle while on their trip from Vancouver to L.A. It is clear from Rochelle's Instagram account, that she is beyond happy to have got C.J. as her future husband. C.J. popped the question at Proposal Rock on the Coast of Oregon.
Caption: Rochelle said YES while admiring the beach view with her fiancee.
The view that surrounded Proposal Rock was breathtakingly perfect for C.J's proposal. According to Rochelle, she always wanted to marry a man like C.J. The source close to the couple revealed that the proposal totally took her by surprise.
Rochelle also thanked actress and best friend Kelly Stewart for introducing them. She took to Instagram thanking Stewart, "A special thanks to@kstew222 for initiating this union. You are a beautiful soul!! #grateful." After their engagement, Rochelle first shared the news with her parents and friends.
Caption: Rochelle Aytes out to dinner with her boyfriend/fiancée
Rochelle pours her joy of getting engaged via Instagram and now that the couple took a serious step towards their commitment, now it's time for another big step, Marriage.
Rochelle Aytes' Marriage Ceremony
C.J. Lindsey and Rochelle Aytes' finally took their vows on August 28, 2016. The couple held their wedding ceremony in Tarrytown, New York in the Home Estate in one of America's most renowned and love writers, Mark Twain.
Rochelle presented herself in the classic wedding dress for her marriage. The actress wore a strapless, lace-trimmed ball gown with an embellished bodice while C.J. was in a classy Tuxedo suit with a White Blazer and Black pants. The couple looked absolutely fantastic together. Here are a few pictures of the Bride and the Groom,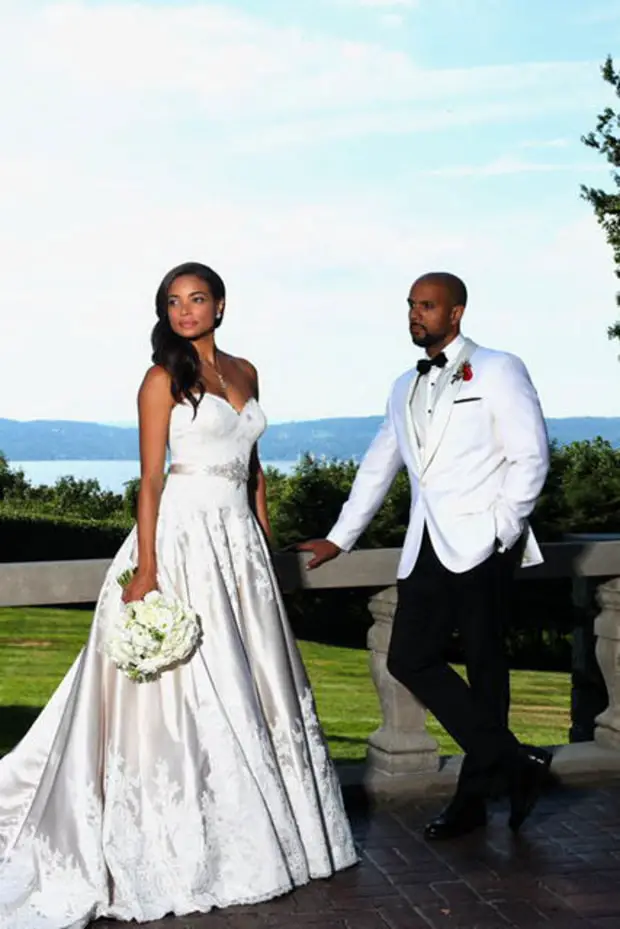 Caption: Rochelle Aytes and C.J. Lindsey's wedding photo.
Source: USmagazine.com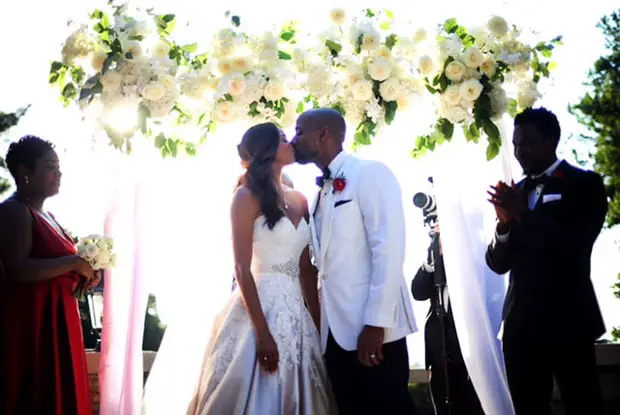 Caption: Rochelle and C.J.'s first kiss as a couple.
Source: USmagazine.com
Rochelle Aytes' Short Bio:
Rochelle Aytes was born on 17 July 1976. She was born in Harlem, Newyork. She is of interracial ethnicity, making one of her parent to be African-American and other to be Caucasian. She played a role of a reporter, Denise Porter in White Chicks.
She can also be seen on American drama series Work It as Vanessa Warner and in Criminal Minds which is an American procedural cop show as a series recurring role as Savannah Morgan. She currently portrays a role of April Malloy on ABC's dramatic, mysterious series Mistresses.