Entertainment
Openly Gay Molly Meldrum Nearly Had A Wife! What Drove Him To Partner?
Molly Meldrum is an Australian music journalist and producer, best known for hosting the widely-popular musical TV program, Countdown (1974-1987). He has not only amassed huge fans and well-wishers, but the media personality has also opened about his sexual orientation of gay frankly. 
But, the openly gay host shared multiple girlfriends in the past and now shares a partner. 
Well, if you are curious to know whether the TV host turned his partner into wife or not, drive your interest down below!
Molly Meldrum's Girlfriends
Since the 75-year old, Molly Meldrum is one of the first openly gay TV stars in Australia; the 'wife' is not on his card.  But he has a family of an adopted three-year-old child. He adopted the child from his close friend, Morgan Scholes, back in 1988.
Despite opening about his gay sexuality, he had opened about his romantic relationship with his many girlfriends. Moreover, he claimed that he was infatuated with many girls and was even engaged for two times.
He felt comfortable being with them and claims that they understood him a lot more than guys did.
When he went to Quambatook Primary School, he had his first crush on the country singer John Williamson's cousin-sister, Dawn. He even sang two songs dedicated to Dawn, How Much Is That Doggie in the Window? and All I Want for Christmas Is My Two Front Teeth. Despite the effort, his singing could not woo Dawn to turn into his girlfriend. 
In his late teens, the TV presenter was in the romantic relationship with Camille, who was his first girlfriend. They remained in the relationship for a few years and even thought about their future. Talking in an interview with dailylife.com.au in January 2016, he recalled Camille as his first girlfriend stating, 
"Camille was my first girlfriend and we remained together for a few years. She was a fantastic girl and I probably would have married her, but I was very young."
Well, being in the romantic relationship with girlfriends, Molly, who popularly known for his trademark, 'Stetson hat,' confessed:
 "I was bi, I wasn't really gay, you know, so it wasn't really a matter of hiding it."
He recalled the moment that hit him with discomforts when his son, Morgan Scholes, who currently lives in China with his partner Crystal Scholes and a son popped the question about his sexuality.
When he had adopted the son of his close friend, he used to live with his boyfriend at that time, Rui Mac. But the detailed information about his relationship with Rui has not been disclosed yet.
Molly Meldrum's Partner 
Molly shares a romantic life with the owner of Thailand's courier business, Yan Wongngam. They first met 15 years back in Bangkok gym in 2003. The duo was spotted together at Thousand Pound Bend at the Mushroom Group's 40th anniversary on 5 February 2013 in Melbourne, Australia.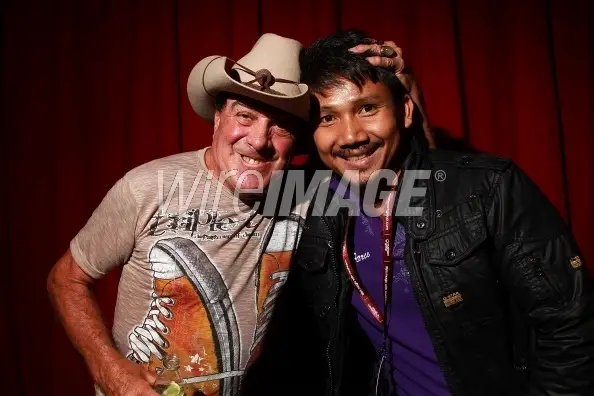 Molly Meldrum with his partner, Yan Wongngam at the Mushroom Group's 40th anniversary on 5 February 2013 in Melbourne, Australia (Photo: wireimage.com)
But the two gay couple has not thought about getting married, and are happy with their current relationship. In an interview with dailylife.com.au in January 2016, he talked about his more than a decade-long partner where he stated:
"My partner, Yan Wongngam, and I aren't married. We met 13 years ago. He has a courier business in Thailand and we met in Bangkok."
Similarly, the Melbourne, Australia resident also explained his intention of not getting married. 
"Same-sex marriage is fine but it's not our thing. If people want to do it, then they should."
The host, who defied death even after suffering from a coma by falling from three-meters from a ladder in 2011, is presently living a healthy life with his partner.
Think we're missing something? Do let us know in the comment section below!