Entertainment
Moniece Slaughter Wiki: The Alleged Mistress Who Got Pregnant! How True Is It?
A celebrity's involvement in controversies is common news. Moniece Slaughter, a reality star, was recently questioned about her character, but she didn't tolerate it; instead, she answered furiously to try and defend herself.
Did she succeed in the resistance or were the accusations found to be true? To find out in detail, scroll down!
Truth Behind the Allegations Against Moniece Slaughter
Moniece Slaughter and her co-star, Jason Lee, from the VH1 reality show, Love Hip Hop, were not sharing an amicable relationship. They went head to head on social media when Jason denounced her as his alleged mistress back in 2016.
Jason Lee directly stated that, back in 2012, she was pregnant with the former basketball player, Shaquille O'Neal, when she was still married to Shaunie O'Neal.
See Also:- Austin North SPLITS With Girlfriend of Four Months | What Went Wrong?
In response to his filthy accusations, Moniece retaliated by seeking a legal action and tried to defend herself by giving a factual information regarding the accusations she denied.
The uploaded photo on Instagram has been removed, so, we have uploaded a screenshot where she has responded to Jason Lee's attempt at slandering her.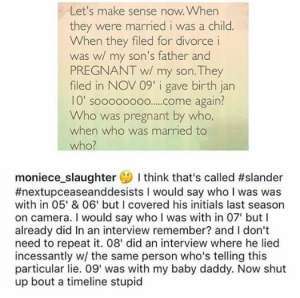 Moniece Slaughter responded to the accusation through social media (Photo: Bossip.com)
She even tweeted,
"Let me make it clear condoms. An IUD. And a vasectomy makes pregnancy impossible. Meeting him in 2012 makes it impossible during a marriage,SO STOP ASKING ME."
She admitted that she briefly dated Shaq, but slammed the baby allegations as false and downright impossible.
Additionally, she shared a comment on Instagram speculating how her baby might be affected by Lee's determination to defame her.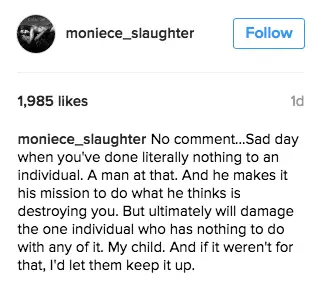 Moniece shared her feelings on Instagram (Source: Bossip.com)
After the matter was taken to the court on account of the denunciation made by her co-star, Jason Lee, she followed her attorney's suggestion.
Way to go, Moniece!
Past Relationship; Split With Girlfriend
Slaughter was involved in a romantic relationship with the rapper, Lil Fizz, with whom she has a son named Kameron David Frederic. Subsequently, back in 2015, she was noticed being romantically linked with Rich Dollaz but the couple split before the end of the year.
You May Also Like:- Who Are Lana Condor Real Parents? Wiki Reveals - Dating, Boyfriend & Personal Details
After Moniece came out to the world as bisexual, she introduced her girlfriend, AD Diggs, who runs a sneaker shop that she named Digg The Kicks. However, in July 2018, Moniece Slaughter confirmed that she is no longer in a relationship with her girlfriend via a social media post.
Also Moniece former girlfriend Diggs announced their break up via posting a long message on Instagram stating the reason for their split to be private. She wrote on Instagram:
"Moniece and I are officially broken up. I don't wish to share the personal reasons behind why. I respect both of our families way too much and they have already been through enough with our relationship."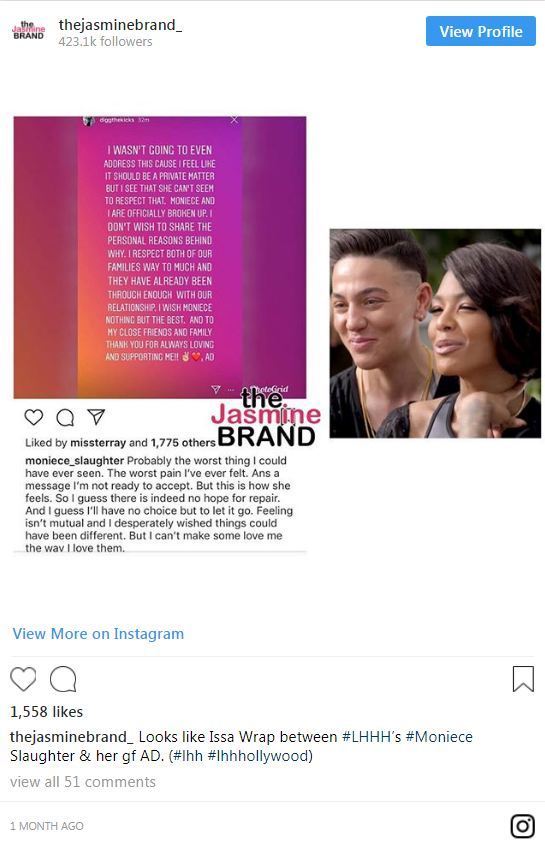 Screenshot of AD Diggs' post about split with Moniece Slaughter (Photo: The Jasmine Brand's Instagram)
Soon after Digg announced their split, Moniece reposted her ex-girlfriend's message and wrote that the break-up was not mutual. She wrote:
"Feeling isn't mutual and I desperately wished things could have been different."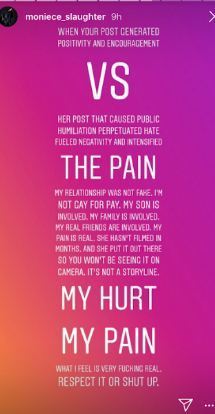 Moniece Slaughter confirmed break up with girlfriend AD Digs (Photo: Moniece Slaughter's Instagram)
After she broke up with her love interest, in the same month, she was also involved in the pushy fight with the co-star Princess Love in the season five of Love & Hip Hop: Hollywood.
More About Moniece Slaughter: A Short Wiki
Moniece Slaughter, an LA native, was born into a musical family in 1987 and celebrates her birthday on March 4. She was present at the time when her father and mother exchanged their vows of marriage in 1990. Moniece's main career thrust has been in the music industry until she became a part of the VH1's hit reality show, Love Hip Hop.
Don't Miss:- Gelila Bekele And Tyler Perry As Parents; Son's Arrival Brings New Joy
She has sung the theme song for the show, America's Next Top Model, and appeared as a host and performer in shows in both LA and Las Vegas.
She not only sang the songs but also has used the pen for writing the songs for Marques Houston and Akon. Despite her progressive career, she has confined her net worth.