Entertainment
Mother-Of-Two Nancy Cordes Is A Married Woman. Who Is Her Husband?
Nancy Cordes falls in a category of the Journalist, who keeps their personal life very low-key. Congressional Correspondent of CBS, Cordes, is active on different social-networking sites but hasn't revealed much information about her personal life and husband. You probably know that she is a married woman. But do you know who her husband is? If you don't, we can help you to know him.
Nancy Cordes Married Life and Husband:
Nancy Cordes, 46, got married in the year 2006. Unfortunately, she has not disclosed much information about her husband, but we have found her husband to be Harald Cordes. It seems that Nancy and Harald love privacy in their personal life as they are not seen together regularly. Neither is there any information revealed about their affair or dating. Is Harald, her boyfriend, turned husband?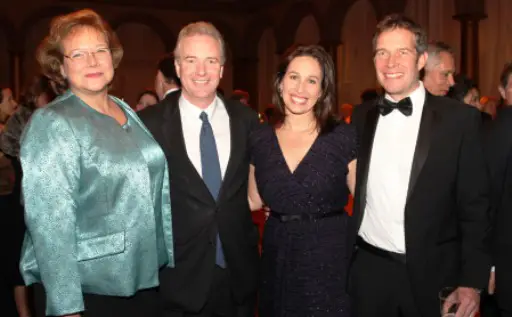 Caption: From left to right, JDRF's Piper Dankworth Sutton, Congressman Chris Van Hollen, CBS's Congressional Correspondent Nancy Cordes and her husband, Harald Cordes.
Source: adweek.com
We can assume that the person in the right corner is her husband as we find Nancy and her husband mentioned in one of her tweets. She mentions her work husband as John Nolen and her real husband as Harald Cordes.
In an interview with adweek.com, Nancy was asked about her favorite or go-to drink, where she replied,
"My husband's coffee keeps me functioning"
Nancy Cordes, Mother of Two Children:
Nancy Cordes has two children; Lila (Born in November 2008) and Noah (Born in May 2010). If you don't know, she has shared a funny story about her children in 2013. She said-
"My kids think that I work with Barack Obama. They think that they can talk to me when they see me on TV. They will run up to the television when they see me and say, 'Mommy, Mommy, I need to tell you something. "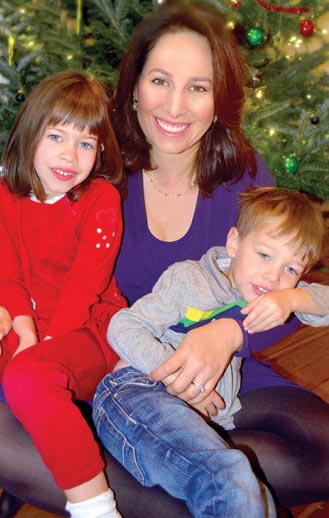 Caption: Nancy Cordes with her children Lila and Noah.
Source: washingtonian.com
Attended same school as Barak Obama:
More than being surrounded by politics, Nancy and Obama both attended same high school. In an interview with thehill, Nancy revealed that she went to same high school that Obama went. She said-
"I went to the same high school that President Obama went to, We had the same homeroom teacher all four years, just at different times."
Nancy's Short Bio:
Born on 1970, in Los Angeles, California, Nancy Cordes is a former ABC News correspondent. She began her career from KHNL-TV in Honolulu. While at ABC, she covered numerous major stories such as Hurricane Katrina, Iraq War, and Presidential Election of 2004.
She attended the same high school that President Obama went to. She graduated from the University of Pennsylvania with magna cum laude in the year 1995. And from Princeton University's Woodrow Wilson School of Public and International Affairs, she earned a master's degree in public policy. To all the CBS News programs and platforms, she is a regular contributor.