Entertainment
Multi-Talented Cady McClain's Husband, Jon Lindstrom is Her Biggest Supporter
Versatile American actress, author, and singer Cady McClain revealed that her husband Jon Lindstrom is her biggest supporter who motivates her to flourish and stands with her in every ups and down. She gives all of the credit of her success to her loving husband and says that the success which she has achieved was impossible without his support and motivation.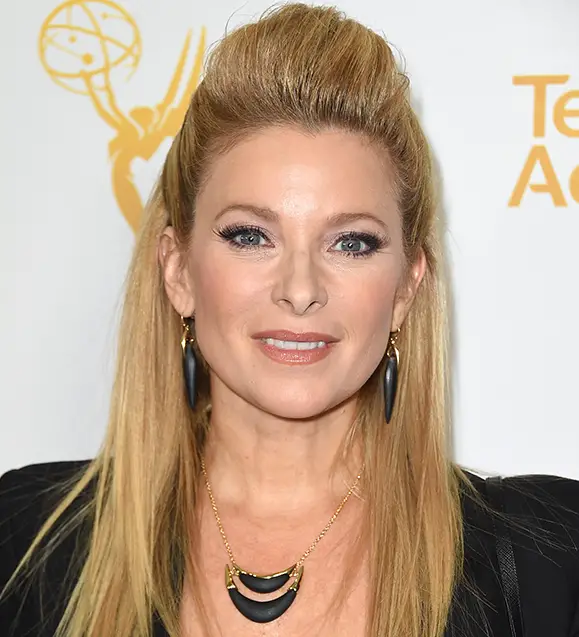 One of the versatile American actresses, Cady McClain revealed that her husband Jon Lindstrom is her biggest supporter who motivates her to flourish and stands with her in every up and down.
Cady McClain, who is also author and singer, gave all of the credit for her success to her loving husband. Not only giving credit, she also disclosed that the success she has achieved was impossible without her husband's support and motivation.
Cady McClain's Married Life: Affectionate Husband:
Cady McClain is a married woman. 
She got married to American writer and director, Jon Lindstrom in Valentine's Day (February 14) of 2014. 
The couple tied the knot in an intimate ceremony at a courthouse in Beverly Hills, California. The wedding ceremony was catered by a burger truck and set up a bar in the backyard. 
The duo first met on the sets of American TV series, As The World Turns where both Cady and her husband was cast together.
Cady was reportedly dating Jon Lindstrom since 2008 which followed six years of dating period before the couple got married to each other. 
Following the marriage, the duo went to honeymoon in Mexico which was revealed by Cady's husband in a 2014 interview with TVguide saying, 
"We went off to Mexico to a fantastic place near Ixtapa. Very chill, very low key, just exactly what we wanted. Eric Idle was staying there at the same time, which was kinda cool."
On 14 February 2018, Cady's husband shared an Instagram post wishing his wife 4th marriage anniversary. 
Not only wishing anniversary, Cady's husband, who shares the same profession of acting, is the support pillar for her. 
Talking about the support, Cady shared a tweet on 30 October 2016 where she mentions her husband is always there for her. 
In an interview on August 2016 with Jimmy Star and Ron Russel, she 
talked about her love life and said,
Jon is possibly the nicest human being I've ever met in my life, he's a genuinly integris good human being.
Also, Cady's husband has helped her overcome one of the biggest trauma of her life. 
The couple works in the same field, and that might be the reason why this fabulous pair has a significant level of understanding in their relationship.
Cady McClain's Wiki-Like Bio:
The American singer, Cady McClain was born on 13 October 1969 in the family of the abusive father. 
In an interview with soapoperanetwork in June 2014, she revealed about her father's sexual abuse saying, 
"It was a that lived inside me and really tortured me for many years." 
She also added that the traumatic incident has affected her career as she broke down emotionally on the sets of American TV series, All My Children (1970-2013) after the love scenes. She said, 
"Doing love scenes was absolute torture for me because I was sexually abused as a little girl. I had to do a rape scene once… I mean I almost lost my mind. I remember doing some scenes with Billy Clyde (Matthew Cowles), where he was going to rape me and he had something around my neck. I did the scenes. I did my job and then I went down to my dressing room and just went into the fetal position for awhile because it was just rattling such old bones in me. I didn't have ownership of my sexuallity really. It had been marked in a way by my father when he was drunk, and sexually abused me. It's taken a long of time and a lot of work to reclaim all those parts of myself."
Also, she said that initially, she was not angry at her father for the abuse stating, 
"I was never angry at my dad when I was a kid. I loved him. He was my savior. To me when I was a little girl, he just made a mistake and he thought he was loving me. He didn't know that it was – he didn't mean to hurt me. I actually believed that he didn't mean to hurt me. As I got older, of course, I found older men attractive [Laughs]. I was like, 'hmm…dad?' and my sexually had gotten really confused. My dad had turned me on, sexually. So when I looked at older men, they were my sexual type."
Apart from her family life, Forty-six-year-old Cady McClain has been active in the industry for more than thirty-seven years. Within this time period, she has appeared in some films, television series and commercials.
Best known for her work as Dixie Cooney Martin on All My Children, a daytime television show that aired on ABC for 41 years and Rosanna Cabot on As The World Turns, she won an Emmy each for both and later on worked in the Blair Witch style Mockumentary Home movie as Claire Poe, psychiatrist mother and wife who tries to help her children with their violent tendencies.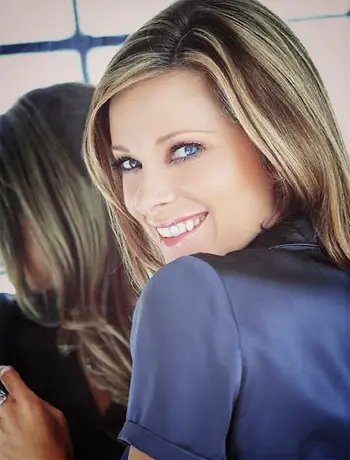 Cady Mcclain as Rosanna Cabot (Photo: Wikipedia)
Apart from being a successful actress, she has also established herself as an author by releasing three books Conversations with the Invisible, Licked and Murdering my Youth. Her husband might have motivated her to write books as she had an interest in writing articles and poetry. Cady McClain is also a painter.
Also, she makes music. Her songs are well-liked, and her albums like Club Passim and Blue Glitter Fish have gained popularity but according to her, her husband is the greatest fan of her who loves her voice and her singing. 
Her song "Marriage song" from the album Blue Gitter Fish is absolutely amazing and many commented on how she sounded extremely beautiful in it. Here's a video of Cady singing "It's beautiful" live at Las Vegas lounge.
Caption: Cady singing "It's beautiful" at Las Vegas Lounge.
In 2006 Cady maintained and updated a Blog on the ABC's website entitled "Confessions of a Mad Soap Star," which earned over 2 million hits. After she left AMC, she continued to blog on her own website which can be previewed here.
Cady began her career at the age of nine by appearing in a commercial for Band-Aid bandages. After working and polishing her acting skills, she has landed with many roles and notable appearances.
For her second short film, "The World of Albert Fuh," she has been able to receive an Honorable Mention for Best Director by the LA Film Review. 
In 2017, the American actress also made a documentary named 'SEEING IS BELIEVING: WOMEN DIRECT', which is a documentary about women directors. 
By appearing in many films and commercials, multi-talented Cady McClain can grab an incredible salary which correspondingly makes a fantastic net worth. Though she hasn't revealed appropriate net worth of her, it is estimated to be around $4 million.