Entertainment
Musical Artist Jack Gilinsky Split With His Singer Girlfriend? Or Are Still Dating?
When you love your profession, you just get so carried away with it, that you no longer remember about your relationship nor do they ever think about their social bonding. Is this the same case of musical artist Jack Gilinsky who grabbed headlines after splitting with his girlfriend or is there another story behind the headlines like secret dating.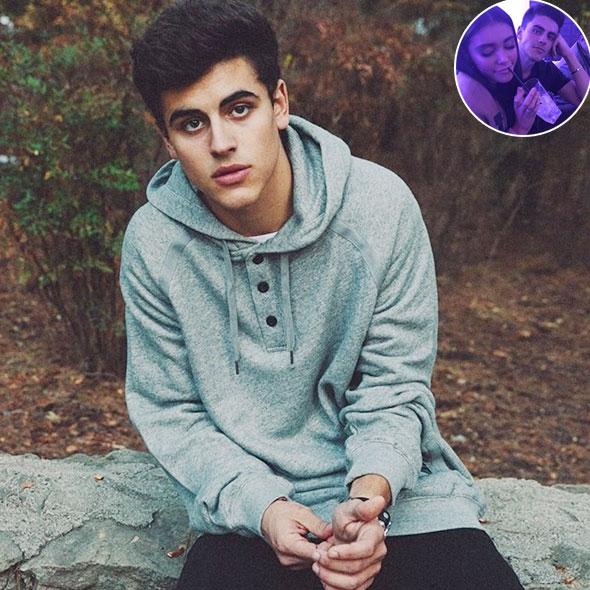 When you love your profession, you just get so carried away with it, that you no longer remember about your relationship nor do they ever think about their social bonding. Is this the same case of musical artist Jack Gilinsky who grabbed headlines after splitting with his girlfriend or is there another story behind the headlines like secret dating.
Today, we shall do a thorough investigation on the headlines of separation and behind the backdating scenario. So, folks let's get in to know the truth.
How and when did they got involved in the relationship?
Although Gilinsky had never spoken a word about his romantic life, a kind of speculation added when Gilinsky and Madison Beer, the female singer bumped on one of their fans Stalker Sarah. As reported by superfame.com on 19th January 2015, Jack and Beer were at Mel's Drive in WeHo and decided to catch up with their fans while Sarah was enjoying her dinner with her friends. The fan as evidence posted the picture of her Jack and Madison on her Instagram account in the month of January.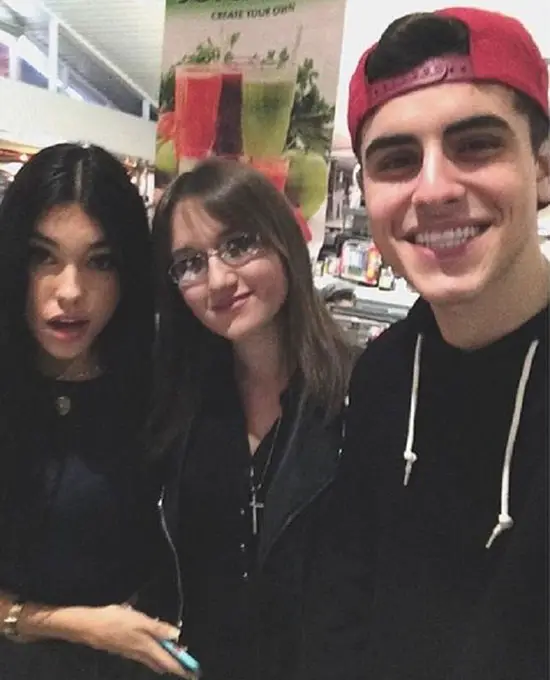 Caption: Stalker Sarah(center), Maidson (left) and Jack(right) spotted in January,2015.
Source: hollywoodtake.com
The rumor further enlarged when Gilinsky wished Madison on her birthday on 5th March 2015  through his social networking site. The tweet created an uproar inside the head of his fan followers when the singer posted a black and white picture of him and the girl together on his Twitter account.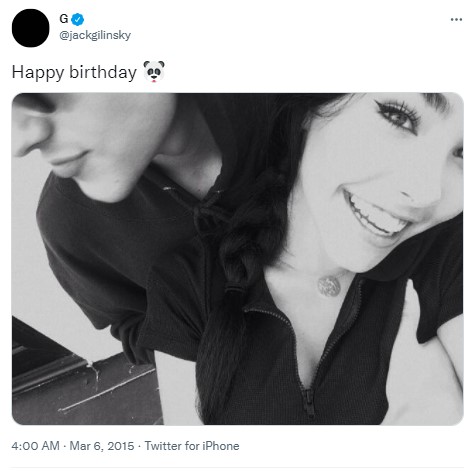 The hide and seek game finally ended when Jack confirmed about his relationship in the early April 2015 during an event at Radio Disney Award and even apologized to the fans for keeping the relationship underneath for a long time. As posted by Hollywoodtake.com on 28th April 2015, he said:
"The fans are mad, I agree with me dating Madison Beer.You know, I haven't been so open about it, but I don't know if I'm totally ready to talk about it right now. But I feel bad because I've kept it in a lot. But, I mean, it is what it is. I'm sorry for anyone that is mad about it. I guess."
Despite apologizing to the fans, the fan dethroned the pair giving it a complete hatred approach when they were underwhelmed by the fear of Madison bring a crack in the partnership between Jack and Jack Johnson. The fans strictly criticized the pair with the hashtag" The Jack Roast":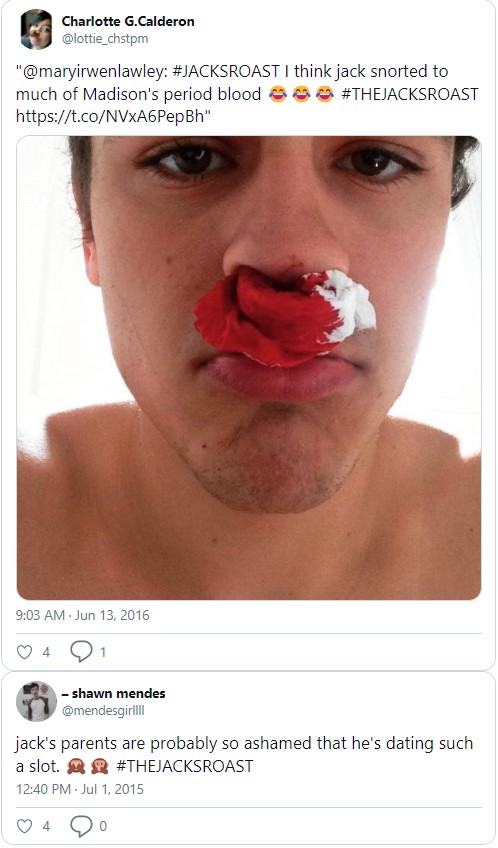 By looking at the criticized scenario Johnson stated:
"It's kind of a nuisance just seeing everybody hating on him when it's just these two kids who like each other. And it's no big deal."
 Similarly, Jack played a role of a protective boyfriend when Madison was severely busted on the assumption that her presence would break the partnership with Jack Jonhson and Gilinsky.
Caption: Jack Jonhson and Jack Gilinsky speak about the constant criticism made by the fans for Jack and Madison relationship (2015)
Well, that was the nasty thing to do. Every individual including star have their private life. And making serious hatred comment on the women they love inevitably shakes their spirit. 
Seriously off the dating spree or still secretly dating?
The rumor of break up between the favorite internet couple hit the social media. Even though the couple has not confirmed it but the activities of Madison inevitably swirled the Internet as she had unfollowed Jack from all of her social networking sites.
Jack also added suspicion when he was seen tweeting tweets revolving around relationships and love on 9th October 2016, writing, 
"jealousy is love & hate at the same time"
The tweets attracted plenty of sympathy towards Jack. But not a word was spoken by Jack nor Madison regarding the matter which further added illusion in the mindset of their fans. 
However, Madison although did not confirm of her on and off relation she threw an astonishing statement which kept her fan following in disbelief. Beer confronted about having a secret desire and interest for women. 
As posted by justjaredjr.com on 19th October 2016, the singer laid out her interest on the sexual preference. She stated:
"I'm not a lesbian, but I definitely love girls," she shared. "I think girls are the most amazing things to ever happen to the planet earth. I wouldn't categorize myself as straight because I think labels are really weird. I think girls are beautiful and amazing and I think if I fell in love with a girl I wouldn't be like, Oh my god I'm falling in love with a girl.'
She added:
 "I've been in love with a girl before and I just don't think that's anything bad. I've really genuinely fallen in love with a girl before and been like, Oh my god."
Finally, on 22nd October 2016, Maidson gave a slight hint on the downfall of her relationship with Jack. As posted by Hollywood take.com on 22nd October 2016, on their previous interview the lady confronted the timing issue to be the biggest problem in the relationship. She said:
"It's not that easy. We're away from each other like we are right now. But even if we're only away from each other for five days, it's still time apart and we are away from each other a lot of the time."
When asked about the confirmation for the break-up in an interview with You Now on a fan question answer round Madison directly ignored the question stating directly it to be her personal life. As reported by Hollywoodtake.com on 22nd October 2016, she said:
"There's certain things that I just try not to talk about on a live stream.I like to have some sort of private life."
As no confirmation to the ongoing rumor was given, the pair gave an unexpected appearance to their fan followers when they were spotted together roaming around the downtown of Los Angels right after a week when the rumors of the breakup had sparked.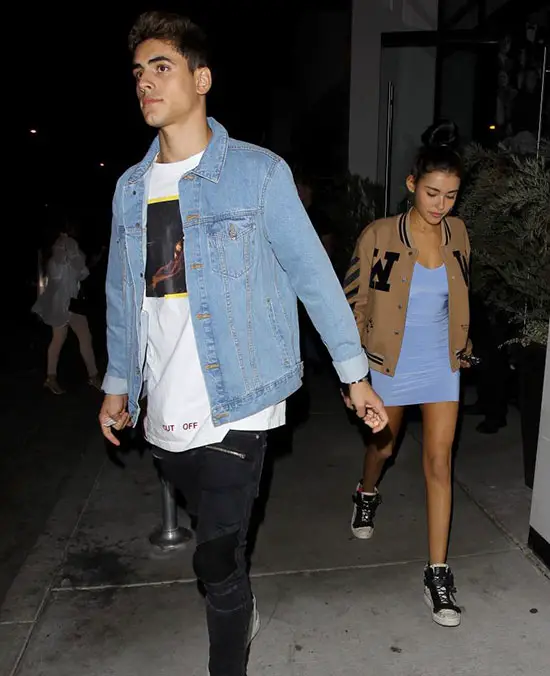 Caption: Jack and Madison spotted together in Los Angeles after their break up rumor posted on October 22, 2016.
Source:hollywoodtake.com
Not only did that happen, simultaneously Madison had followed Jack in all of his social networking sites, when one of their followers confirmed on her Twitter account on 22nd October 2016 writing, 
"After their rumored split and unfollowing each other on social media,Madison Beer just refollowed Jack Gilinsky"
The series of break up and patch up had created confusion. But while viewing the current status of the duo, Madison has been reported to have unfollowed Jack from his Twitter site but as they were spotted together in LA on the month of October 2016, so Jack and Madison are still together despite having fluctuations in their relationship. 
All those ups and downs might have been just temporary, or it may be an illusion created for their fans who have consistently criticized their relationship. 
Learn about his family background and Net Worth:
Jack Gilinsky born to a Jewish father  David Gilinsky and a German-Irish mother Katherine Finnegan was born with a mixed ethnicity feature. He has two siblings Molly and Laura. Jack hails from the family background of actor and singer.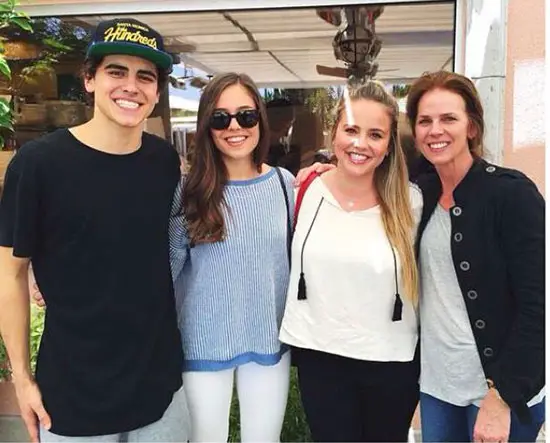 Caption: Jack (left), Molly (Sister), Laura (Sister) and Katherine (Mother).
Source: pininterest.com
His paternal grandfather is  Larry Gilinsky, the son of Stewart Harold Gilinsky while his paternal grandmother is Deanna Sue Dworkin, the child of  Edward Dworkin. Whereas his maternal grandfather is Frank Finnegan, the son of Frances Schroepfer while his maternal grandmother is Beverly J. Sim the daughter of Michael Sim Jr, and Helen Slivka.
Hailing from such a huge family background the star definitely might have a huge net worth accumulated from his parental assets. 
However, his self-accumulated net worth is $1.5 million till 2015. He gathered the amount by giving back to back hits like Like That(2014), Wild Life(2014) and California (2015).