Celebs
Musical.ly Star Baby Ariel Upped With A New Dating Affair After Split With Previous Boyfriend
Famous YouTube, YouNow and "Musical.ly" personality, Baby Ariel is someone who has been in the spotlight when it comes to social medias. She first became famous when she filmed herself using the app "Musical.ly". That has also been the reason she has over 17 million followers over on her social medias. Ariel is adored by many and is also the fantasy for many people. But what is her love life like? Well her big fans might know that she once had a boyfriend whom she split with. But does she have someone new in her life? Let's find out.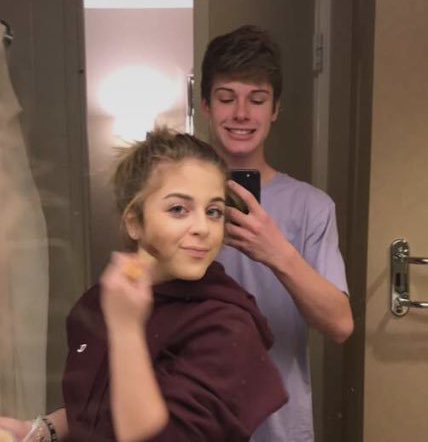 Famous YouTube, YouNow and "Musical.ly" star Baby Ariel is someone who is well in the spotlight when it comes to the social medias. She first hit the spotlight when she filmed herself using the "Musical.Ly" app, resulting in massive followers of over 17 million on her social medias. Ariel is adored and fantasized by almost everyone who knows her. But many fans are still unaware of her love life, which includes her past heartbreak. Curious about the details? We'll treat you well.
Wiki-like Information Regarding Her Love Life:
Baby Ariel is exceptionally beautiful and has been able to take over the social world with her works, grabbing the attention of many people. But the question continues, does she have a boyfriend in her life? Or in the past? 
Well her fans are bound to know for sure that she was once in a relationship with Zack Clayton, and "Zariel" is what fans used to call them as the two seemed more than beautiful together. Having begun dating early in 2016, the two took over fans like a frenzy and even compiled many videos together. Their love was evident on the images they shared on Instagram.
[image_deleted_from_Instagram]
But Ariel and Zack did not last for too long as they split in July the same year citing the reason to be their long-distance lifestyle and busy schedules. Baby Ariel was the one to reveal the split to the fans via Instagram, which was captioned,
"hey guys! it's Zach and Ariel. We wanted to let all of you know that Zach and I love each other so much, but it's gotten too hard for us to be together with all the distance between us, our hectic schedules, and preparing for our tours, so we have decided its best to just be friends. ???? we care about each other so much and will still be the same best of friends we have always been! We don't want you guys to be sad because we feel closer than ever and want you to feel that way towards us too thank you for supporting us, it was tough to do this but we will forever cherish the moments we spent together! Love you"
However, as per sources, the split has not hampered the care and respect they have for one another.
As a part of this fast moving generation, Baby Ariel did not mess around regarding her love life, and as a result, she is rumored to have a new guy in her life by the name, Blake Gray. Gray happens to another musical.Ly sensation and the common interest between them might be the key factor in them being close. 
The rumors first sparked when Gray tweeted  "I love making you happy, " and Ariel tweeted back with a couple of heart shaped emojis.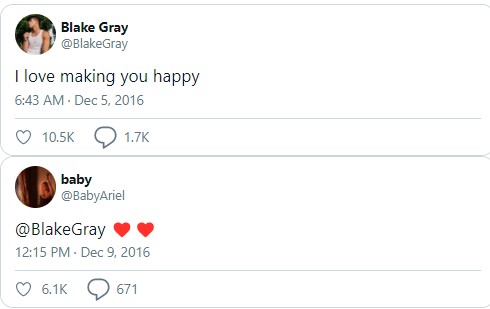 After the rumors sparked following this exchange of tweets, the fans are excited to know what is the real deal between these "musical.ly" fellow sensations.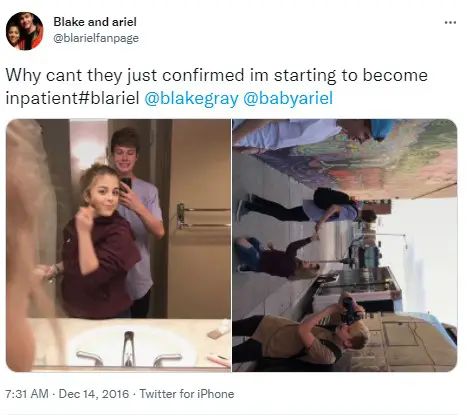 But a recent post from Gray on his Instagram almost confirms the rumors where he calls Ariel his other half.
[image_deleted_from_Instagram]
A Youtube channel named Jacob Sartorius Videos even made a video out of the posts over Twitter and Instagram revealing the wish to see them as a couple.
[video_deleted]
Caption: Blake and Ariel make giveaways for them to be dating (Published on Dec 28, 2016)
Although many hints have leaked regarding the relationship between Blake and Ariel, the confirming statement is yet to come out from the duo themselves.
A Short Bio Of Baby Ariel:
Ariel Martin who is more famous on the social media by the name Baby Ariel, celebrates her birthday on November 22, 2000, is someone who has taken over the social networking world. She has a huge fanbase at a very young age, that shows the amount of success she has acquired thus far.
Ariel has over 17 million followers and is also popular on Instagram, YouTube, and YouNow. And that is something no one of her age can easily achieve. Her first move to stardom was the moment she downloaded the app out of boredom and quickly gained followers. Born in South Florida, her little brother King Jacob, also became famous through the same app "musical.ly." Even her mother, Sharon Kremen Martin is associated with a musical.Ly account called "musical.lymom." 
Well, It shall be safe to say that despite her current name and fame, she is not done yet, and surely will achieve immense success in the future.