Entertainment
MythBusters' Kari Bryon: Married her Artist Husband in 2006, Where is she now?
Myth Buster's actress Kari Bryon has been considered to be married to her artist husband, but is she still married to her husband or is she divorced? So, today we shall be covering the story of this pretty actress and finding of her present whereabouts.
Is she Still Married? Who is her Husband?
In March 2006, the actress got married to artist Paul Urich and the actress is still married to her husband as no information or rumor has been obtained about her being separated from the marriage. Further, she has taken her marriage life to another level of motherhood. On 3rd February 2009, she announced her pregnancy news to her viewers that she is pregnant, in which she said:
"That's right, I'm busting myths for two now,If I drop a screwdriver and try to pick it up, sometimes I need help getting back up myself.I have also made a 'Costanza' under desk to take naps when no one is looking."
Whereas on 28th June 2009 she gave birth to a baby girl at 11:35 pm named Stella Ruby weighing 8 lbs,12 oz. The good news spread amongst her fan followers bringing in lots of good wishes from her channel as well as well wishers.
How about some GREAT NEWS?! MythBusters' Kari is the proud mom of a baby girl! Congrats, Kari! #babywatch

— Discovery (@Discovery) June 29, 2009
After giving birth to a child was fervently surrounded by the rumors of plastic surgery in which she became a serious victim of gossip when the bloggers and gossip magazines frequently posted news of her getting plastic surgery. The news spread like a wildfire and reached amongst her fan followers who strongly criticized the news.
The actress acknowledged the rumors by giving a strong denial of undergoing any form of cosmetic procedure. Similarly, the camera also caught her tattoo after the show In The Date Night Car, where the host is seen flaunting her tattoo.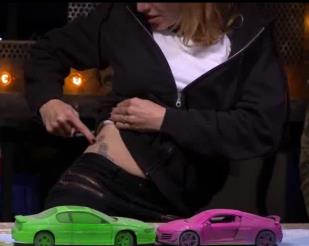 Caption: Kari Bryon shows her tattoo after the show In The Date Night Car
Source: lazygirls.info
The television personality is currently working on the Travel channel and hosting the show "Thrill Factor" with her co-star Tory Belleci. Besides, television she is also seen indulged in art and sculpture work. She has posted her work on her twitter account. She has also conducted plenty of exhibitions to showcase her artwork.
She has also given few hint of her new show Dragon Con 2016 with her co-star Tory Belleci at Grand Salon West in Hilton. Well, the television personality seems to be enjoying her work and taking great advancement towards her career, so we wish her luck and a great future ahead.
Kari flaunts some of her artworks in her twitter account on 16th June 2016:
She is seen spending quality time with her workmates Tory Belleci(in front) and Kari Bryon(at end):
Short Bio of Kari Bryon:
Kari Elizabeth Byron was born on 18th December 1974 in California, USA. She graduated from San Francisco State University in 1988 with a bachelor degree in art and sculpture. She is also believed to have suffered from atheist since childhood. She has estimated net worth of $1.2 million dollars.
Before entering into movie industry she worked as a sculpture artist. Later, she worked as a cast for the MythBusters from season 2 to season 12. In the year 2010-2011 Bryon had her own television show "Head Rush". She also hosted the show Large, Dangerous Rocket Ships for the Science Channel in the year 2010 and 2011.
In the year 2014, she left the show Myth Busters along with her few co-stars. From the year 2011 to 2012 she hosted the Pumpkin Chunkin on the Science Channel.