Entertainment
Nancy Juvonen Keeping Husband Issues Private Just As Her Wedding Details? Or Are The Divorce Rumors Just Gossips?
A relationship is something that nobody wishes to be publicly open about regarding every minute details. The people involved in the relationship could often gush about their love for one another, but when it comes to handling their issues; they love to be very secretive.
The same can be said about American film producer Nancy Juvonen, who prefers not talking about her marital relationship with her husband. Several rumors are circulating that they are facing issues within themselves, but how true are those rumors? Well, stick around to find out!
Is Nancy Juvonen Facing Issues With Her Husband, Or Is It Just Another Hoax?
Nancy Juvonen is married to iconic television host Jimmy Fallon since the end of 2009.
Nancy and Jimmy, after crossing path on the set of Fever Pitch; began dating in May 2007, after Drew Barrymore drew Fallon to a birthday party she organized for Nancy. Just a few months later, in August 2007, Fallon proposed Nancy on the dock at sunset with an engagement ring. 
However, the girlfriend-boyfriend relation between them headed to the next level and entered a married dimension through a wedding ceremony held in December 2009, when they exchanged vows on Necker Island in the Caribbean.
Their marriage ceremony was commenced in a private ceremony, including only close friends and family, and the details were kept real private by the two as well.
Before their wedding, Fallon said,
"She's the coolest girl in the world."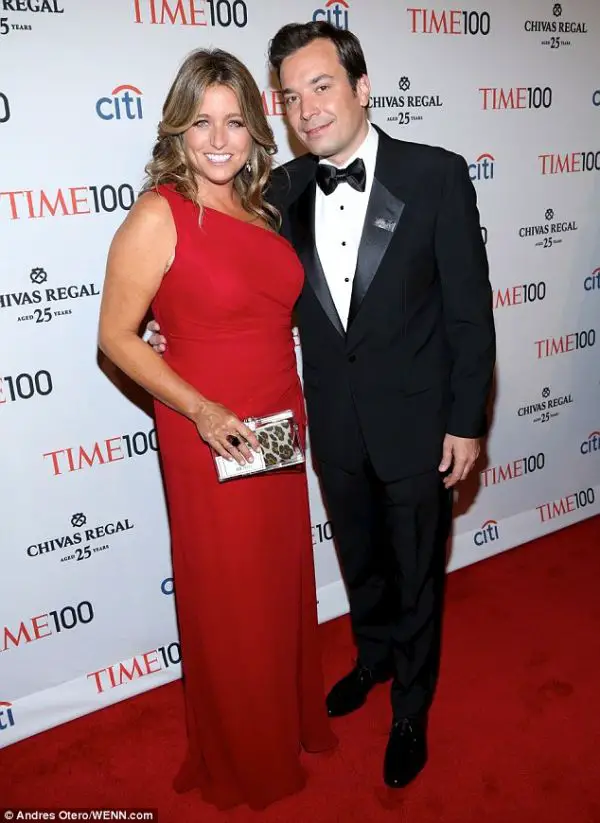 Caption: Nancy Juvonen and her husband, Jimmy Fallon.
Photo Credit: dailymail.co.uk
The couple also shares two daughters together, Winnie Rose Fallon (3) and Frances Cole Fallon (2).
But the path to their parenthood was not easy, as Jimmy revealed that they underwent five years of fertility treatments before the birth of their first child Winnie.
'We've tried a bunch of things, Anyone who's tried will know, it's just awful.'
He added,
'We tried before, we told people and then it didn't happen. And it's just really depressing. It's really hard on everybody.'
Glad to know that the two came out of such phase strong with the love they have for one another!
However, there are several rumors that the love between them is now dented and the couple is heading for divorce. But how true are the rumors?
The rumors first started back in January this year, but the same month Jimmy and his wife were glowing amidst all the rumors.
The two attended the 74th annual Golden Globe Awards held in January this year, and they were all smiles as if they had no problems in their relationship.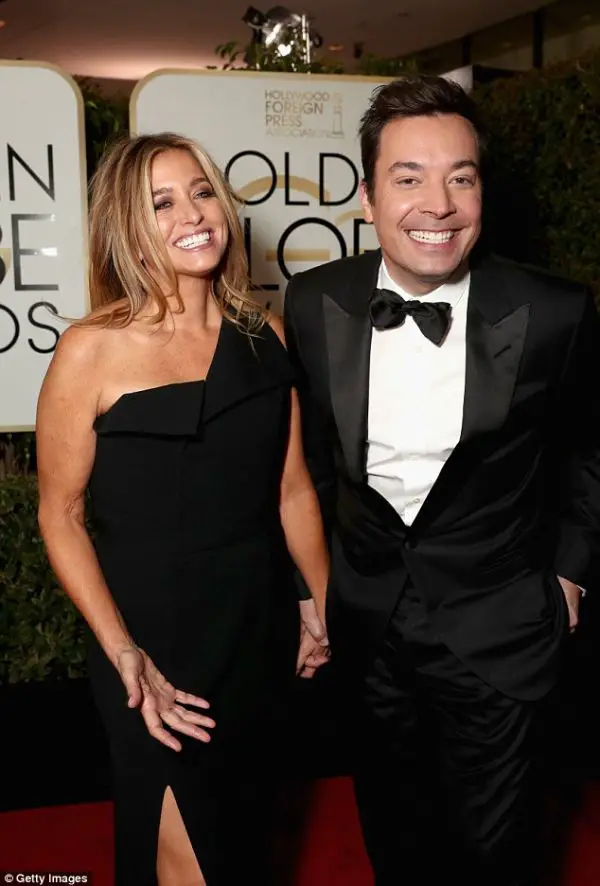 Caption: Nancy and Jimmy attend the 74th annual Golden Globe Awards all smiles amidst divorce rumors, January 2017.
Photo Credit: dailymail.co.uk
Moreover, in the same month, while arriving at their NYC apartment, they looked glum but were spotted happily together in front of the cameras.
Maybe they have marriage trouble, and maybe they are all happy with one another, but there are no major visible issues in the relationship.
However, we do hope that even if there is any trouble between the two; they get resolved quickly as the family is just adorable together!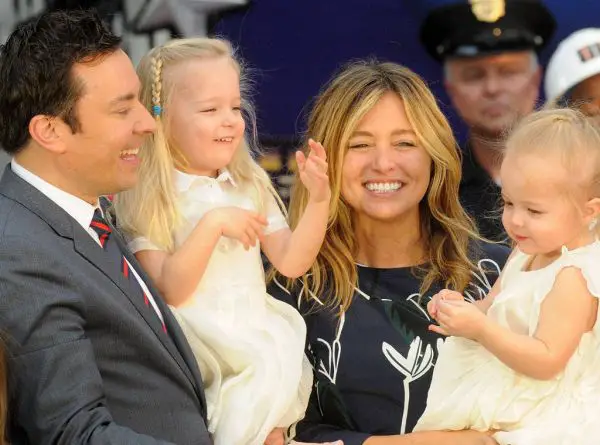 Caption: Nancy Juvonen's picture perfect family, celebrating the opening of Jimmy's brand new ride- Race Through New York, April 2017.
Picture Credit: Eonline
Born on May 18, 1967, in California, United States, Nancy Juvonen is a 50-year-old American film producer, who alongside Drew Barrymore, own the production company called "Flower Films."
She has produced movies and projects like "Olive, the Other Reindeer", "Charlie's Angel's", "Donnie Darko", "Never Been Kissed", "Duplex", "Charlie's Angel's: Full Throttle", "Fever Pitch", "Music & Lyrics", 50 First Dates", "Whip It!" and "He's Just Not That Into You." 
The success of all her work has helped her accumulate a healthy net worth of $20 million, which shows her success in the showbiz.