Entertainment
Nastia Liukin Engaged Life to Continue Some More As Wedding Is Postponed! Not Ready To Turn Fiance into Husband Yet?
What happens when you get engaged to your partner? If the engagement is in the view of getting married soon, then obviously, you start planning to get married to turn your partner into husband or wife.
But Nastia Liukin will have to wait for some time more, as her wedding got postponed when the big day was approaching very near. What was the reason for postponing the wedding with her boyfriend turned fiance? Did they have second thoughts on marriage? Let us find out!
Nastia Liukin and Her Fiancé Matt Lombardi's Wedding Postponed: WHY?
Famous American gymnast Nastia Liukin and her fiance Matt Lombardi, the founder of "VentureUp," a sports team-coaching platform, have been engaged for nearly two years now. But they still have to wait to exchange the wedding vows with one another, after all, the wedding was postponed. 
In an interview in May 2017, Nastia responded to the most asked question. The gymnast shared that her career is going crazing and the couple thought that spending time with each other was important before getting married.
"My career has been so crazy, we both felt it was best to take a breather and focus on spending time with each other,"

 "We're together, we're engaged and we are postponing."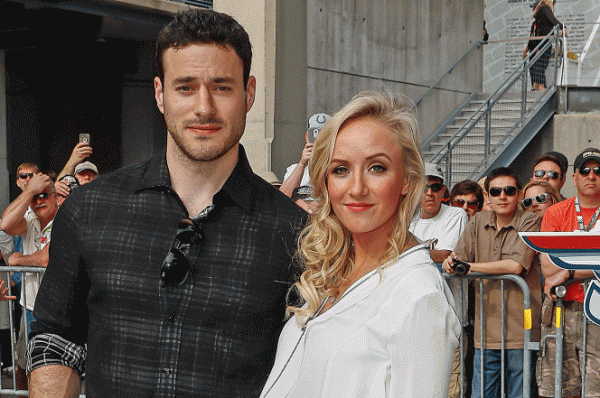 Caption: Nastia Liukin's wedding to her fiance Matt Lombardi is postponed.
Photo Credit: pagesix.com
Only the wedding is postponed, the desire to spend life with each other still remains alive. Nastia stated the same as,
"I'm really obviously very excited to spend the rest of my life with him. We bought a house in December and started a new business together and we just kind of wanted to take a second and pause and breath."
The couple is very much in love with each other despite the delays in their marriage, as Nastia's recent Instagram post suggests.
The two were set to wed in Newport, Rhode Island on June 24, 2017, but they decided to hold off their marriage until next summer.
Nastia stated there were no reasons to announce that their wedding has been called off. She divulged,
"There hadn't been a reason to announce this news,"

"Because our family friends all know our guests who were all invited knew it had been postponed."
No fixed date has been revealed about the date of their marriage, but we can tell that there is some time left for them to call each other husband and wife. 
Nastia and Matt got engaged back in June 2015. Matt popped the question with a ring and Nastia answered with a "Yes," slipping the ring on her ring finger. The ring was specially designed by Matt for his lady love.
Nastia announced the happy news of her engagement via Twitter on June 2, 2015.
In
an interview
with People, Nastia shared her happiness and excitement regarding the engagement as,
"Matt proposed in Boston last night with a beautiful ring he designed himself.  He told me we were going to celebrate together and to my surprise my parents, best friend and his family and best friend were waiting there to celebrate with us. We are both so excited for our future together."
Let's hope the couple tie the knot soon and avoid the cold feet that they might be having as of now. 
Nastia Liukin's struggle with Body Shaming:
After retiring from the gymnastics in 2012, Nastia joined college and started gaining weight, which led to the body shaming. She shared her experience as,
"I gained like 25 pounds, and my body had no idea what was going on. I stopped [working out] cold turkey. That was really hard. I had just moved to New York, I didn't know anybody, and I just started going to school. My mind was crazy, my body was crazy, so I started doing all different types of work outs. I never lifted a weight in my entire life — training was just your body weight." 
Nastia further added,
"Now I'm fit and in shape, but I struggled with the same thing that everybody else did — my skin was bad, my weight was changing, I hated the way I looked in any clothes," 

"A lot of people never realized that because I never really talked about it. It's hard to talk about stuff like that when you're not happy or confident. It's easy to talk about things if you've never been through it… I try not to look at the comments, but it's hard not to. Now that I don't have the muscle that I had when I was competing at the Olympics, I'm 'too skinny.' Whichever way the comments go, it's hard to take. We all have a heart and a soul; I try to put up this wall, but it's so difficult to do that. We're all the same when it comes down to it."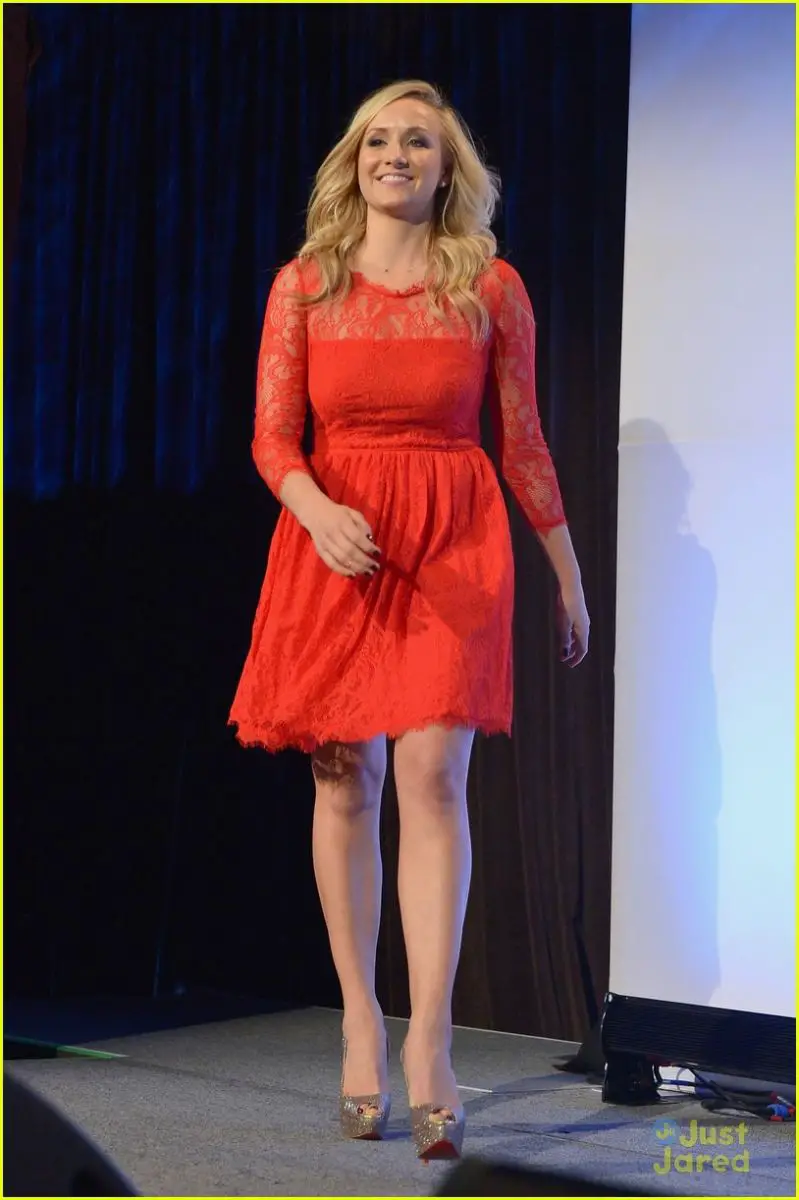 Caption: Nastia Liukin's picture when she had gained weight back in October 2013 while attending award function in NYC.
Photo Credit: justjaredjr.com
Nastia has suffered from the weight issues, but now she is fit and inspiring many as well.
The gymnast has earned many titles including the 2008 Olympic individual all-around champion, the 2005 world champion on the uneven bars, and the 2005 and the 2007 world champion on the beam balance. Her achievements are enough to tell you how accomplished she is in her career.
The success which Nastia has earned in her career has helped her earn a fair amount of money and thanks to that; she enjoys a staggering net worth of $2 million.