Entertainment
Natalie J. Robb Not Married! Too Busy For Boyfriend - Let Alone Having a Husband
Rushing for things isn't a wise thing to do when one can take time and think through before jumping to the conclusion. This very principle applies to various aspects of life, be it in regards to a relationship or a professional matter.
Natalie J. Robb, a Scottish actress, who is busy caressing her blooming career is also about waiting for the right things to happen at the time it is meant to be rather than rushing over. Natalie's thought on relationships is precise, and she as of now is busy taking care of her career.
So, what has she planned for in the days to come? Will she spare a thought on getting married or maybe just dating a partner?
Well, let's read through to find out.
Natalie J Robb's Thought on a Relationship:
Natalie J Robb, who won 2017's Sexiest Female title at the 'Inside Soap Awards' is single, and that definitely might come forth as surprising news. However, the people, who fantasize her to be their love, might be happy knowing about her not dating anyone.
Well, the question indeed pops into every body's mind as to why she is single. And we have the answer too, as Natalie is very vocal about what she wants in life and when. Back in October 2017, Natalie stated the reason behind her not dating, and it is her busy schedules and her preference of waiting for the right person to come along eventually,
"I have no time to date anyway. I would rather wait for the right person to come along, I'm not in a hurry. I am definitely not on Tinder or anything like that. Oh my goodness, no. Could you imagine Mucky Moira popping up on someone's phone? Nothing against other people who want to do that, but I'll wait for the right person to come along."
Natalie further made things clear saying she wants her fate to bring her together with her significant other,
"I don't know whether it is with social media now, but the dating scene and apps like Tinder have stopped people going out to meet as much as they used to do. I would rather meet someone by the way, fate bringing us together."
Also, she provided a slight hint that after being done with the big storylines that she is a part of, she might get into dating. However, we also came to know that Bronson, her dog is her big love, as of now.
"Bronson is my big love at the moment,  I don't have time to date as I live on set! Maybe I'll get back into it once I've finished with these big storylines. If I went for dinner I'd have to say, 'Do you mind if I bring my script with me, so I can learn my lines?'"
Natalie, who is all about waiting for the things to fall into place by itself also once shared her thoughts on the wedding, back in 2014. In the context of her character, Moria from Emmerdale getting married, Natalie expressed that her wedding will not be big, but it will undoubtedly be beautiful,
"For Moira and Cain it's the whole traditional thing but that isn't for me. It wouldn't be a big, white wedding - I'd want to do something simple but beautiful. Not that I'm in any rush to get married. In real life it's never really been a big thing for me."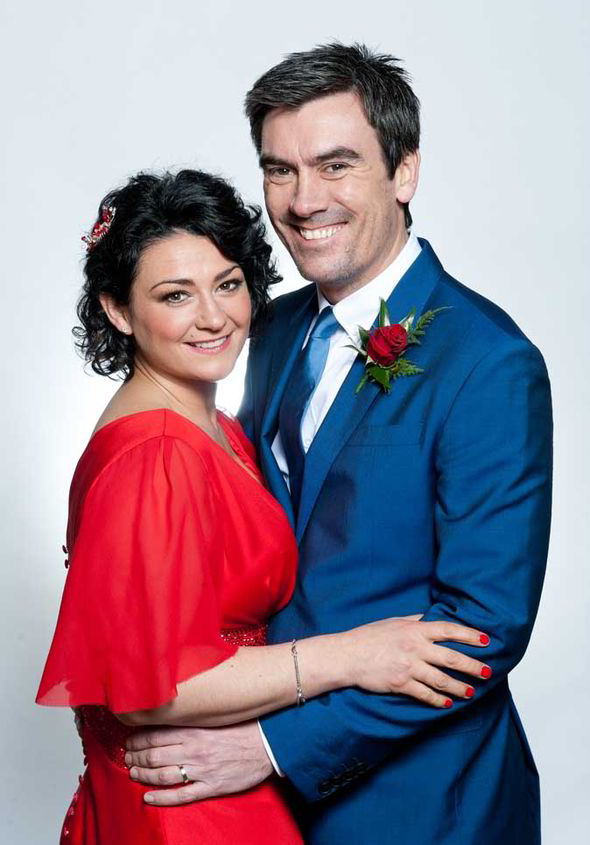 Caption: Natalie J Roob's onscreen husband, Jeff Hordley in Emmerdale
Photo Credit: express.co.uk
Additionally, in 2012 after settling down buying a house, Natalie gushed on her desire of making it a family home, while also expressing her desire to have children,
"I'm ready to put down roots. I'm so sick of living out of a suitcase. I want it to be a family home so my mum, brother and sister can visit. I'd also like to have children. I'm more broody now than I have ever been."
Hopefully, it will be worth the wait for Natalie in the days to come, when she stumbles upon the perfect partner for her to start a family!