Entertainment
YouTuber Nathalie Paris' Young Age Deals Dating Rumors & Alleged Boyfriend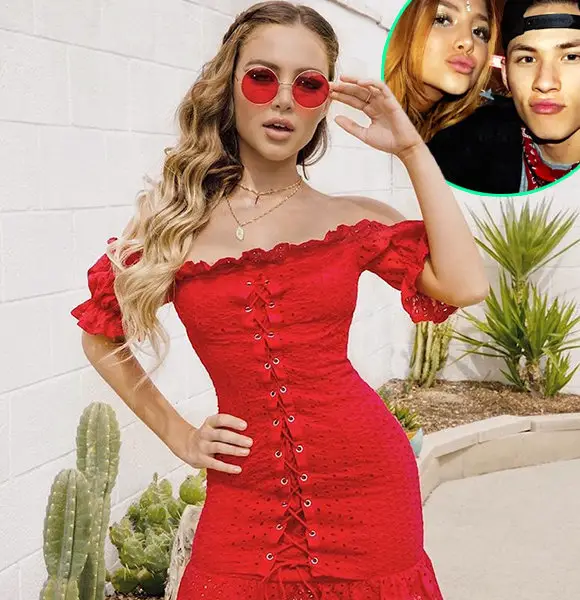 YouTube personality Nathalie Paris is famous for eponymous videos on YouTube.
The Colombian native, who also works as beauty and fashion blogger, has garnered a massive fan following at an early age of 18. Along with fame, she also got entangled with rumors of having a boyfriend.
However, she shocked everyone instead by revealing that she was sexually harassed and hated men since then.
Follow down the whole story!
Crushes Rumors Regarding Affair 
Back in 2015, Nathalie was sparkling her interest in dating and made her social media, a medium for it. 
She posted a tweet on 17 Aug 2015 and mentioned about wanting a boyfriend and a dog. Well, not sure about the dog, but she was linked to a dating rumor, hinting the presence of possible boyfriend.
Nathalie, who celebrates her birthday on every 23 October, was speculated to be dating Vine star Carter Reynolds after the pair was spotted hanging out at the Coachella together in April 2016. Carter even shared a picture of the alleged couple later on 17 April 2016, which further added fuel to the fire.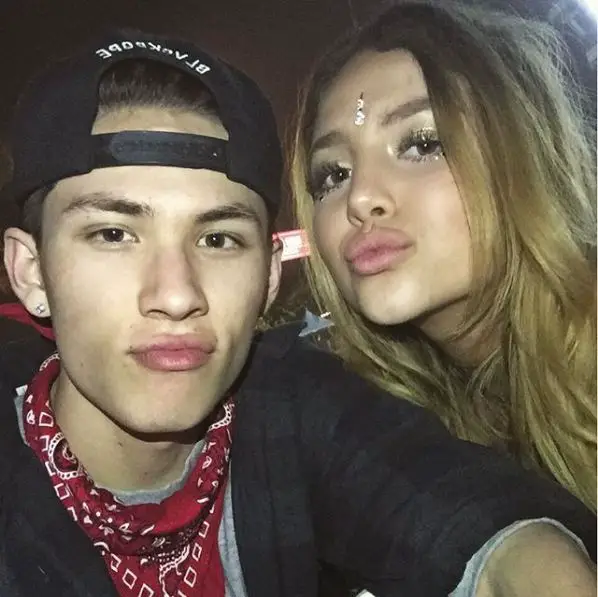 Nathalie hangs out with alleged boyfriend Carter on 17 April 2016 (Photo: Carter Reynold's Instagram) 
However, the rumored romance news didn't go well with Carter's ex-girlfriend, Maggie Lindemann, who had previously accused the Viner of forcing her to give an oral sex when she was a minor of only 15 years. 
Maggie went on to accuse her ex-boyfriend of dating another minor and wrote a tweet, 
"Why does my ex keep getting with 15 year olds? You make me look bad."
She later deleted the tweet; however, the damage had been done as Nathalie had already seen the post. On 26 April 2016, she came forward on Instagram to disprove any rumors of the ongoing affair with Carter and even mentioned her age to be 16 and not 15.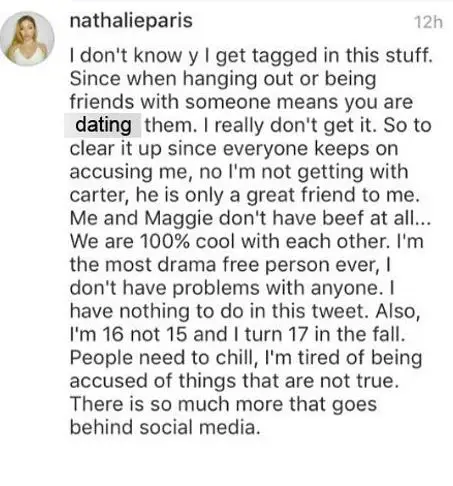 Nathalie disproves the alleged romance with Carter Reynolds (Photo: Nathalie Paris' Instagram)
As of 2018, Nathalie is single and she may have a pretty strong reason as to why she doesn't want to date a man.
Reveals Sexual Harassment And Hatred Towards Male
On 22 October 2017, the beauty of Latin-American ethnicity came forward with a video in which she revealed her experience of being a sexual harassment victim. Further, she went to talk about the female celebrities who were the victim of the casting couch including Lady Gaga. She also went on to speak about her best friend, a singer, who had been repeatedly demanded by producers to have sex with them. 
Nathalie further mentioned about men who had no respect and value for the opposite sex and treated women like a piece of commodity. Also, the YouTube personality talked about men who tried to hook up with her besides having their own girlfriends.
Moreover, Nathalie described that all the Hollywood couples' relationships were fake and much different from how they show in public.
It seems like Nathalie has a lot of trust issues to address and unless she makes peace with the Hollywood lifestyle. And chances are the YouTuber may not date anyone until she gains back trust in relationships.