Entertainment
Navia Robinson Facts! Age, Nationality, Parents And Much More On The Table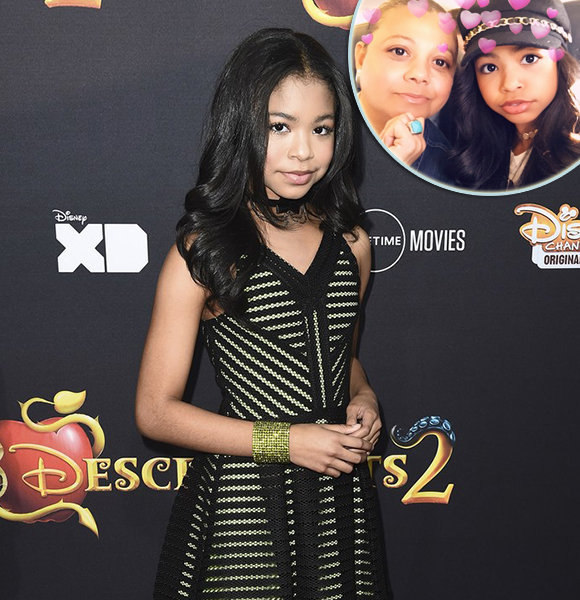 Navia Robinson, the young actress best known for playing D'Asia on the BET TV series "Being Mary Jane," gets her name tagged along when talking about young stars who have been able to reach the heights of fame at an early age. 
Turns out her raising fame comes from her talent along with inspiring parents. She has always had her family's support which helped her rise in the world of entertainment. 
Encouraging Parents, Parents Monitor Social Media Accounts
Navia Ziraili Robinson, who starred as Rosie in Free Rein, was born on 4th May 2005 in Marietta, Georgia. The thoughtful child, Navia was raised by her parents along with her siblings - her older brother. Her parents have indeed provided her the space to grow and cherish her skills at this very young age.
However, Navia, at the age of 12 shares pictures of them on her social media. Well, she wished her mother, Lisa Butler-Robinson, for her birthday, dedicating a post on Instagram. The caption of the image reflected the respect and love she has for her mother. 
"Happy birthday to the most incredible mom I could ask for. I strive to be as kind, vibrant, and knowledgeable as you one day. You are so beautiful inside and out, and I am forever thankful to have you mom ❣️HBD ❣️"
Moreover, Navia too wished her father, Jeffrey Robinson, A Happy Father's Day on her Instagram uploading an adorable childhood picture of her's with her father. The caption again spoke volume of the love and attachment that she shares with him.
"Your shoulder is always there for me to cry on. Your humor is always there to make me laugh. Your strength is always there to lift me up. I love you and I am so thankful for all that you've done for me❣️Happy Father's Day❣️#fathersday " 
Navia expresses her love for her parents publically. Moreover, it is known that she holds American nationality, she is actually of mixed ethnicity.
Navia, with her dedication towards her works and the support of her family, has been able to sharpen her talents in creating something pleasing to the eye.
Moreover, it has come to light that the social media account under her name is at times checked by her parents who help them to deal with negativity. As having fans also leads to having haters and parents and guardians are the ones who help her deal with such situations.
Quadruple Talent, Success At Young Age
Navia is a confident and self-driven quadruple threat as she excels in acting, singing, modeling, and dancing. Besides that, she is also an honor student at Johnson Ferry Christian Academy, Shallowford Falls Elementary School.
Shifting the focus towards her career, Navia, who stands at the height of 1.45m (4 feet 9 inches), has much on her desk at this very young age. Navia debuted her first national talent competition at the Actors, Models, and Talent for Christ (AMTC) "Shine Event" in the summer of 2011.
She was awarded the honor of Overall Top Child Model in the event. Moreover, she has been represented by J. Pervis Talent Agency of Atlanta and CESD in Los Angeles and New York.
Navia Robinson modeling at six years of age (Photo: Navia's Instagram)
Well, she attained representation with Generation Model Management of New York as a result of her success at AMTC. 
Navia has a resume that includes filming national commercials and rocking the runway for rising fashion icons. She has most recently completed regional, and national commercials with AT&T and was invited by Disney executives to attend in their intensive two-week boot camp in the summer of 2015.
Navia's television career began recurring as D'Asia in series of BET Network's "Being Mary Jane" in 2014. She then appeared in "Raven's Home" in 2017, which is an American family television series. She is now preparing for the upcoming second season of "Raven's Home."
Navia also has featured on Netflix show "Free Rein." Moreover, Navia was nominated for an NAACP Image Award for her shows "Raven's Home" and "Free Rein."
Despite the early success, Navia prefers keeping her net worth confined, but judging by the success, it is estimated to be in millions.
Think we're missing something? Do let us know in the comment section below!