Entertainment
Never Been Married, Openly Gay Actor, Robert Gant, Advocacy on Same-Sex Marriage: Dating Recorded Once?
Robert Gant is a very familiar face in Television known for his appearance in the Showtime series, 'Queer as Folk.' The actor came out openly as gay, a while after he joined the series.
Besides acting, he is also recognized as a leading lawyer advocating for homosexuality on same-sex marriages. The actor likes to keep his dating life private, but he does have one confirmed link-up. Let's talk about it:
Caption: Robert Gant's interview on his groundbreaking series, 'Queer as Folk.'
Openly Gay! Boyfriend, and Dating?
Robert Grant was reported to be together with Kyan Douglas earlier in 2003. Kyan Douglas is a well-known TV personality known for his makeover shows like 'Queer Eye.' Kyan Douglas and Robert Grant were together for a short amount of time from August to December 2003.
They have remained friends since then. Kyan Douglas dated another boy from March 2004 and even got into a short engagement with Gregory Durham in June 2006. They ended the engagement a month later in July 2006.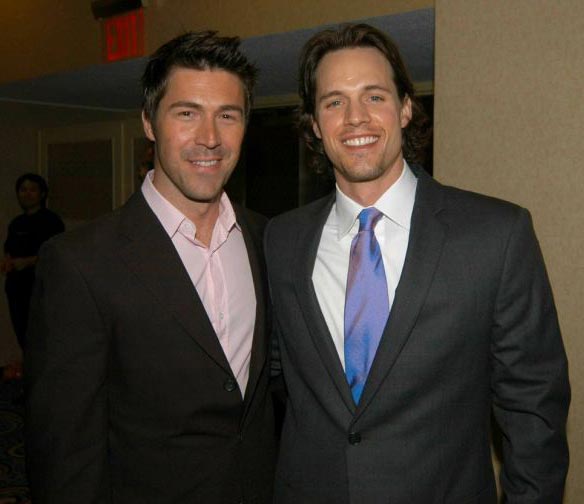 Caption: Kyan Douglas with Gregory Durham.
Source: liverampup.com
As for Gant, there is no additional information on his current boyfriend except for the Kyle Douglas. So, he is certainly not getting married anytime soon. Being gay, he does not have to worry about finding a perfect girlfriend, wife but surely will be looking for a boyfriend to have children with.
Coming Out and Social Works:
Gant's coming out of the closet was a very important moment of his life. He seemed very confident mostly because of all the support from the show's producers. He has also used education of the law to support various elderly LGBT community, supporting organizations like 'Services and Advocacy for the GLBT Elders' (SAGE) and Gay and Lesbian Elderly House (GLEH).
For such support towards LGBT communities, he has been honored with various awards like Special Civil Rights Awards 2013 by the city of New York, National Equality Award in 2006, Visionary Award in 2008, and Davidson/Valentini award in 2007.
The revival of 'Queer as Folk':
As we all know that Robert's role in 'Queer as Folk' but it has ended since then. But if there are any fans of the series out there, then you don't want to get your hopes down. There might be a possibility of the series reboot according to Robert Gant himself.
In an interview with 'Entertainment Daily' in August 2016 about his upcoming movie 'Summer of Dreams' where he talked about the time 'Queer as Folk' reunion might not be right.
"I had an amazing experience being on a hit show for Showtime, doing 'Queer as Folk,' and impacting things socially, like helping change hearts and minds," he said, "It's such a big chapter of my life."
Robert Gant Speaks against LGBT Hate:
After being Honored by ADL Florida, Robert Gant took his time to talk about the current issues in our society regarding the LGBT community, and he had a lot to say.
"Among these various honorees, they were recognizing my work in the LGBT community in relation to aging. Because LGBT elderly didn't for the most part create families, the incidence of being old and alone — there's a much higher likelihood of it." says Gant who was honored alonside Jupiter Police Chief Frank Kitzerow, Onesimo Lopez-Ramos, Angela King and Steven Stoloff, all for their work and effort against hate crimes and intolerance.
Gant further added,
"Because of the tremendous focus on youth and beauty in our culture, people become invisible all the more quickly as they grow older in this community. So much of our community does not want to take a look at this issue and help to create a world that we want to age into."
He further talked about the ideal efforts of himself and the community to fix these issues stating,
"The best work I can do for myself — and hope for my fellows — is to awaken, is to evolve my perspective of who I really am beyond this ego-based idea — that limitation that requires me to have to adhere to these ridiculous standards. As the body fades — which it will inevitably do as we stay here on the planet — it really behooves us to wake up to who we really are. You can either go along willingly or be dragged, because it will happen. For those of us who are trying to wake up sooner than later, hopefully it will be a less painful transition. And a more graceful transition to getting older. At some point you can't continue that dance. The sooner that one can wake up and realize you don't have to be do that dance, the better."
Robert's Short Bio:
Robert Gant was born as Robert John Gonzalez on July 13, 1968, in Tampa Florida. He started acting in TV commercials and joined Screen Actors Guild at the age of 10. He majored in English literature from the University of Pennsylvania and studied law at Georgetown University Law Centre. He went on to become a lawyer for a short time. In March, he was honored by ADL Florida for his contributions in social work.