Entertainment
Nicholas Pinnock's Real Life Wife? Family Details On Former Reel-Life Married Partner Of Marcella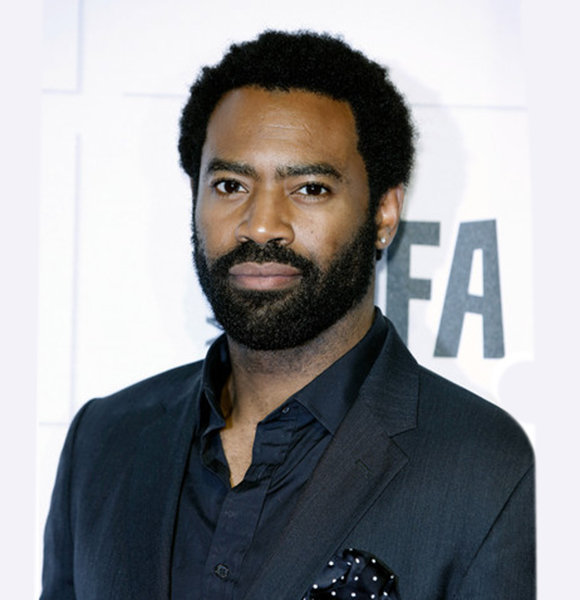 English actor Nicholas Pinnock is famously known for portraying a husband role Jason Backland in the crime series Marcella. His husband avatar on screen has done its part of entertaining the audience to the fullest but also, left his fans wondering whether he is married in real life as well. 
The actor went to one of his friend's wedding and commented he has no wife to embarass.   
Well, there's more story, keep on reading until the end to find out whether he has found a wife to embarass or not by now!
Sinister Husband On Screen!
44-years-old Nicholas Pinnock has been portraying the role of a husband of Marcella, played by Anna Friel, since 2016. The couple went through bumps in their married life as Nicholas decided to split with Marcella and have the custody of their two children.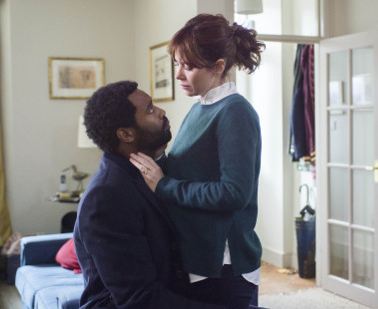 Nicholas Pinnock with TV wife Anna Friel in a scene of the TV series, Marcella (Photo: thebritishblacklist.com)
And after the show's second season starts, aired on TV in 2018, the plot dug more in Nicholas' married life.
He has extra-marital relationships with other women, during his married relationship with his wife and yet-to-be officially divorced. The role appears menacing when Jason knowingly uses the advantage of Marella's blackouts. He even hurts himself to prove that Marcella is crazy and to have the full custody of their children. 
While Nicholas's role becomes eerie day by day, his fans, and followers wonder how he is in real life.
No Girlfriend In Horizon; "No Wife To Embarass"
Nicholas, who stands tall at a height of 1.85 m (6' 1"), has kept his personal life under the wraps. The handsome hunk has never been speculated to be tangled in any dating rumors and appears to be possibly single. On top of it, Nicholas' social media also lacks the presence of any women that could be fitting for his girlfriend tag. 
However, back on 21 September 2012, Nicholas had previously announced that he was not married via a tweet. While replying to a friend in a twitter post, Nicholas admitted that he was not married and did not have a partner to embarass in wedding parties.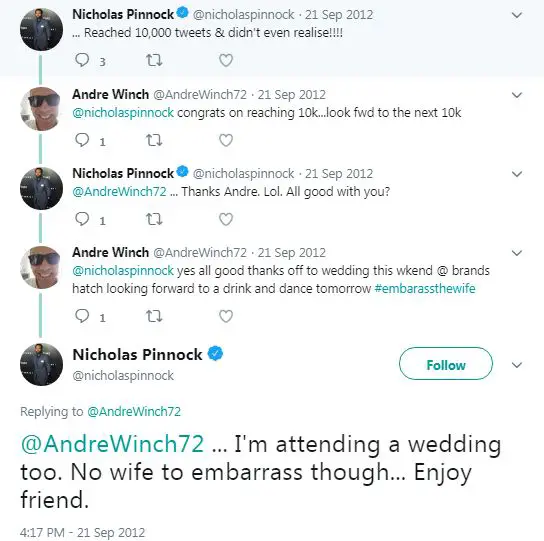 Nicholas Pinnock admits to not have a wife via Twitter back in 2012 (Photo: Nicholas Pinnock's Twitter)
While his relationship status hints single, Nicholas looks busy shaping his career. 
Too Busy For Marriage
The Jamaican parents' son, Nicholas is the youngest child in the family aside from his elder brother and a sister. Weaving the dream of being an actor from his childhood, he made his dreams came true by debuting in a lead role on Top Boy in 2011. 
Since then he has had his hands full of new projects and works. He starred in acclaimed movies like Fortitude, Monsters: Dark Continent, The Keeping Room and so on. 
As of the lastest, Nicholas will be starring in the movie V.S in 2018. He has also been working on a movie The Encounter that is set to be released in 2019.  
Along with the projects of acting, Nicholas is also on his way of authoring a book. He is working on making a book of his of poetry and writings. Moreover, he also spends his time working with the mental health charity named "Mind."
So, looking at his works and projects, it seems like Nicholas is indeed very busy to make a girlfriend and start a family with her.