Entertainment
Nick Vujicic Family Prospering With Wife Despite Hindrances! Limbless Preacher Personal Life
Australian motivational speaker Nick Vujicic, who was born with phocomelia which is a rare disorder that caused him to be born without both arms and legs, has a blissful family life despite his physical disabilities.
While overcoming life challenges Nick has found love and now shares children with the love of his life. The evangelist, Nick, has inspired many from his story of overcoming the disabilities and having a family of his own.
Even though he had never imagined of getting married and having kids even in his wildest dreams, he now has a wife and shares a family of six with her.
Eccentric Love Life Despite Limitations
Nick Vujicic, who also starred in the 2009 short film The Butterfly Circus, rose to fame doing the things which ordinary people imagined to be impossible for him. Among the achievements in his life, his love life is also one of the exceptional accomplishment for the man without limbs.
Well, as he is master of doing the impossible, he has been happily married and even shares children with his wife. Nick has been married to Kanae Miyahara and the couple has been sharing the marital bond for almost six years.
Nick, who had never imagined getting married, fell for Kanae the first time he laid his eyes on her. The couple first met back in 2008 when Kanae attended one of Nick's motivational speeches.
According to Kanae, she was impressed by Nick's generosity added with a little humor. For her, Nick is the most handsome guy and a perfect match for her. As for Nick, when Kanae stood beside him, he felt right with all the reasons. Their stars entwined the first time they met and fell in love instantly.
The couple went on with their relationship and Nick present his girlfriend with a ring and asked her to marry him. His proposal came in the most eccentric way possible. Nick asked his girl for her hand to kiss it and while doing so he put a ring on her finger asked for her to marry him.
In the beginning Kanae though Nick was biting her finger but later looking at the ring she was amazed. Kanae could hardly deny the proposal and said "yes" with eyes filled with tears.
The couple was looking forward to tieing the nuptial knot after their engagement. Nick and Kanae exchanged the marriage vows on a Valentine's Day 2012. The duo walked down the aisle with big smiles on their face.
Blessed With Family Life
After their marriage, some people expected that it was difficult for them to have the intimacy due to Nick's physical disabilities. But as Nick has proved everyone wrong in every step of his life, he was able to do it again.
After their settlement in their house in southern California, the couple was expecting their first baby together. In February 2013, Nick and Kanae welcomed their firstborn son into the family. They named him Kiyoshi.
The couple was blessed with the arrival of a baby and Nick focused more on writing speeches while Kanae worked as a wife taking care of the household. Two years later, they were expecting a new member into their family.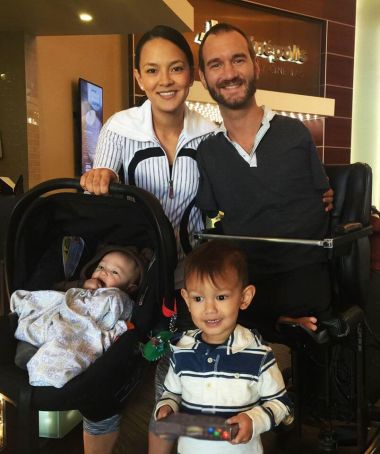 Nick Vujicic with wife Kanae Miyahara and children. (Photo: christiantoday.com)
Kanae gave birth to their second son Dejan in September 2015. Two years later on December 2017, Kanae gave birth to their twin babies and named them Olivia Mei Vujicic and Ellie Laurel Vujicic.
Well, despite the hindrance in his life, Nick has been blessed with a blissful family life along with a net worth of $500 thousand.