Entertainment
Nick Wechsler Reveals Type Of Girlfriend He Would Get Married To; Talks About Worst Dating Experience
Nick Wechsler Reveals Type Of Girlfriend He Would Get Married To; Talks About Worst Dating Experience But the journey of searching the right person remains exciting.Sharing a similar story is the actor, Nick Wechsler who had various encounters while dating girls and shared those experiences in interviews.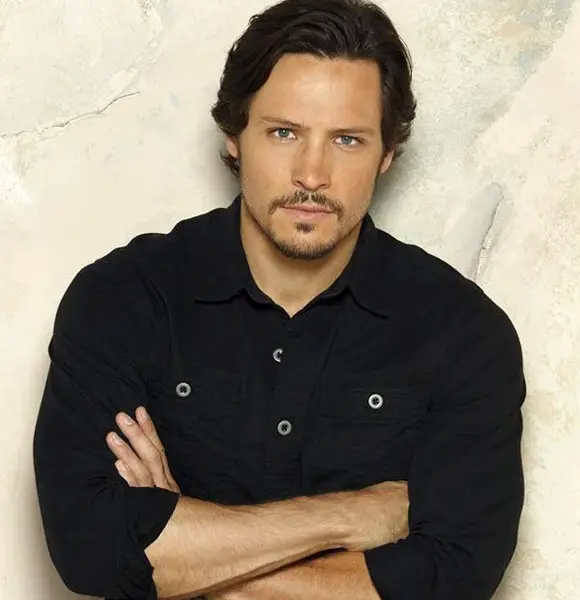 Whether one has a girlfriend or not, he has a list of things he primarily seeks in his girlfriend. And while dating and searching for Miss Right you have various encounters to share. Some remain as a beautiful memory, while some leave an awful mark in your mind. But the journey of searching the right person remains exciting.
Sharing a similar story is an actor Nick Wechsler, who had various encounters while dating girls and shared those experiences in interviews.
Type of Girlfriend Nick Wechsler Would Marry:
During an interview back in December 2013, Revenge star Nick Wechsler described his ideal woman. He shared,
My ideal woman is definitely attractive and fit, but more importantly is intelligent and funny. Those are all generic things, but my main thing is that I need to never get tired of talking to you. We need to have a sort of banter, that will excite me more than anything. If you make each other laugh back and forth, I'll trade a lot for that.
Moreover, Nick elaborated the qualities that he seeks in his wife to be.
If we're window shopping, if we're just looking at people we find attractive and we don't know about personality, we'll look for a kind of perfection. But, when you introduce that kind of compatibility that kind of exciting back and forth, it makes you more attractive. I'm not impossible to please and I'm also realistic about beauty and I know it fades anyway, so ultimately I want someone to have that banter with. And someone who creates sort of balance in a relationship and isn't just sort of using me … you know, I'm not a meal ticket. That kind of stuff, because that message that's in my subconscious is, 'I'm here because you want me, not because of what you can give me.'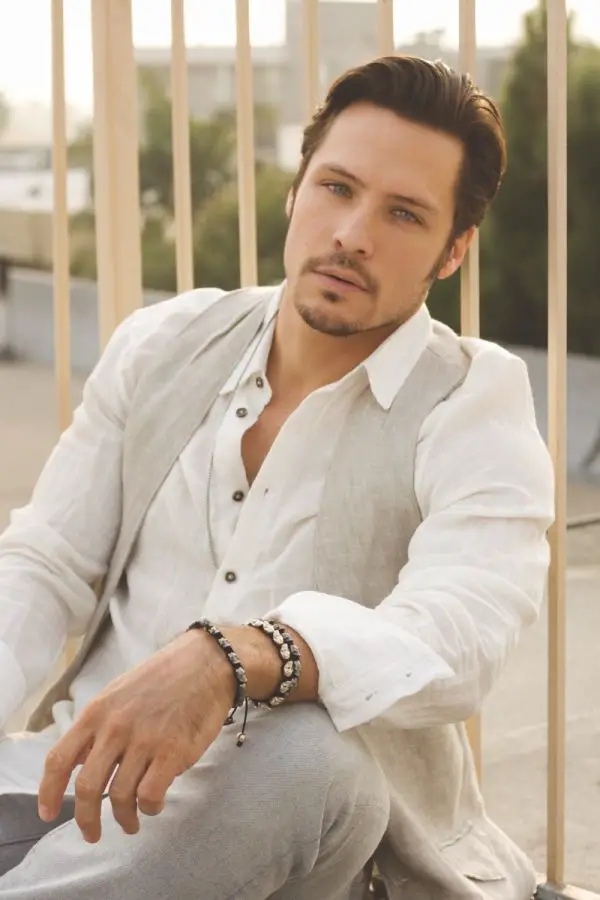 Caption: The stylish side of Revenge star Nick Wechsler.
Photo Credit: pinterest.com
In another interview, Nick shared about his biggest turn on and off in women along with his favorite vacation spot. And when asked about the biggest turn-on in a woman, Nick shared,
Well, based on those lines, trying to create balance and letting me know that the reason I'm here is you; it's not what you're going to give me or what I can't get out of this, other than maybe love. And very short-time, being very open intimately. Just someone who is game intimately.
Also, Nick answered the biggest turn-off in women as well.
I think using a guy as a meal ticket. That kind of stuff drives me crazy. I wish that money just didn't matter at first. I wish you had to go Dutch for the first year. I just want to see if I want to hang out with you. If I decide I want to be with you forever, then I'm okay with spending money on you and taking care of you, but until then, it's not right that I pay for everything.I think a girl who demands that, it sends a subtle message to a guy — "Is she here for the right reasons?"
Nick continued,
When that's eliminating and you can just get down to compatibility and attraction… That is more romantic to me than someone making empty gestures in her purse.
Moreover, Nick shared his favorite vacation spot and also shared the memory associated, which was checking out different places while dating a lovely girl and divulged,
Parts of England. I dated a lovely girl who lived in England. I had been with her a lot. I spent time checking out different parts of England. It is beautiful. I often think about settling down there. She lived in Bristol. As for the places I haven't been, I think Iceland would be so otherworldly.
While dating he has a beautiful moment to cherish, but he has the worst memory engraved in the mind as well. Nick shared his worst dating memory,
I went on one that was actually really nice, but this girl had a little bit of a drinking problem. I don't know if she was truly an alcoholic, or just got more liquored up than she meant to. She was funny and really nice but then when we got to… I'm naive, and she said. "Let's hang out at my place." I've never had a one-night stand in my life. I just don't think that way, so I went to her place and I thought, "Well, there's a chance she means that we should have sex, and I'm not going to, so I'm fine. I'm just going to hang out with her and try to get to know her." We went back to her place and — it was like the advice you get for in the event of being attacked by a bear. I was just applying that. I kept pushing her off. It was really aggressive and I felt like I was being mauled.
Nick shared his likes and dislikes in women but he is yet to acknowledge his woman in the public and address a girlfriend with whom he shares a dating life. And it is difficult to say anything regarding his dating life, as Nick has only given his preferences regarding his woman, but he has not introduced the lady love of his life.
During an interview back in February 2012, Nick shed light on his relationship status and said that he remains single and is not dating anyone.
"There is part of me that will always feel wrong for any leading man-type, charming guy or whatever, I am not that guy. I am so weird. I say inappropriate things, and if I have any charm at all, it's in my utter lack of charm." 
Though Nick replied on his relationship status, his fans believed that it was an attempt to keep the love-life private only. And Nick is yet to get married to enjoy a married life with a wife!
Gay Speculation
Celebrities falling victim of gay speculation is not a new thing, and Nick is no different. In a Revenge series, Gabriel Mann portrays the character of Nolan Ross and the character of Emily Thorne or "Ems" is portrayed by actress Amanda Clarke in the series "Revenge". And during a fan question and answer session over Twitter on October 2013, Nick was asked if he was dating Gabriel or Ems. Nick cleared that he was dating neither of them.

Nick Wechsler started his career with a small role in the television movie full circle in 1996 and landed the main role of Kevin Trek Sanders in the series Team Knight Rider in 1997. And his career moved forward with the television series Roswell (1999-2000) which won him nominations in Teen Choice Awards for Choice Sidekick (2002). Further, his television credits include Tru Calling (2004), Gold Case (2005), Vanished (2006), Past Life (2009), Chase (2010), Revenge (2011-2015), The Player (2015) and Chicago PD (2017).
His film credit includes Chicks Man(1999), Perfect Game(2000), Infamous (2007), Lie to Me (2008), 3B(2010) and Switch Back (2010). His hard work, passion, and dedication towards his profession must have paid off in millions but he has chosen not to disclose his net worth yet.
Stay with us for the latest update on Nick Wechsler!