Entertainment
Nikki Sanderson Defends Dating Affair With Once Married Boyfriend; Will They Get Married?
When you love someone, you do not care what that person's past was like. You are his/her present, and you do not want to dwell on his/her past.
Hollyoaks actress Nikki Sanderson sets a perfect example for the above statement as she is currently dating a boyfriend who was previously married to someone else.
The fact remains that the people have said so many things about Nikki and her relationship with her boyfriend, but still, Nikki stood firm with her love and defended it whenever necessary.
So let us take a look at the relationship between Nikki and her boyfriend.
In A Relationship With A Man Who Was Previously Married!
It was 2014 when Nikki attended the wedding of Greg Whitehurst and Sarah Hughes, but after just ten months, Nikki started a dating affair with Greg.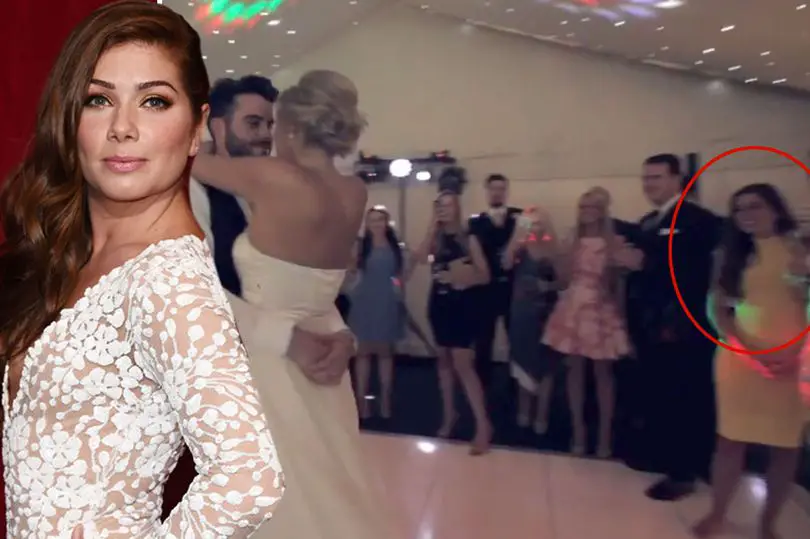 Caption: Nikki Sanderson who was the guest then became the girlfriend of Greg.
Photo Credit: mirror.co.uk
Greg and Sarah, who vowed to spend their lives together, were unable to last even for a year.
A friend of Sarah and Greg elaborated,
 "The whole thing is a mess. A marriage split is always devastating for everyone involved, let alone when it ends so quickly.

"It's like a tangled plotline from a soap."
Moreover, Sarah's family member shared their thoughts on Nikki and Greg's relationship.
"We had no idea about Greg's relationship with Nikki until this week and we are very worried about Sarah's welfare.

"We are also pretty angry, especially as Nikki was at the wedding."
However, later that year, Greg and Nikki revealed that their relationship is getting stronger with time and are happy with each other.
Nikki, back in May in 2016, said,
"We have started recently dating and its early days, so we are not rushing into anything but are both enjoying each other's company."
Then again in October 2016, Nikki spoke about their relationship where she said,
"Yes, kind of, yeah we are. We are very happy. But I can't divulge the private stuff."
The actress did not reveal if the two were living together, but Greg admitted trying to pursue her to get a dog at the house.
I'm an animal lover myself. I mean, I've got a dog and a cat and I'm after more with Nik. I'm just trying to convince her to let me have another dog. I love animals."
But Nikki dated a married man, and people started lashing at their relationship, which made Nikki set the records straight and defend her love as much as she could.
People and online trolls often sparked the rumors that Nikki was responsible for the demise of Greg and Sarah's marriage. So, in 2016, she confronted those people.
"Last year I got with my partner Greg. He was married not long before that. he actually got married in July 2014. His marriage came to an end through no fault of his own, and he was left heartbroken," 

"It wasn't much longer after his marriage broke down that we started dating and people, because they didn't know his back story and didn't know what had happened, people presumed that I had broken his marriage up, that I had wrecked his life and his ex-wife's life.
She then continued,
"Unfortunately I got the blame for it and got a lot of abuse online about it and I had nothing to do with it. At a time where he was going through something really bad he then also had to deal with being called names as well because he had started dating me, he was called an adulterer."

"Greg and I have been friends for many years through the charity his family work for - When You Wish Upon A Star - so we've known each other for a long time. People presumed because I did go to his wedding."

"We've been together just over a year so it's very early days. We're very happy in each other's company. We live together, so we're just having fun. If kids happens in the future then great, but we're just enjoying it."
Safe to say that Nikki was not the one to break the marriage between Greg and his former wife, Sarah. Similarly, their relationship not changing because of people saying a lot of things about Nikki and Greg shows how strong their love is.
She loves to spend her time with her beloved boyfriend.
So, do they plan on getting married sometime soon?
Well, thus far the two have not spoken about their plans to tie the knot and share a husband-wife relationship and thus, we might need to wait for some more time in order to witness the two get married.
Nikki's Tattoo And Her Net Worth:
They say tattoos are the journals of one's life and it is true. Tattoos are always meaningful, and the tattoo which Nikki has close to her chest is an homage and a touching tribute to her grandmother. 
The tattoo reads "You are the stars that shine at night."
She took over her Instagram and showed the tattoo in a post with the caption
"Absolutely LOVE my new tattoo ????Thank you to the super talented @lauren_shaw_art for making it so perfect!! #formynana #missher #underboobtattoo#underboob ????????"
It indeed is a touching tribute to her grandmother, and the tattoo adds more to her beauty as well.'
Furthermore, her successful career as a glamor model and an actress has resulted in her accumulating a healthy net worth of $1.5 million. Her successful projects like  "Coronation Street" and "Hollyoaks" have a lot to do with that.