Entertainment
Nikki Sixx Found Luck The Third Time With Wife; Looks After Kids From Past Married Life - Especially Daughter
Giving up on love can be hard but what if it is for the best?
How many of you out there know Nikki Sixx? Well, we know that's a stupid question to ask, but apart from making head-turning music, Nikki is also someone who has had his share of ups and downs when it comes to personal life. Yet, he did not give up on finding love and voila!
The musician is hitched and happy. But being twice married before gave him a family and a daughter who he looks after like a father should. Let's check the details.
Nikki Sixx Lucky With Third Wife!
We'll get back to his previous affairs and his kids in a bit but first, let's talk about his present; his relationship with wife Courtney Bingham. The  Mötley Crüe bassist met his now-wife in 2010, and after two years of dating, in 2012, he popped the question and asked her to be his wife. Who could say no to that?
The couple gave their relationship as fiancés a little time to grow, before making it official and getting married at the Greystone Mansion in Los Angeles on March 15, 2014.
Caption: Nikki Sixx and Courtney Bingham at their wedding day in 2014.
Photo Credit: gettyimages.com
However, just months after the couple got married, rumors swirled that Courtney was pregnant and that the couple was expecting a kid. Courtney did clear up this rumor herself with a Facebook post, but there's also a reason why this was a fake rumor, and we'll talk about that as well but in a minute.
His Past Relationships and Kids
As happy Nikki is now with his current wife, there were times of despair in his love life before Courtney came in. Here's a list of his married life with wives and other affairs.
Brandi Brandt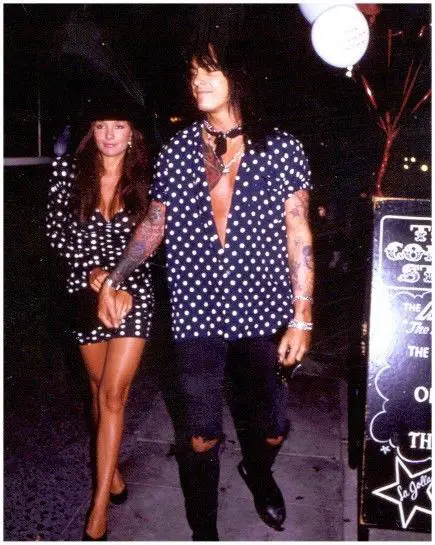 Caption: Nikki Sixx with then-wife Brandi Brandt
Photo Credit: pinterest.com
The 58 years old was previously married to Brandi Brandt in 1989. However, the couple parted on their separate ways after seven years of marriage and sharing three children, Gunner Nicholas Sixx, Storm Brieann Sixx, Decker Nilsson Sixx.
In 2014, Brandt got arrested for conspiring to import cocaine on planes bound for Australia and was sentenced to 3 years in jail.
Donna D'Errico
Shortly after getting a divorce with first wife Brandi, Nikki Sixx got married to Donna D'Errico in 1996. In 2001, the couple welcomed their daughter Frankie-Jean Mary and shortly after that, the couple separated, got back together and again separated in April of 2006. However, this time there was no reconciliation. The following year, the couple got divorce citing the reason to be irreconcilable differences.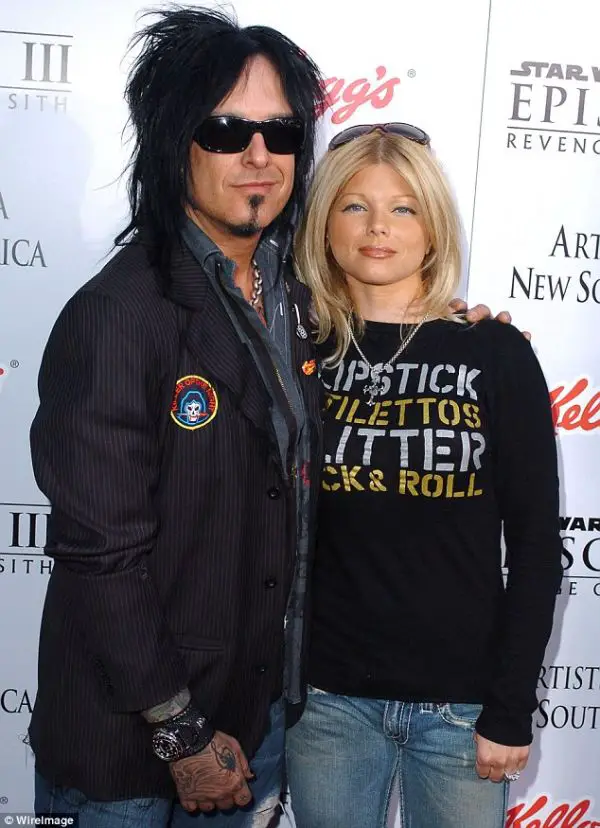 Caption: Nikki Sixx with then-wife Donna D'Errico.
Picture Credit: Dailymail
However, the couple had a divorce settlement that required Motley Crue to pay a child support of $8,200 a month. Also, after the former Baywatch actress filed for bankruptcy in 2014, she would get a percent of Nikki's income if he makes between $1.6 million to $10 million, however, if the bassist earned more than $10 million, Nikki would get $252,000 a year. Compared to her annual income of $40 thousand, that is a huge sum. Moreover, he only paid child support for his daughter back then among his other three children.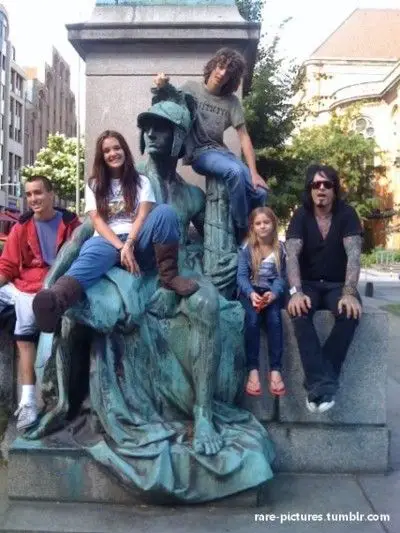 Caption: Nikki Sixx and Kids.
Photo Credit: pinterest.com
Kat Von D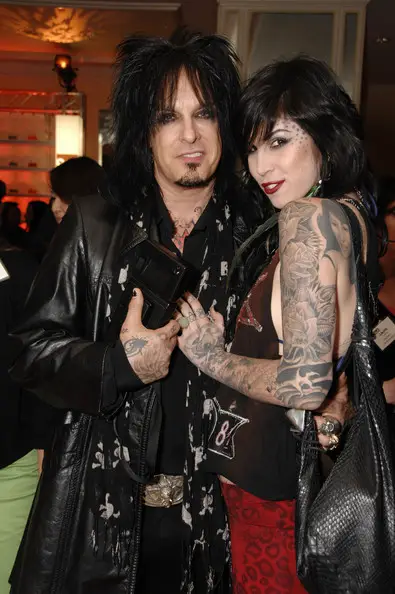 Caption: Nikki Sixx with then-girlfriend Kate Von D in 2008.
Picture Credit: zimbio.com
After ending the relationship with wife, Nikki started dating in 2008. However, their relationship did not escalate from that, and the couple parted their ways in 2010.
Won't Have Any kids Now!
In 2007, after getting a divorce from wife Donna, Nikki appeared on the Howard Stern show for an interview where he discussed and pledged that he would not get married. That did not go as he planned as he is now with his third wife, Courtney.
However, Nikki then and there also revealed that he underwent a vasectomy and that he would not be able to have kids anymore. In detail, he said that the surgery was humiliating where two surgeons made jokes before commencing the surgery.
Caption: Nikki Sixx talks about his surgery! Published on Dec 16, 2015
Later on in the interview, he also revealed that he was already happy with four amazing kids and that he now wanted to roam and travel the world and did not want to carry diapers while doing so. Something Howard also agreed to.
So, it's safe to assume that the news about the couple expecting a baby was no more than just a rumor.
Lastly, to make this piece of an article a little more motivational, we will drop what we feel like is the most inspirational quote from Nikki Sixx.
If you don't deal with your demons, they will deal with you, and it's gonna hurt."
Let us know which one is your best quotes from Nikki Sixx!